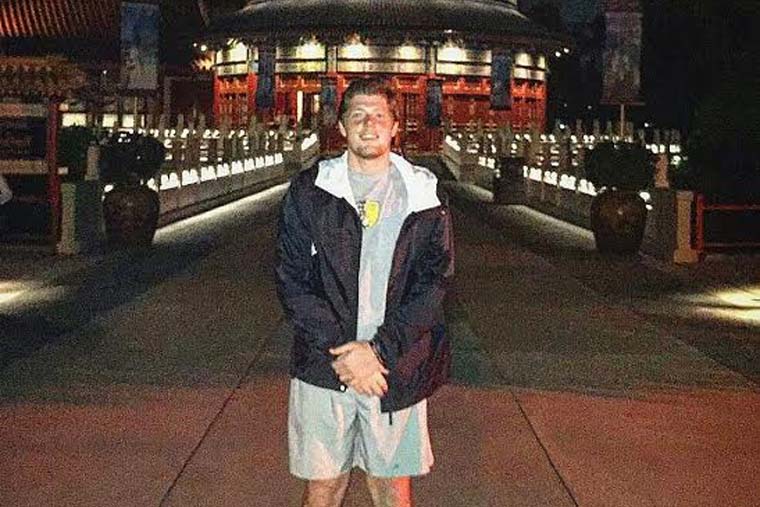 As Stop The Breaks continues to strive on being the best content and resource hub for independent hip-hop artists on their grind, we're constantly working on getting as much advice, opinions and perspectives on the various elements on the music industry.
Whether it's interviewing music industry legend Wendy Day on the rap business, the fundamentals of music distribution and why rappers should stay independent or talking to branding expert James E Walker on the importance of strong design and artwork, Stop The Breaks is always coming up with new content to help educate independent artists. 
Our latest interview is with Daniel Gronert, who is currently working as the artist manager for BlaccOut Garrison as well as the Senior Editor over at OK-Tho. Daniel provided extremely helpful insights into what he does, including what goes into managing artists, what makes a great manager, his thoughts on the independent rap game and plenty more. Enjoy!
1) So you're currently managing Minnesota independent rapper BlaccOut Garrison who has been dropping some very dope music lately. How did you first link up with BlaccOut?
A couple years ago I parted ways from managing an artist from CT by the name of Trag Tha God. Almost simultaneously (might have been a week or so later), this young dude out of of MN contacted me via Twitter about setting up a phone call that had to do with partnering up.
I had heard of his name before, but couldn't really pinpoint anything he had done. A short while that day later that young dude called me up and we talked for nearly two hours. The person on the other end of that phone call was BlaccOut Garrison and from then on things began to start sprouting into the cross country connection we have now.
2) How does someone get into managing artists?
I have actually gotten asked this question a few times, and honestly, I may not be the best person to ask for an awesome answer, ha! Seeing as how the past two artists I've managed have actually reached out to me, I guess I haven't really had to branch out to find someone to manage with a list of qualifications from me.
If however you think managing an artist is a good move for you or something you are interested in, I could tell you this, since there is so much new talent out there nowadays, I thinks it's good to first off form a relationship with whomever you're interested in repping. You've got to love their music because your name will be attached in some way as well.
Unless you work for a label or something like that, you're most likely going to manage someone you know who makes music or someone so underground, literally no one has heard of them. Take that in mind as you can't just go out and manage someone like G-Eazy.
3) What are some of the duties a manager typically performs?
Duties that a manager performs: everything but make the music in my experience. Honestly, I see managing as taking care of the artist in question as best as possible so he/she can focus on just the music and making the best possible.
Again, I didn't go to school for managing a music artist, but I firmly believe that if I can help out in anyways, I will try my best to be there. Personally I have at one point or another have given social media advice, been in charge of emails, made contacts, handled setting up features, written bio's, handled PR, etc. But, it also depends on whomever you are repping as they might not need you for some things and may need you more for other things.
If you think about it differently it's almost like having duties of an assistant/secretary, however, you are seen at a much higher level than that. If the artist you are managing comes to you and says something along the lines of, "Man, I couldn't have done this without you", you know you are doing your job correctly.
4) For other independent artists looking for management, what do you think are the most important things they need to look for in a manager?
Nowadays there's so many independent artists out there that just do it, or at start out doing everything themselves. Heck, I know a ton of people who don't have managers and they knock everything out themselves. Is there appeal for an artist to have someone by there side helping them out with everything?
Without a doubt; in today's society I feel like it's good to ask for help, especially when that help is coming from a person who's willing to put in the time and effort without necessarily seeing money from it.
If you are that artist looking for help, I'd suggest someone that, again, absolutely loves your music and what you create, has the time to put into it, has contacts in the music game already (other artists, blogs, etc), and is all around a good person.
5) In addition to managing artists, you're also the Senior Editor over at music website OK-Tho.com. What sort of qualities do you look for new, unsigned artists that makes you want to cover them?
I am! And over at OK-Tho, we are primarily an underground Hip Hop/Rap (expanding every day) site that focuses on bringing talent that you most likely have never heard before to your ears.
The owner of the site (shouts to Piccochi) developed the site around three or so years ago now with the idea in mind of sharing music that may get overlooked on other bigger sites due to the popularity not being there because no one has ever heard of them.
One of the main reasons I love being apart of OK-Tho is for just that reason, I listen to more "unknown" artists than ones that are blasting all over the radio and the ones that do make it to the radio, I've listened to for years.
I don't want to sound like a music hipster, because there are a lot of people that always "listen to people before they make it big", but fuck it (wait, can I say that?), call me a music hipster, I'm cool with that.
Discovering new talent is what keeps me going, the idea of finding an artist on say, SoundCloud, that has less than 1,000 listens on a song or has less than 1,000 followers needs to get discovered somehow, and I love being a small part in their journey and promote their talent, no matter the genre.
6) What are your thoughts on the hip-hop industry right now, especially the independent scene?
The independent scene is the business and the business is booming. Music evolves not only from generation to generation, but day to day and everyday the independent scene grows that much stronger.
There's been some to do it before them, but obviously a few years ago, Macklemore & Ryan Lewis were the first to really set the stage for everyone not necessarily needing a strong label backer to succeed.
As they grew to extreme popularity others began to take note, and wanted to keep the majority of their earnings/keep creative control and weren't afraid to put in the work to get it. From Mod Sun to Logic's and Jon Bellion's VMG to Chance The Rapper, people began to really open their eyes at what can be done in today's society.
If the music is good, word will get out and people will start to chatter. And even though music blogs aren't relied on as much to discover music in today's present times, they still help. If you get your music on one of the big sites, you better believe you will get noticed in some manner.
If you were to ask me if labels are necessary, I'd say they are, but not in everyone's circumstance. I stand by the fact that mostly everyone starting out now making music wants to get signed. I don't think that's necessary.
Grease up those elbows and get out in the world and do it yourself for a while and see how it works out. Don't just sign for the money and throw out things like when you can make music, dedicate yourself to the craft and make music for yourself first, don't make music to get signed. Throw that idea right out of the window.
7) If you had to adapt these lyrics – "Who's the best MCs, Biggie, Jay-Z, and Nas?" – for 2016, which 3 rappers would you include?
Oh man, I don't know if I should keep face and go with what people are familiar with and just say Drake, Kendrick, and Kanye, or actually think who in my opinion are the top of the top.
I will go ahead and say, old rapping Drake was ill, same with Kanye, but I'm not really a huge fan of them now, or Kendrick (Yeah, I said it. Not a huge fan, sue me). J Cole is without a doubt in my opinion a heavy hitter and I am a huge fan.
But, honestly Chance The Rapper for me is in my top 3, no question. His creativity and passion are out of this world. Same goes for Jon Bellion. He is another guy that if somehow you're unfamiliar with, then first off you don't know good music (that's not opinion, that's fact), second off you will get to know his name, he's going places fast.
My third pick in no particular order, has got to be a tie just because I can't decide between Logic and Jared Evan. Don't take that as a direct comparison, because they in no way or similar, but both have bright futures ahead of them.
See the reason why this question is a little tough for me is because I don't really have a "top 3" per se. I'll listen to anything from everyone and have a handful of clear favorites including Childish Gambino, Russ, Dylan Owen, Mod Sun, Raz Simone, Sam Lachow, Skizzy Mars, Action Bronson, Brandyn Burnette, Kinetics and One Love, and The Kings Dead, I could go on, but you get the point.
I see music more as enjoyment and pleasure vs comparing artists to others and how good they are. Honestly who fucking cares, listen, be happy, sing/rap along, and maybe dance a bit. Music is not only a remedy/a good thing to listen to and just get away from everything, but is also used to enhance life as you see fit.
Ask me this question in 35 years from now and I'll tell you who I think the best were from this time, but for now, I'm just taking life day by day, cruising, trying to take in as much music as I can.
8) So what's next for you?
Next up, let's see, continuing down the road of building success with BlaccOut Garrison would be #1 on my list. Living the life on the road going from show to show, creating new music and being apart of something with major success like that would be a life I wouldn't mind living.
Growing OK-Tho is also on the agenda, from a new site design (in the works) and continuously branching out to new artists and different genres also holds an important part on my list of upcoming. Other than that, well, real life, ha, that's for suckers though. Just living life to the fullest of what I can right now.