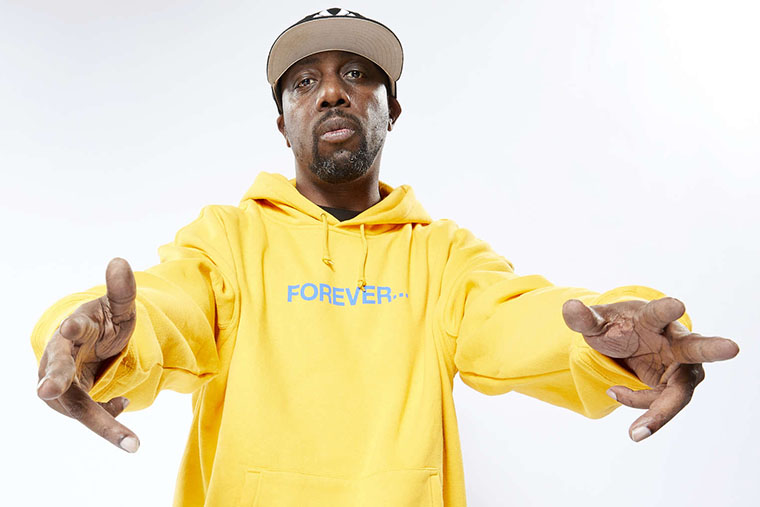 Inspectah Deck, aka the Rebel INS, may not have had the same solo success as his Wu-Tang brothers, but there's no denying that bar-for-bar, he has the most memorable verses in the entire group. This is the very same rapper who set it off on Wu's debut single "Protect Ya Neck," featured on one of the greatest rap songs of all time "C.R.E.A.M." and, of course, delivered a top five rap verse of all time on "Triumph."
Now let's go bomb atomically and check out Inspectah Deck's top 10 guest verses.
10. "Cold World" // GZA – Liquid Swords, November 7, 1995 
Liquid Swords haunting soundscape and bleak themes served GZA well, but it also provided Deck with the perfect jump-off to deliver his sobering bars over a sample of "In The Rain" by The Dramatic. Wu-affiliate Life also provides a haunting hook to cap it off.
Best lines:
"You witness the saga, casualties and drama
Life is a script; I'm not an actor but the author
Of a modern-day opera, where the main character
Is presidential papers, the dominant factor"
9. "Black Mozart" // Raekwon – Only Built 4 Cuban Linx… Pt. II, September 8, 2009
Rae came back with a vengeance with his highly anticipated sequel, delivering one of the best Wu albums in recent years. Rounding up his brothers for some murderous guest verses and an A-list line-up of producers, Rae made it feel like it was 1995 all over again. Deck appeared on 3 songs (4 if you include the bonus track "Rockstars"), and he killed all 3 of them. "Black Mozart" features RZA with an intoxicating hook and Deck with a bananas flow.
Best lines:
"Borough hopping, copping bricks, bags, burners and kicks
City slickers, circling the strip, working them tricks"
8. "9 Milli Bros." // Ghostface Killah – Fishscale, March 28, 2006 
Another reunion track! For Ghost's acclaimed 2006 release, he grabbed all the Wu members and added some Ol' Dirty vocals to make us feel warm inside. Deck as usual slays his part.
Best lines:
"I'm Mr. Violence we loungin' with chrome
Mr. Violence we lounge in his home, hit the housing on Rome
Shining like a hundred thousand in stones"
7. "Tru Master" // Pete Rock – Soul Survivor, November 10, 1998
Pete Rock's '98 debut album, Soul Survivor, is so fucking dope and just keeps getting better as time goes on. The line up of high calibre MCs rapping over Pete Rock production is bananas: Inspectah Deck, Kurupt, Method Man, O.C., Raekwon, Prodigy, Ghostface, Large Professor, Kool G Rap, Black Thought, MC Eiht, Big Pun, Common, and more.  In fact, the line up of MCs was too dope, it made Pete Rock's verses sound redundant at times — did we really need him to close off "The Game" following Rae, Prodigy and Ghost? Probably not.
First to set the album off, as always, Inspectah Deck.
Best lines:
"Your highness, live from the bricks, one six
Pete Rock bang your head, break the drumsticks
Verbal assault, rhymes rippin' through the mix"
6. "Tres Leches (Triboro Trilogy)" // Big Pun – Capital Punishment, April 28, 1998
It doesn't get much more lyrical than this. Big Pun, Prodigy and Inspectah Deck spitting murderous bars over an eerie RZA production. '90s hip hop heads fainted when they first heard this joint. Not much more to say about it, dope dope dope.
Best lines:
"Straight from the grain come the great one
My blade swung, decapitate your snake head
Slit your snake tongue, make one false maneuver – you a mystery"
5. "Assassination Day" // Ghostface Killah – Ironman, October 18, 1996
Ironman was a Ghostface album which at times felt like a Wu Tang project, it wasn't until 2000's Supreme Clientele, where Ghost fully came into his own as a solo artist. On this project, he was overshadowed by his crew members; by Cappadonna on "Winter Warz," Rae on "Daytona 500" and "Motherless Child" and Deck on "Assassination Day" (which oddly enough Ghost didn't even appear on).
Best lines:
"I move through the Third World, my third eye's the guiding light
Invite the fight, we all die tonight
The life I live's a 25 to life bid
Parole reneged, I stroll the globe fugitive"
4. "House of Flying Daggers" // Raekwon – Only Built 4 Cuban Linx… Pt. II, September 8, 2009
How fitting that the first verse on Only Built 4 Cuban Linx… Pt. II is not from Rae, but Deck. Even as important as this project was to him, Chef knew that there's only one rapper who can set it off in the right way.
Best lines:
"I pop off like a mobster boss, angel hair with the lobster sauce
Summertime can't top the scorch
Check my hot broad, I dropped the Porsche
FBI wanna watch the force, trying to lock my source"
3. "Above the Clouds" // Gang Starr – Moment of Truth, March 31, 1998
'98 was a killer year for Deck. Fresh off murdering "Triumph" and an assortment of songs on Wu-Tang Forever, Deck made the rounds for guest verses, popping up with Pun, Pete Rock, Kurupt, and of course, the one and only Gang Starr. This is probably the most well known Deck guest verses, as well as one of Premo's best beats.
Best lines:
"Yeah, I leave scientists mentally scarred, triple extra large
Wild like rock stars who smash guitars
Poison bars from the Gods bust holes in your mirage"
2. "Duel of the Iron Mic" // GZA – Liquid Swords, November 7, 1995 
"Duel of the Iron Mic" by intents and purposes was a GZA, but in the same way Kanye set up "Mercy" so 2 Chainz could steal the show, RZA set up this song for Deck to steal the show, breaking down the beat and letting the Rebel INS let loose with his verse. This is prime, hungry Deck with killer instincts.
Best lines:
Out of town foes look shook but still pose
We move like real pros through the streets we stroll
Bullet holes lace the windows in one-six-oh
1. "Guillotine (Swordz)" // Raekwon – Only Built 4 Cuban Linx…, August 1, 1995 
In my humble opinion, Deck's verse on this song is right up there with "Triumph." Featured on Rae's magnum opus Purple Tape, Deck was lined up alongside Raekwon, GZA, Ghostface Killah and he blew them all away with the first verse.
Best lines:
"Poisonous paragraphs smash your phonograph in half
It be the Inspectah Deck on the warpath
First class, leaving mics with a cast
Causing ruckus like the aftermath when guns blast"