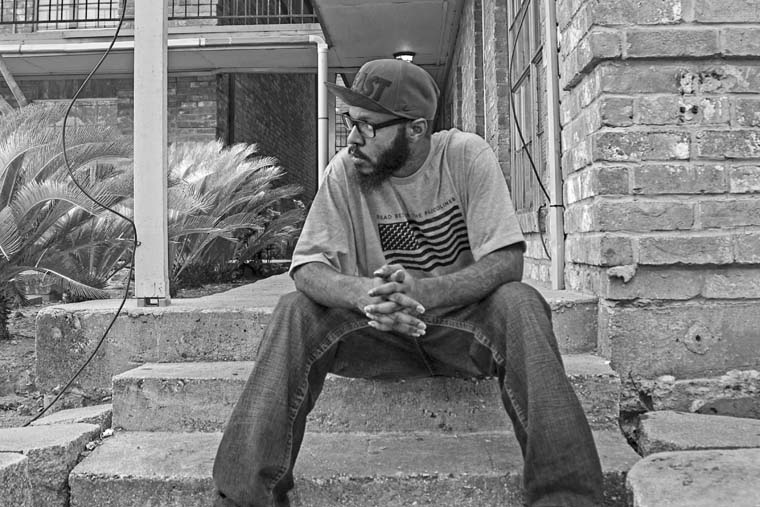 James E Walker is a freelance graphic designer, illustrator, and multidisciplinary artist based out of Houston, Texas.
With experience working with some of hip-hop's finest artists, including Tech N9ne and the Strange Music team, Paul Wall, Slim Thug, K-Rino, The South Park Coalition and others, James has a wealth of knowledge on all things graphic design and branding.
Stop The Breaks had the pleasure of interviewing James who spoke on his early creative influences, balancing out his design career with music aspirations, the importance of strong design and branding in an artist's career.

1) Tell us a little about yourself and your background.
I am a freelance graphic designer, illustrator, photographer, and multidisciplinary artist based in Houston, Texas. I specialize in developing and producing creative ideas through logo design, brand identity, album art + layout design, t-shirt + poster design, merchandise + apparel, wall graphics, silkscreen printing, and mixed media art.
Beyond design, I am usually wearing the hats of both Creative and Art Director as well. For me, art was something I had been creating since elementary school. I began experimenting with design in junior high as my interest in team logos and mascots developed.
I would draw all of my favorite team icons. I also collected hip hop magazines like VIBE, The Source, XXL, Right On, and Murder Dog, and would later cut the images out to make my own graphic collages and posters.
By the time I reached high school, I was redesigning album covers to my own liking and "photoshopping" myself onto magazines covers.
My early music collection was selected based off of how dope I thought the artwork was. This is ultimately how I trained my eye at a young age to recognize great typography, layout, colors, and compositions.
It wasn't until after quitting my job in 2010, to focus on music full-time that I started getting involved with the art direction of my brand. I started getting calls left and right to design covers and flyers. At this point, I was forced to take the craft more seriously. So serious that I returned to college and earned a degree in Graphic Design.
2) Growing up in Houston, who were some of your early creative influences?
I would have to say my parents, family, and childhood friends. I grew up around a lot of talented and creative people. I've always been curious and very observant so I picked up on everything around me and then channeled it through music, art, and sports.
My moms was really creative when our resources were low, and both my dad and step-dad were craftsmen working mainly with their hands to create wonders. I have to credit my step-pops with introducing me to such as diverse collection of music which actually lead me to the arts.
3) You started out as full-time musician and then made the move to graphic design and branding afterwards – what prompted this transition?
Being an independent artist, I really felt the need to brand and market myself as though I was on a major label and design was something I valued. I had seen too many great artists drop the ball in this area. Their artwork didn't compliment the music and this disturbed me.
I think my passion for design and my ability to actually create what I was seeing in my head was the first sign. It's was powerful man, and it really tripped me out at first. It wasn't even about the money.
But then, the fact that design was paying more bills that the music was, and it didn't feel like work, was confirmation that I was moving in the right direction.
4) How do you balance out your design career with musical aspirations?
Honestly, this is something that I still find challenging but I've learned to work in seasons and set quarterly goals. This allows me to at least develop a body of work without the two disciplines stepping on each others toes.
Then I am able to plan out my shows to marry the two together. In my head, I feel like I'm designing to a musical rhythm, and when I'm creating music I see things very clear visually.
5) You've worked with some prominent hip-hop artists like Tech N9ne and his Strange Music label, Slim Thug, Paul Wall and plenty more. Tell us about your experiences working with these artists.
For the most part, I was honored to be a part of, and in the mix of these working relationships. My experiences with these artists have humbled me, yet made me want to go harder to establish myself in the creative field and maintain longevity.
Sometimes in order to work with an artist that you've always wanted to work with isn't what it's cracked up to be, and sometimes you're fortunate to work with them in ways you didn't even expect to. Which could be a great thing in a prelimary fashion.
For example, the first time I ever worked with Bun B, we were "in the studio" but I wasn't doing a song with him nor producing, but filming him drop a verse for a documentary. This set me up for other ways and opportunities to work with him, as I did over time.
Being on set with TechN9ne and Strange Music was awesome because I didn't even know they were going to be on set. The opportunity was brief but Tech was one of the coolest guys to meet, yet he's the top selling independent artist that I respect. I would love to reconnect with those guys on a design level. I think it will happen.
As far working with the Houston legends such as Paul, Slim, Bun, Keke, K-Rino, Devin and others, it keeps me grounded to the city's cultural roots. What I've learned is that the more professional you are, the more respect they have for you.
Sometimes I have to keep working and be a fan later. When I see these guys in other settings, it makes it easy to spark up a conversation or take a photograph with them knowing that they recognize me from previous working projects.
6) What role do you think graphic design plays in an independent artist's career? How vital do you think it is for their success?
Graphic design plays an ultimate role right along with the music. I really don't think you can separate them if you are planning for success. Of course, you can make great music without it but you can't expand your brand identity without it.
It's upsetting to see up-and-coming artists sleep on this aspect because majority of the time, people will see you before they hear you, and if your artwork, logos, or marketing material is not appealing, people will not click on your images, pick up your CD, or watch your videos. It's like "ham with no burger."
7) We've seen a lot of hip-hop artists – e.g. A$AP Rocky, Chance The Rapper, Curren$y – develop successful careers thanks to their strong focus on branding. How does having a consistent and powerful brand impact on an independent artist's success?
It's your reputation and everything you stand for. It impacts your career because you have clearly given your fans a way to identify who you are, what kind of music you produce, and a sense of what they can expect.
These artists have created their own tribes and cultures through consistent brand strategies. Also, it enhances the chances of measuring your success through channels like merchandise sales, downloads, and live performance experiences.
8) Who are some of the independent hip-hop artists you admire for their branding, graphic design, art direction, etc.?
Tech N9ne and his team, in my opinion, are masters at this. I really like Big K.R.I.T.'s brand and art direction as well. His visuals are always dope.
I like what Curren$y has going on with the Jet Life movement. Danny Brown, E-40 is a vet, Kevin Gates, Run the Jewels and I'm really starting to tap into Chance The Rapper. I like what I'm seeing and hearing.
9) So what's next for you?
My design work is really starting to pave the way for me so I am talking with several emerging independent artists as well as a few veterans. Looking to create some jaw dropping projects. I'm also gearing up to release some new music as The Art of James E Walker brand and The Real J.Walker!
I've been experimenting with some instrumentals and finding time to pen more songs.I would love to reconnect with Tech N9ne and his crew, as well as working with more artists outside of Texas like Big K.R.I.T., Ab-Soul, Danny Brown, Curren$y, Brother Ail, Fiend and others.