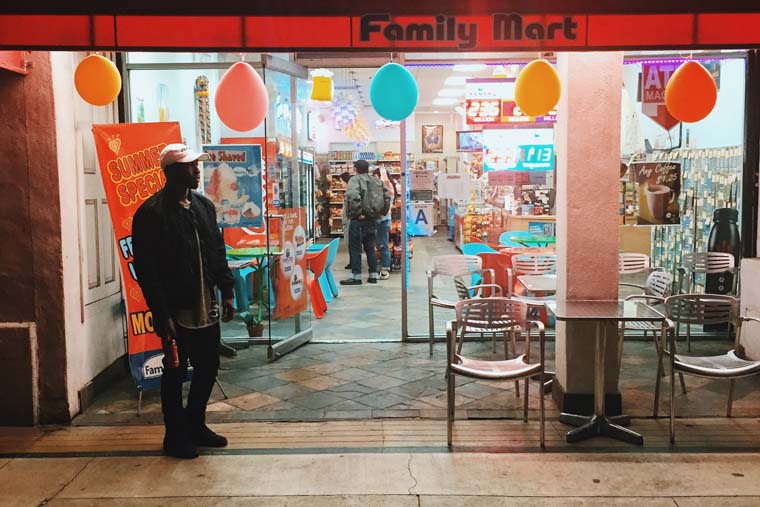 Getting an insider perspective on the rap game is something Stop The Breaks strives to do for up-and-coming independent artists who are looking to educate themselves on the music business.
Whether it's talking to music industry legend Wendy Day, Nipsey Hussle's DJ VIP, artist manager Daniel Gronert or branding artist James E Walker, we're always looking to provide artists with as much info as possible.
Our latest interview is with Austin Davis, the founder and CEO of entertainment company Creativ District and manager for independent artist Troop. 
1) You started your company, Creativ District, back in 2014 when you were producing you first show at SXSW. What was your experience like at SXSW and what made you want to launch Creativ District?
The experience at SXSW was great. It showed me that a genuine connection is always better than the meeting someone over the internet.
I think our generation forgets that we need to physically talk and connect with people. it's about being genuine and showing that you care.
I launched Creativ District after interning for a pop group during the summer of 2013 name Mindless Behavior. Their team showed me how to produce shows and manage by the daily duties that were giving to me while on tour with them.
2) What was your career path like before launching Creativ District? Have you always been in the entertainment industry?
Before CD, I was attending college in Texas. Initially, I wanted to be a songwriter or TV personality. While interning, I would interview different artists in the Los Angeles area. However, I sort of fell out of love with journalism.
I started to see artists not taking interviews serious and it made me angry due to the fact that journalism has always been an art to me.  I remember watching interviews as a kid watching them repeatedly.
3) What is your vision for Creativ District?
My vision for Creativ District is similar to Disney honestly. Walt Disney is great because he created a world with his imagination while inspiring millions around the world, that's what I plan to do with Creativ District.
The marketing, music, managed artists, live shows will all have a goal to innovate and inspire. Another inspiration of mine is Pharrell Williams.
What he's done musically and as an entrepreneur is the reason I want to be an entrepreneur entertainment, the Star Trak era changed my life as a kid.
4) How did you initially link up with Troop and what made you want to manage him as an artist?
I met Troop at SXSW actually, his friend was one of the performers at my show. After SXSW, we stayed in contact, he would always send me music from Atlanta.
I was managing local artists in Dallas at the time and felt I wasn't doing anything. Due to creative differences I decided to stop managing artists in Dallas.
Soon after, Troop wanted me to manage him. I immediately said yes because I had a vision. Troop makes music with a purpose, with substance, something that the world needs right now.
5) What sort of strategy do you have in place to help Troop get to where he wants to be?
Our strategy is make hit records but keep it focused to relating to the people. I think when people make hits they only think about making watered down music.
Troop can make a hit that will last longer than the usual 15 minutes of fame. He's also releasing an EP mid-August and we're in the process of signing our first distribution deal. I can't wait!
6) For independent artists looking to hire a manager, what do you think are the most important things they need to consider?
I would tell artists looking for a manager to not think of them as a "connect". it's about teamwork and strategy finding ways to get to the next level.
I started managing with barely any connections but I was confident in the strategy that me and Troop had written down. We were ready to execute.
7) What is like managing an independent artist in 2016? Has online platforms and social media made it easier to build a fanbase?
Managing in 2016 is great because it's all about DIY now. Investors and labels will notice the hard work and it's up to you to decide if joining with a label will benefit you.
The labels need us more than ever because some are out of touch with what's going on I think. I actually want to help a major label out and help bring wealth back, because labels are losing a lot of money due to poor investments artistically.
8) Where do you see yourself in the next 3 years?
I see myself managing more artists, having artists signed to our label division and having a successful marketing division.
I also want to produce more live shows, I'm working on new ideas for that as well. I'm also interested in executive producing TV shows, I think as I get older that will be one of my main goals.
9) Random question – top five rappers right now?
I would say Pharrell, he's not a rapper, he's everything, but he's still one of the greats to me.
Kanye of course, Chance The Rapper, Lil Uzi Vert and Dave East. it's actually hard to think of a top 5, the game has changed so much.