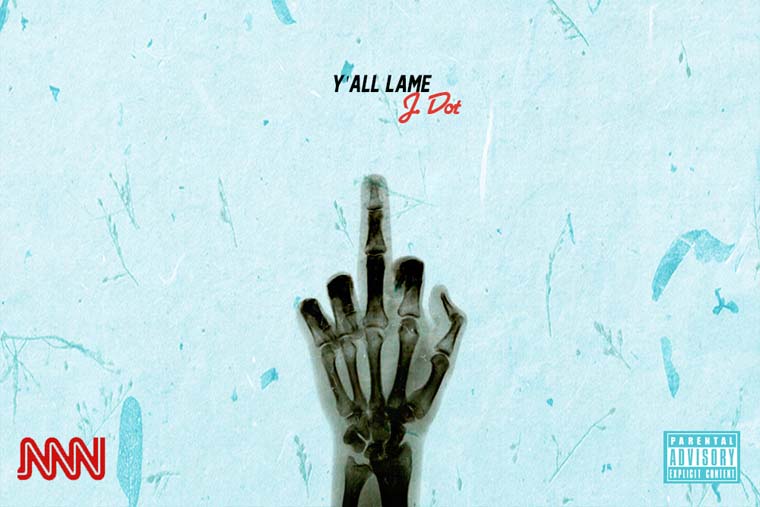 There is no doubt, in this day and age, how important it is to have standout artwork for your music. For independent hip-hop artists grinding alone, it is especially important since powerful, eye-catching artwork can make a huge difference in whether you get spotted or not. 
When it comes to building an independent artist's brand, you can't overlook the massive value strong artwork can bring in marketing your brand.
Stop The Breaks had the pleasure of interviewing Jordon Brown, a graphic artist and artwork designer who has been grinding hard in the areas of visual/audio design, graphic design and album packaging.
As someone who has created some amazing artwork in his career, including submissions for PARTYNEXTDOOR and Freddie Gibbs, Jordon is a wealth of knowledge and insights for up-and-coming independent artists who are looking to expand their brand with powerful visual branding. 
1) Tell us a little about yourself and your background.
My name is Jordon Brown, I'm originally born in Kansas City but I spent some time in Texas, now I live in Southern California. I like to watch movies and old cartoons and love trying out unique food places.
2) What inspired you to get into the hip-hop industry?
My dad inspired me to get in the hip hop industry. He use to rap in the 90's. He was in Houston at the time. He was signed to Lil Troy and had a couple songs on DJ Screw's tapes and worked with Fat Pat as well.
3) You're working in a lot of areas – visual/audio design, graphic design, album packaging – how do you juggle your interests with your career progression?
I try to keep busy at all times. If I have any extra time I'll try to learn and progress in all areas and find a way to incorporate it with the music industry. I have many ideas and projects that I want to get done that I'm quite not ready for at the moment due lack of knowledge or skill.
I've learn it's better to not stress about it. Usually everything will fall into place if you work hard at what you do and follow your plan.
4) As a graphic designer, what are some of the biggest mistakes you see artists make with their branding – whether it's their project artwork, logos, etc.?
I think artist don't take visual arts as serious as they should. A video and album cover should be marketed just as much as a song. For example I bet you can visualize the 'Thriller' video without even trying. Everyone knows what the Get Rich or Die Tryin' cover looks like.
Those are certain things that stick with you. We are recently getting better thanks to artist like Kendrick, Schoolboy Q, YG and Beyonce. Even Payroll Giovanni had a nice mini short film for his 'Day In a Life' song. It's getting boring seeing music videos with guns, lean, weed and shirtless tatted, sweaty dudes.
5) You've submitted artwork to PARTYNEXTDOOR and Freddie Gibbs – what's the process like for that?
You just have to have a quality product. Well, not even that you just have to know the right person. If you can get to someone around them (their team) at the right time and they like it.
You can get to them but all depends on the timing really. I'm trying to get my foot pretty much in the door. Once that happens I can do what I really want to do.
6) How important is it to have strong branding for up-and-coming independent hip-hop artists trying to establish their identity?
I think it is important to separate yourself from the pack. In order to do that though you kinda have to mimic others who have done it but put your own twist to whatever you're doing. Once you establish yourself you want to provide quality and refreshing ideas.
Without that your brand will devolve before it takes off. You want people to remember your name and face but if they remember you for your product, overall you will last longer.
7) If you could pick one artist and have 100% control over all aspects of their branding, who would it be and what would you do?
Besides the people I'm helping right now, I would probably choose a R&B artist. Maybe SZA, PartyNextDoor, Bryson Tiller etc., I feel like we can have another great R&B movement but most of these great R&B artists are reclusive.
We gotta find a way to have them in everybody's face but not physically 'in everybody's face'.
8) Who are the top 3 independent rappers in the game whose branding inspires you and why?
I like Smino, Kodak Black and Darnell Williams. Smino garnered a crazy buzz off very few songs, he brought a fresh sound and linked with a great producer. Before he even dropped a video he was headlining his own shows here in LA and doing shows overseas.
To me that's how you grind independently. Darnell Williams used to work for illroots. I don't know the whole story behind the fallout but he makes videos. He came with a crazy video for his song 'South Central.'
He is taking over aspects of his brand that other artist can't kinda of like Tyler, the Creator. I think now he did a song for the x games so he is connecting with the RIGHT people. Kodak Black had a heavy local and state wide fanbase before he had the internet buzz.
To me that is essential, 90% of rappers nowadays can't do that. They need the internet to blow because people in their area aren't behind them. He had the streets behind him and the Drake cosign helped him shine on the internet and outside of his region. He just needs to stay out of jail to see what he can really do.