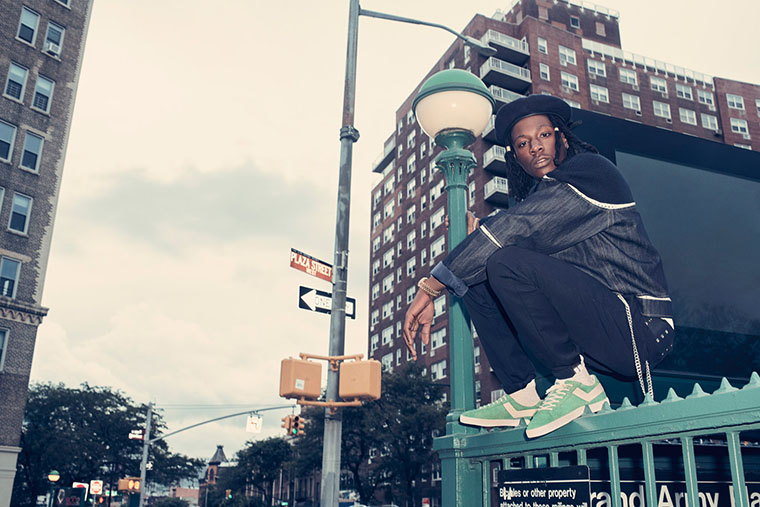 When Joey Bada$$ jumped on A$AP Rocky's posse cut "1 Train" back in 2013 and spit a line about a meeting with Jay-Z, he sent the hip-hop industry into a frenzy with rumours abound of the Pro Era star signing to Roc Nation.
Just got back to the block from a 6 o'clock with Jigga / And I'm thinkin' 'bout signin' to the Roc
Since then, he has confirmed that he passed on signing with Hov and will be staying as an independent hip-hop artist. Like Chance The Rapper, who also passed on numerous lucrative offers from major labels and is staying independent, Joey recognises the unlimited potential of having independence and 100% creative control.

When Pro Era broke onto the scene in 2012 off the strength of Joey's mixtape 1999, they had an established look and sound that endeared them to nostalgic East Coast heads, boom-bap fiends and Golden Age revivalists.
Thanks to the strong branding of their movement, Pro Era were able to build up and cultivate a dedicated fanbase – an extremely important factor for artists who want to grind it out independently – and leverage it into collaborations with bigger artists like Mac Miller, Juicy J and A$AP Rocky; subsequently expanding their following to different markets.
The way the music industry is going, it's turned into a really innovative type of race. Everybody who's winning is coming up with new ways to go about things.
In today's music landscape, an artist who has a loyal fanbase has all the power. Just look at J. Cole who sold a million records with no hit singles or major label promotion by having a dedicated fanbase, Freddie Gibbs who's making all his money touring around the world or Chance The Rapper who has 100% creative control over his brand and music. 
With his fanbase getting bigger and bigger, Joey was in a position where he didn't need to sign with a major label, he had enough of a dedicated following to support him in all his business ventures – whether it's touring, selling merchandise or working as the Creative Director of the Ecko clothing line.
In an interview with Rolling Stone, he explained in further detail why he felt it was important to stay as an independent hip-hop artist:
I think it's important to stay independent as an artist because – I mean, for me, it's always been my vision, it's always what I wanted to do and always what I've seen myself doing. It's funny because exactly the way my career is going, it's exactly what I wanted it to be and how I predicted it to be.
For Joey, staying independent means he has total control over his music and business. He can stop dropping new music and just tour for the rest of his career, he can rollout a surprise album with no singles or promotion, he can move to Europe and collaborate with artists over there – whatever he wants to do, he can do it.
Backed by Cinematic Music Group, an independent record label, management, publishing and touring company founded by current CEO Jonny Shipes who supports Joey's vision, the Pro Era representative is in a great position to takeover the independent industry.
My primary focus is Joey and his brand and how we're both gonna get to the top together and help each other, you know what I mean?
Jonny Shipes

Independent Billboard success
With the recent success of his debut album, B4.Da.$$, it looks like Joey's on the right path to becoming one of the top independent rappers in the game right now.
Released at the beginning of the year via Cinematic and Relentless Records, the album sold 53,990 copies in its first week, beating out artists like Chris Brown and Tyga, Lupe Fiasco. The album has since sold close to 150,000 units to date.
People really thought we were gonna sell 20-30,000 records, and now 150,000 records later he's here, and we're still independent.
Jonny Shipes
B4.Da.$$ debuted at number 5 on the Billboard 200 and topped both the Independent Albums and Top R&B/Hip-Hop Albums charts. The album also charted in Australia, Canada, Netherlands, New Zealand and the UK – not bad for an independent artist right? Not bad for any type of artist to be honest – independent or major.
As Joey tweeted:
Joey Bada$$ sold 57,000+ albums in his first week, INDEPENDENTLY… At 20 years old… $10/album… 85% of shares, do the math….
So let's do the math:
57,000 copies x $10/album = $570,000. 85% of that figure is $484,500. If those numbers are right, Joey Bada$$ made half a million in one week. Minus half of that to pay for lawyers, managers, etc. and you're looking at $250,000 in one week for a 20 year old. You can see why he's staying independent right? 
With so much success at a young age and the eyes of the world on him, Joey is under an enormous amount of pressure to keep churning out quality music while promoting his brand and running Pro Era Records, but that's why being on your independent grind entails.
I love the fact that I have multiple responsibilities, multiple jobs. It can get stressful, and that's why I said in the next two years I will definitely be getting better at time management — compartmentalizing and that stuff better.
Even at the young age of 21, the Pro Era leader seems perfectly suited for the hustle and grind required for success in the rap game. Certainly helps that Joey's also one of the hardest working independent rappers right now.