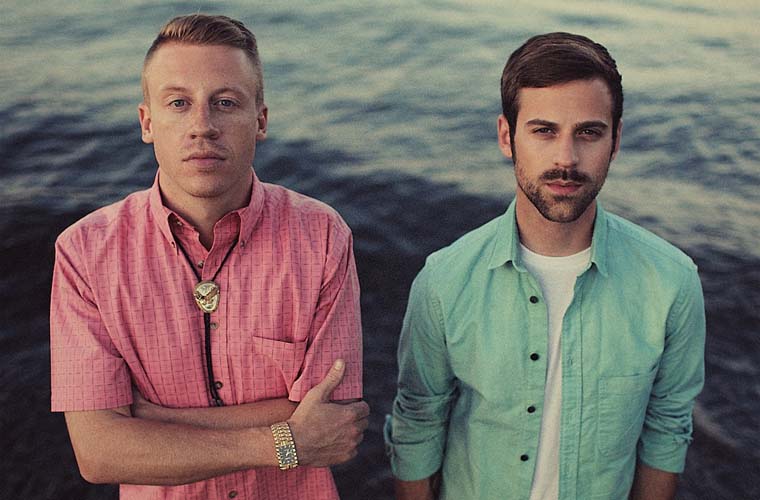 For the casual rap listener, it would have seem like Macklemore and Ryan Lewis blew up with the ridiculously catchy "Thrift Shop," hit platinum status and performed at the Grammy Awards out of nowhere. 
It's what you always hope for in terms of picking the independent path. It's cool to see that that's been a focal point.
What they don't know is that the duo had been grinding away at the album independently between 2009 and 2012 before releasing it via Macklemore LLC and Alternative Distribution Alliance (ADA), the independent music distribution arm of Warner Music Group.
That these two dudes chose to go independently, to turn down the labels. That the music industry is changing. That it's evolving. And to be at any sort of place where we're at the forefront of that, at the moment, is exciting.
As one of the top independent hip-hop artists right now, Macklemore managed to achieve the following with the album:
The Heist debuted at number 2 on the Billboard 200 selling 78,000 copies in its first week.

The album later went on to hit platinum status by March 2014, making Macklemore one out of only four new rappers to sell a million copies of one record. The other 3 rappers are Drake, Kendrick Lamar and Nicki Minaj.

Hit two Billboard Hot 100 number one singles with "Can't Hold Us" and "Thrift Shop."
Just to give you some context on a Billboard Hot 100 number one single. Eminem has five, Kanye has three, Jay-Z only has one over a twenty year plus career has one and Drake, with all his commercial prowess, has none.
Macklemore managed to snag two number ones on a single album – that's an incredible achievement for any artist, let alone an independent one. 
Mac Miller did it independently. And he had every major label hollering at him with huge seven figure offers and turned it down and still went number one on Billboard. There's examples of it that came before us.
So how did Macklemore and Ryan Lewis, a duo coming out of Seattle manage to hit such commercial heights independently?
Well, aside from creating great music that appealed to a broad spectrum of audiences, the duo were very business savvy and strategic with their distribution.
We're great at figuring out what our target audience is. How we're going to reach them and how we're going to do that in a way that's real and true to who we are as people. Because that's where the substance is. That's where the people actually feel the real connection.
After they finished recording The Heist, Macklemore approached the Alternative Distribution Alliance (ADA) to help them push their music on radio. Since the ADA is the independent arm of Warner Music Group, it gave the duo access to major label resources without having to commit to anything.
Macklemore explains it in a blog post:
"In this new scenario, we would maintain our independence without having to sign a label contract, while simultaneously benefiting from the one service major labels still have a monopoly on: radio promotion.
It was everything that we had always wanted: maintaining our independence with access to radio and thus the masses. At first, Warner said no. But after weeks of going back and forth, they eventually sided with us and confirmed the deal. As far as we know, it's the first of its kind."
With the ADA servicing their singles to wider radio markets beyond Seattle, the duo started experiencing something most indie artists never get to – they were all over the airwaves.
Slowly but surely, singles like "Can't Hold Us," "Same Love" and "Thrift Shop" were blowing up across radio markets all over the world – from the US to UK and Australia all the way over to Slovakia, Lebanon and more.
These global hit singles were instrumental in helping the duo sell their music. The Heist eventually sold over a million records while four singles off the album hit platinum status. This is the sort of commercial success most major label artists can only dream about.
Getting nominated for seven Grammy Awards and winning four of them (for: Best Rap Album, Best New Artist, Best Rap Performance, Best Rap Song) was just icing on the cake for Macklemore and Ryan Lewis.
Forget the whole Kendrick Lamar situation – you should be happy that these guys broke down barriers for independent hip-hop artists in the future! The duo will continue to grind it out independently and reject offers from major labels.
It matters that we have YouTube and that has been our greatest resource in terms of connecting, having our identity, creating a brand, showing the world who we are via YouTube. That has been our label.
Related posts in Independent Hip-Hop Promotion & Marketing: