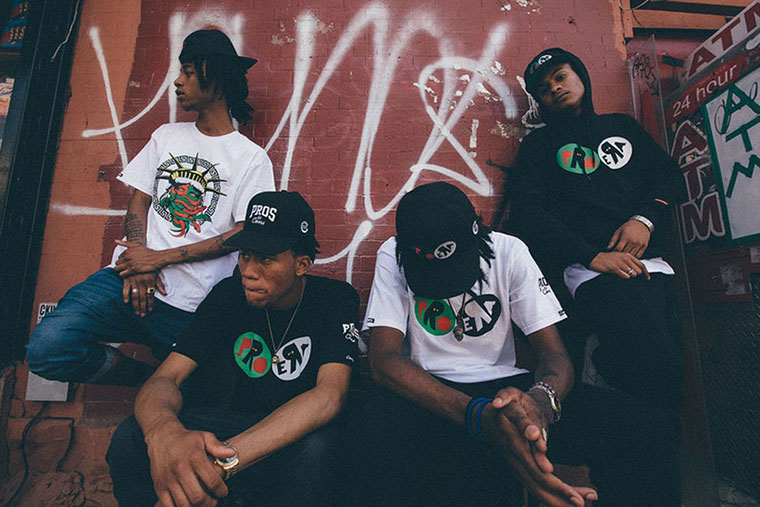 Founded eight years ago and running from one of the musical capitals of the world, New York, many might expect that a group like Cinematic Music Group might struggle to get break off and get noticed.
After all, if you are trying to promote hip-hop music in a city that's so saturated with talent and record companies, is it not going to be too tough to get noticed?
Well, Cinematic Music Group can act as a case study that this isn't the only outcome that will occur. With a small group who work in their HQ helping artists get noticed, they really have helped many artists looking to get into the DIY era of independent hip hop music get noticed and spotted along the way.
However, the road to success and making it big has very much followed the same routes as the people who run it now. Look at Jonny Shipes, the founder of the entire thing, he says that his first "business venture" was "selling weed, my second was selling weed while on my pool cleaning routes. My third was selling weed while promoting parties."
Whilst we aren't promoting going out and doing a bit of selling on the side, it shows you that not everyone who makes it big in this industry comes from an easy background; or even a background any different from your own.
By using some smart artist signings and the ever growing power of the web to get people interested in their scene, CMG have been a big part in helping people realize that independent labels might just be the new major big name that everyone wanted to get signed up with!
Label Beginnings
According to Shipes, the entire aim behind the label is to make sure that each artist can deal with the "shit that goes wrong on a daily basis in this f**kin crazy industry." A forward thinking and extremely direct individual, Shipes has managed to create a bit of a name for himself through an eye for talent and a boisterous and open style.
Although some of his mottos and ideas might not sound like the kind of stuff you expect to hear from someone so successful (he believes that "you can be sure something will pop up to ruin your day" he seems to have an innate ability for spotting talented artists and giving them that platform.
A key player within the success of the company, though, has been the entrepreneurial ability that Shipes brings to the table. He's known for being involved with more than just music and is currently branching out into clothing, having set up a deal with Ecko. Now, he's collaborating with the company to ensure they make their 20-year anniversary in the right way.
However, he also knows his stuff when it comes to knowing what it takes to actually make it. As he says himself, what will "separate you from the losers, the quitters" is your ability to go even harder "when all your money is spent and there looks like there is no light at the end of the tunnel."
It's wise words and while you might have heard that advice in the past, it's something that the best all need to do – and get through, to succeed.
Indeed, this seems to be the whole idea for CMG; sign up talented artists and give them that platform. However, Shipes himself has alluded quite clearly to the fact that it's the artists who make the difference in every single sense. His warning to any label without a decent roster is that the "label will not be around that long." Make sure you heed that advice!
The background of CMG might seem rather basic, but re-inventing the wheel was never the plan, it was to improve it.
Rise Of Cinematic Music Group
The main rise that you can attribute to the growth of CMG is quite simple; take away the big names and the egos, and let the new artists flourish. They know how to give people breathing room to write and to make their music, as well as ensure that they always have a solid "academy" of young artists on their way through.
For example, Shipes and co. picked up Joey Bada$$ when he was just 17! They've always had a commitment to finding youth and giving them a chance to do their own, which makes it easy for CMG to get some positive promotion.
They know what it takes to deliver something like this, though, and their strong use of social media has played a large part. Whilst other labels are busy talking crap and promoting like some cheap sales company, they've stuck to being authentic and clear about their intentions.
A big part in their appeal to other artists is that they make it about the artist, not the company. They are well-known for finding people who were "amazing before me" as Shipes put it. Finding talent, giving it a place to run free and harness itself, is the aim. It's what has made the company such a draw, and such a key fixture.
Given that Shipes comes from a relatively party-happy background, where he spent plenty of his time DJing and eventually managing some DJs, it' easy to see where the success comes from. A carnivorous appetite for success and promotion, as well as abrasive yet charming personality, made Shipes the perfect promoter.
From there, the company simply got stronger and went in the right direction more times than not – their rise has really been about having the balls to give unproven youngsters a shot and having the confidence in themselves to promote and offer people an emerging form of hip-hop to enjoy.
Key Artists At Cinematic Music Group
In 2007, they made a key early signing to their ground as they signed up with Smoke DZA. As of 2015, he is one of the main names on their current roster.
Shortly after signing DZA, though, they took Sean Kingston under their wings – remember "Beautiful Girls"? Kingston's debut album hit platinum status and included two number one Billboard singles – safe to say that both parties benefited from the arrangement.
Cinematic Music Group also worked with Nipsey Hussle for a short while during his come-up, helping the West Coast rapper get included on the  XXL's Annual Freshman List.
At the moment the two hottest artists on the label are unarguably Joey Bada$$ and Chicago rapper Mick Jenkins. The latter's 2014 project, The Water[s], was a big hit and established Jenkins as a prominent voice on the scene.
Joey on the other hand has been having a very good 2015. Ever since making a name for himself with the critically acclaimed mixtape 1999 in 2012, the Pro Era head honcho has been working hard towards this moment.
B4.Da.$$, his debut album, hit number five on the Billboard 200, selling 53,990 units in its first week and has since sold over 120,000 copies. As an independent hip-hop artist, these numbers are huge and show the importance of organically building up a loyal fanbase who will stick with you for the long run.