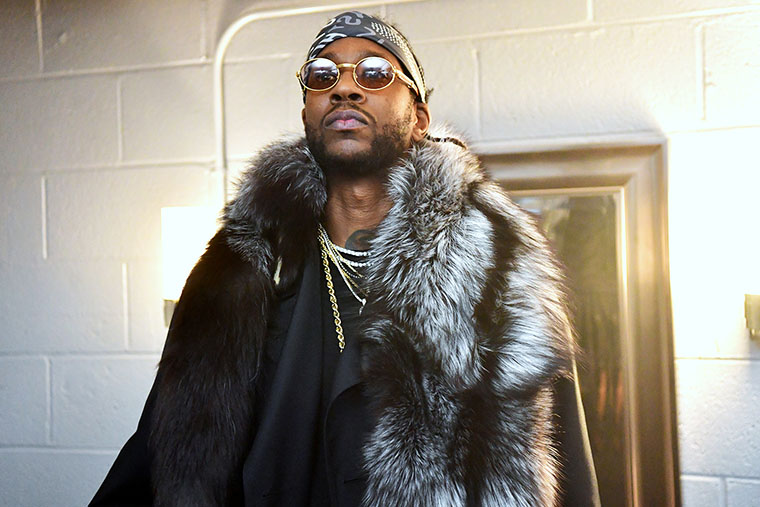 The story of 2 Chainz going from down and out to becoming one of the hottest rappers in the game today is legendary. Everybody knows about how the Playaz Circle rapper went from Tity Boi to 2 Chainz to $100,000 for a feature to eating $1,000 ice cream sundaes with GQ.
Together with Dolla Boy, 2 Chainz (going by the name Tity Boi at the time) formed the duo Playaz Circle and linked up with Ludacris who signed them to his Disturbing tha Peace label.
Playaz Circle released their debut album, Supply & Demand, in October 2007 and scored a hit single with the Lil Wayne-featured "Duffle Bag Boy," which managed to peak at number 15 on the Billboard Hot 100.
Unfortunately that was the peak of their success. A series of unfortunate events prevented the duo from releasing more music than they would have liked and by the time their sophomore project, Flight 360: The Takeoff, was released, the heat had fizzled out.
Most rappers would have given up at this point but this is what separates 2 Chainz from the rest of the pack. With a new, family friend stage name and an iron will to get to the top of the rap game, 2 Chainz went on his grind.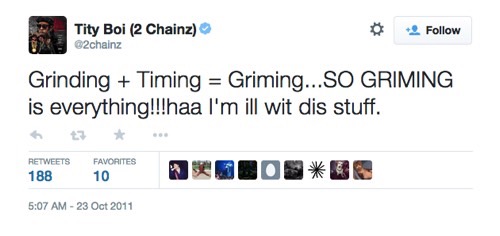 The reason for 2 Chainz's success can be summed up perfectly in that one tweet. Griming = grinding + timing. Sure, you need to work hard to reach success but you also need to have the right timing in order to capitalise on all your hard work.
This is one of my favorite artists of all time. I never wanted to compare myself to being like Pac. I just want to compare my work ethic to how much he grinded out.
2 Chainz locked himself in the studio and put out mixtape after mixtape; each one better than the last. His seventh mixtape, T.R.U. REALigion, released in 2011 and hosted as part of DJ Drama's Gangsta Grillz mixtape series was the one that pushed him to the next level.
In 2012, 2 Chainz went on a features run that was unheard of since Lil Wayne's legendary 2005 – 2007 guest appearance bodying tour. "Beez in the Trap," "Bandz a Make Her Dance," "Fuckin' Problems," "Mercy" – whatever song was hot in 2012, no doubt 2 Chainz was a part of it.
Then he dropped his debut album, Based on a T.R.U. Story, which topped the Billboard 200 and featured hit singles like "No Lie," "Birthday Song" and "I'm Different." Oh yeah – the album got nominated for Best Rap Album at the 55th Grammy Awards and has been certified gold.
So for independent hip-hop artists who are out there putting in the hours day and night, here are the work ethic lessons you can learn from 2 Chainz's grind.
Put in the hours
New Yorker staff writer and author, Malcolm Gladwell, published a book, Outliers: The Story of Success, which examined why people like Bill Gates and The Beatles managed to attain such incredible success in their lifetime.
Through his research, Gladwell discovered the 10,000 hour rule, which means it takes around ten thousand hours of practice to achieve mastery in a field. 2 Chainz didn't find success because he was online all day and all night nagging other rappers to "check out his latest single" or "retweet his video."
That's what I took from 'Pac. I watched his DVDs. I was definitely around and a big fan when he was active, the biggest thing I took from that is hard work. Hard work is something you can't see. We didn't see him in the studio every night, but he kept coming out with songs.
2 Chainz got to where he is today because he was in the studio 24/7 working on his music. He was writing lyrics, recording features, crafting hooks, making music! 2 Chainz put in the work, hit those 10,000 hours and found himself in the right place and right time to take advantage of his work.
Independent hip-hop artists – you're artists and you make music. So get back in the studio and make music!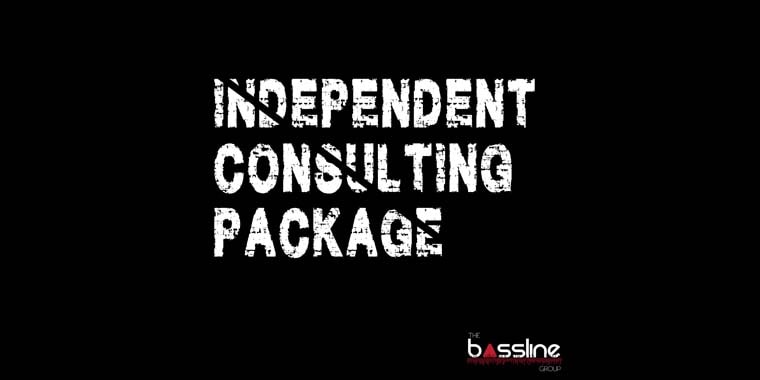 Practice and refine your craft
The main reason why 2 Chainz can pump out verses at the rate his rate is because he's been practicing and refining his craft constantly over the years.
It's definitely a strong work ethic, man. I just work hard. If people give me something, I give it back within 24 hours or less. My turnaround is good, and I'm just a humble cat who can charge the sh*t out of somebody or can do it out of love, just depending on how I feel.
This is the second part to Malcolm Gladwell's 10,000 hour – you can work on something as much as you want but to get really good at it, you have to refine it to make sure you're getting better.
Don't just keep making the same type of song over and over again if you find that it's not taking you anywhere. Study the song and listen for its flaws. Do you need to re-do the hook? Do you need shorter verses? Is the production too loud? Does the beat suit the lyrics?
Keep practicing, keep refining. You're a hip-hop artist and music is your craft. Your goal is to make the very best hip-hop music that you can possibly make. Focus on that and everything else will come.
Always be networking
So you've put in your 10,000 hours and you've been constantly refining your craft. How come you haven't found success in the rap game?
2 Chainz realised the importance of networking early on in the game. He made sure he built relationships with people like Lil Wayne, Kanye West, Rick Ross and Gucci Mane so that when he needed to call on them in the future, they were there for him.
That blessing which came from God, but came through Lil Wayne – it changed my life because it gave me a taste of shows, the life, something that I wanted to be a part of. When I went on tour with him and was able to see his work ethic and see what it took to get to this level, which I acknowledge every chance that I get – it changed the way I looked at music.
Think about 2 Chainz's biggest singles to date – "Mercy," "No Lie," "Birthday Song," "Beez in the Trap" – they all came from relationships he built in the past. Without networking constantly and forming great relationships – those songs would have been impossible.
Imagine "No Lie" without a Drake hook or "Birthday Song" with a Kanye verse.
Famed investor and businessman, Robert Kiyosaki, has a great quote about networking – "If you want to go somewhere, it is best to find someone who has already been there." Independent hip-hop artists around this world – burn this quote into your brain and always be networking.