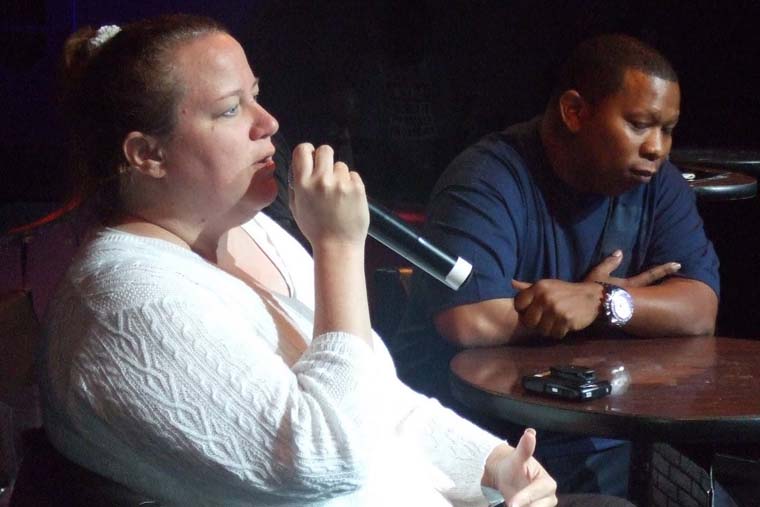 Stop The Breaks had the pleasure to interview the rap game legend Wendy Day again. After our first time talking with the Rap Coalition founder, we realised one interview would not suffice – Wendy's just too full of useful information, especially for independent hip-hop artists on the come up.
So here we are again, catching up Wendy who talks about what's been going on since we last spoke, her various business ventures designed to help and educate artists, the fundamentals of music distribution, staying independent and much more.
1) So what have you been up to since we last spoke?
I've been helping my clients put out music, tour, and make money with their music in a variety of ways. Yes, one of the kind followers of Rap Coalition redesigned our website as a gift. Isn't it lovely?
It's more of an overview of what I do than Rap Coalition, but that's always the downside of having one brand running another brand–the lines blur. I own 2 companies: Rap Coalition is the artist advocacy organization that helps artists get out of bad deals, and educates artists about the music industry.
PowerMoves is my consulting company that helps artists (those who have investors in place) make money with their music.
2) Can you talk about how Rap Coalition is positioned to help hip-hop artists navigate through the complex music industry in terms of educating them on the business fundamentals?
Absolutely. Rap Coalition, as well as me personally, has been dedicated to educating artists since 1992. We have been offering panel discussions, webinars, articles, and books since starting in the music industry over 2 decades ago.
This year, I'm adding a podcast called Raponomics, a video series to educate artists, a video interview series with key behind-the-scenes people to explain what they do and how they do it, and an educational website called SlavesNoMore.com.
Oh, and I have my second book coming called Making Money With Music for artists who want to put out their own music and remain in control of their careers. I've just updated How To Get A Record Deal for 2016, and Slick Rick was kind enough to voice the audiobook version.
3) A lot of the independent artists we speak to aren't too familiar with the ins-and-outs of successful music distribution – which I think is the most overlooked aspects of a successful career. Can you talk about how you guys work with independent distribution companies to help artists?
Just to be clear, Rap Coalition does not work with distribution companies to help artists. I, Wendy Day, in addition to running the advocacy organization, Rap Coalition, run a separate for-profit consulting company called PowerMoves that helps artists and indie labels (those with proper budgets) start and run their own independent companies.
That company helps artists structure and organize their companies and we physically help them make money with their music. Distribution is how the music gets into the marketplace.
Let me take this topic outside of what my companies do because it's important people understand distribution as it relates to their careers, not mine. Finding a distributor in today's music industry is relatively easy as it relates to digital distribution.
It becomes a bit more challenging to find a distributor for CDs because of the cost and risk involved – risk of returns if the artist doesn't market and promote properly, and most do not.
You see, in 2015, 29% of music income came from CD sales (it's declining), 34% came from digital download sales (also on the decline), and 34% of sales were from streaming (sales are on the incline).
So to not leave any money on the table, an artist would need to have distribution of their music via CDs, digital retail stores (like iTunes) and streaming sites (like Spotify). As I mentioned, finding digital distribution is easy. You ideally want a distributor who will do an 80/20 (or better) split with you and pay you monthly.
My consulting clients seem to utilize TuneCore and Empire most often for digital distribution. I especially like TuneCore for most artists because you pay a flat fee to upload your music. They get the music on all of the streaming sites and all of the digital download sites and they pay you 100% of your sales income that they receive.
For example, your full length digital downloaded project (album) might sell for $9.99. TuneCore.com charges you a one time annual fee of around $30 to upload it, and then when iTunes, for instance, sends TuneCore the $7 (Apple keeps $3) split, they pay it directly to you.
4) The big debate for all up-and-coming artists is always whether they should stay independent or work on signing to a major label. In my opinion, it's never as clear cut, depending on their situation. What are your thoughts on staying independent in this day and age?
In my opinion, staying independent is the only choice. I no longer see a need for major labels unless you have no money or access to investors, no knowledge or understanding of how the music business works, and zero entrepreneurial spirit or ability.
In fact, I've found it easier to find investors than it is to get signed to a major label, so I guess I really don't see the point of signing to a major label unless you have a ton of leverage and do a joint venture or distribution deal and make the bulk of the income and have the bulk of the control–which is very rare.
I wrote HOW TO GET A RECORD DEAL to cover the exact differences as well as the pluses and minuses of both signing to a label and staying independent. But since I have the know-how and experience to do this, I guess it's easy for me to lean towards being independent.
I'd rather see an artist-owned indie label make the lion's share of all of the income (80%) than see the artist sign a 360 Deal with a major label only to make 12%-15% of the sales, 50% of the publishing, 50% of the merchandising, and 50%-70% of the show money. For what? Because they didn't want to do it themselves?
Truth is, it's the same work whether a major label tells them what to do or they hire their own team that tells them what to do – the difference is whoever has the funding has the control.
5) People look at successful indie artists like Tech N9ne, Chance The Rapper and Nipsey Hussle and think independent is the only viable route these days, not realizing just how much work is required. What do you think are the most important traits of a successful independent artist?
I think the most important trait is seeking out the knowledge and experience to do this properly. You either hire the right people who have the knowledge and connections to help you succeed as an artist or you learn how to do this yourself.
Macklemore is a great example because when his project began to take off, he went and hired experienced people from Warner Bros Records to help him succeed. It doesn't matter where you find them, just find skilled, legitimate people to help you for an affordable rate.
Another important trait is doing what you're great at, and hiring others who excel at what they do, and then letting them do their job while you stay in your lane. You need great research skills and people skills, and the ability to see who's real and who's bullshit, and then let the legitimate people do their job.
No micro-managing! Put a system in place to be certain everyone is doing their job and trust the process. Have a plan, work hard, collect the money, reinvest in yourself, and repeat.
6) If you had to recommend an up-and-coming artist to educate themselves on three important aspects of the music industry, what would they be?
1) Learn how it all works
2) Learn who the players are and what they do
3) Learn how to make money with your music.
I believe those things will build success for any marketable artist in the music industry. This is assuming, of course, that you have great music, the proper funding in place, and you're willing to outwork everyone else.
7) So what's next for Wendy Day and Rap Coalition?
2016 is the year that we are stepping up our game on the education side. I've spent the last 4 years consulting clients to earn enough money to fund the new educational website, write more books and articles, fund panel discussions and a conference, and build the video and podcast portions of Rap Coalition's educational endeavours.
We plan to keep changing how this industry does business, for the better, by educating everyone. Especially the artists!
Related posts in Independent Hip-Hop Promotion & Marketing: