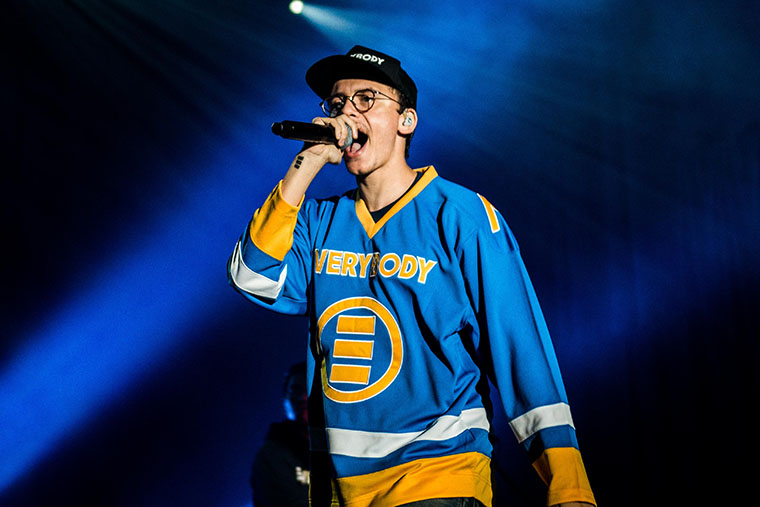 Despite being just 25, Logic has fashioned himself as one of the most business-savvy and hard working hip-hop artists in the game today.
Charismatic, entertaining and unique in his style, he's become an icon for many aspiring artists out there. However, for independent hip-hop artists especially, Logic is quickly becoming one of the true inspirations out there at the moment.
In an era of declining record sales, streaming and more diverse revenue streams, building up a loyal fanbase is the most important thing for an independent hip-hop artist trying to make it.
Independent artists have to focus on laying the groundwork for their core fans and there is no better path to follow than the one that Logic used to gain his massive success.
Sales don't determine the artist you are anymore, I'm still gonna tour the world and sell merchandise.
From dropping his first mixtape in 2009 to signing to Def Jam to selling 73,000 copies of his debut album, Under Pressure, Logic has proven time and time again that having a dedicated fanbase is vital to a music career. 
Great Content Comes First
The first thing that you need to look at is the way that Logic came around. He released four absolutely fantastic mixtapes creating buzz for himself and was eventually signed to independent record label Visionary Music Group (VMG).
Today, with the internet and the incredible power that it offers, it's very easy to forget about the ways that old-school artists got their name heard. Mixtapes are still an incredibly powerful way to market yourself as an independent hip-hop artist; you just have more ways to get it out there and make sure it gets heard!
There are many aspects to getting started with building a loyal fanbase but if I had to stress one thing, it would be your content. Creating dope music was Logic's number one focus.
From tours, to mixing, mastering, graphics, artwork—I've done out of pocket.
Making sure that his four mixtapes – Young, Broke, and Infamous, Young Sinatra, Young Sinatra: Undeniable and Young Sinatra: Welcome to Forever – was the best content he could create was a priority over anything else.
From there, he used social media channels like Facebook and Twitter to promote his music, booked live shows to engage with his growing fanbase and networked with important industry people to push his brand, but the bottom line is that the quality of Logic music was the the most important thing to him.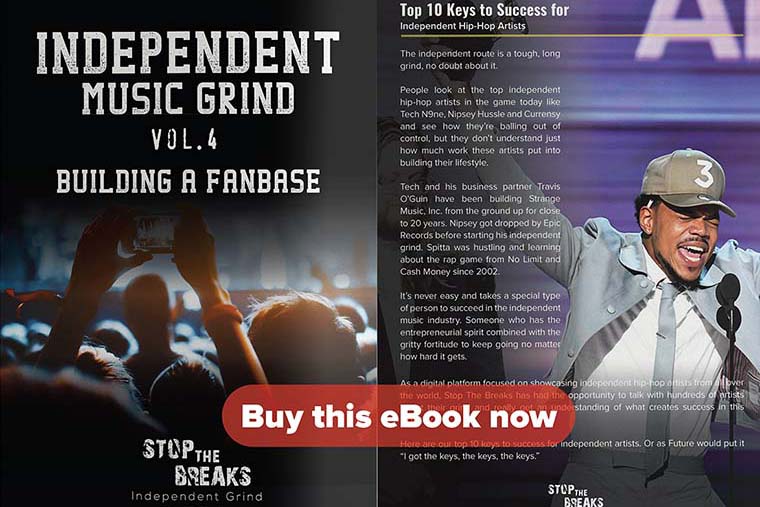 Loyal Fans Support You Over Time
I show up 20 minutes early to business meetings and interviews and stuff. I'm so business-oriented. I run my own company. I have employees. I fund everything. I pay for my tours.
I'm going to give you 2 scenarios. As an independent hip-hop artist, think about which one you would prefer.
Scenario 1) You create and release a music video on YouTube which goes viral across the country. Everybody is talking about you, everybody knows your name and everybody is rapping along to your song.
Your single eventually sells over half a million records, peaks at number 36 on the Billboard Hot 100 and you get signed to Def Jam.
Shortly after your label helps you remix your hit with A-list rappers  T.I., Young Jeezy and 2 Chainz and you jump on a few features with some of the hottest rappers in the game.
Scenario 2) You're grinding away in your parent's basement, listening to your favourite records and inspired by your idol rappers. You release a number of mixtapes that are well received through the rap blogosphere and your music videos are starting to gain traction on YouTube. 
No one knows your name outside of the underground hip-hop world but you continue grinding away, year after year, trying to create the best music you can. You eventually catch Def Jam's ear who signs you and pairs you with the legendary No I.D. to work on your upcoming debut album. 
The majors have radio and television. For me, make those connections and then, you know. Do your own thing.
You drop two singles ahead of your album release and both chart on the Hot R&B/Hip-Hop Songs but nowhere else. However, your debut album sells 73,000 copies in its first week, beating out much bigger artists like Iggy Azalea, Future and Pitbull. 
As you can probably already figure out, the first one is Trinidad James and the second one is Logic. Which scenario would you prefer? 
Shortly after the massive success of his hit single "All Gold Everything" Trinidad James was dropped by Def Jam and is now an independent artist. Logic, on the other hand, performed extremely well on the charts with Under Pressure, outselling artists who had worldwide hit singles.  
The lesson here is: having a dedicated fanbase will benefit you over the long-term. With his mixtapes and constant touring, Logic built a large following that genuinely supported his music, and his message. Trinidad James was a one-hit wonder who struck gold but didn't invest time into building a fanbase so he had no foundation for his career. 
Fanbase = Long Term Success
When you look around the music industry, it's a lot like sports; there are people who have had "one" moment, one big hit. Music has so many artists that caught the attention of the masses but were quickly forgotten as they never capitalized and created a genuine fanbase who lived them for more than one song.
How Chance the Rapper makes money is how I make money. It's how legitimate artists, a true artist with a fanbase, makes money.
This is what Logic has done so well – and it's how he has been able to create a mini army behind him who absolutely love and support his content. He's forged loyalty and a genuine connection with large swathes of people – he didn't jump the gun, miss his level, and never forge a genuine alliance with people around the globe.
Again, what sounds more appealing? A big hit and big fall, or a consistent career that is building up fans? This isn't to slate any other artist, by the way, it's just to point out that the importance of creating a fanbase is far more important than hitting a hit single.