2017 has been one hell of a year for Migos so far. Not only did the trio score their first number one hit with "Bad and Boujee" (which also went platinum), their second studio album, Culture, topped the charts, moving 131,000 album-equivalent units in its first week.
On the outside looking in, it might be easy to credit the album's Billboard chart-topping success as a result of "Bad and Boujee" dominance on the airwaves and social media, but don't be mistaken – there's more to it than that.
I've always believed all our songs are number one. We have a catalogue. I could do a show for two hours and they'd know my songs. But sometimes, you gotta work your ass off and get known.
Offset
Migos are hitting incredible heights with their music in 2017 because of the consistent grind they've been putting in all these years.
You might think that "Bad and Boujees" success was the reason why Culture took the number one spot on the Billboard charts, but don't be mistaken. Migos are hitting huge heights this year because of the consistent work they've been putting in building their fanbase over the years.
Ever since their breakout single "Versace" hit, Quavo, Takeoff and Offset have been working non-stop to push their music and build their fanbase. Even through their struggles these past couple years, Migos have never stopped grinding and that's why they're arguably the hottest rap act in game right now.
Let's take a look at how the Migos topped the Billboard charts by focusing on creating quality music and building their fanbase.
Partnerships with the right people
A big factor as to why Migos have been so successful is because of their partnership with independent label Quality Control Music, which is also home to Lil Yachty, Young Greatness, Skippa da Flippa, Jose Guapo, Rich The Kid and OG Maco.
Founded by Kevin "Coach" Lee, who used to manage Young Jeezy and Gucci Mane, and Pierre "Pee" Thomas, Quality Control Music has been quietly making big moves in the industry to secure their domination.
We have potential to be the next Roc-a-Fella or Cash Money. It's a different time for album sales, but as far as status and influence, we could be one of the biggest labels in the country.
Pierre 'Pee' Thomas
In a Billboard profile piece about Quality Control Music, readers were given insights into Coach and Pee's vision for the label – a digital-age hybrid company with its own radio and promotions team as well as publishing and management ventures.
After investing 12 months and $1 million to build their Atlanta headquarters, Quality Control Music now owns offices and four recording studios, staffed with their own in-house producers and engineers, creating the perfect platform to dominate the music business.
We need to focus as a whole team and make sure this QC shit stay strong. Every time we recorded somewhere, we always locked in and upgraded our abilities and upgraded our surroundings after we laid down tracks. It's always progress after we make music.
Quavo
You're only as smart as the company you keep. You can be the most talented and hard-working artist in the world, but if you surround yourself with lazy people with no ambition or knowledge on how to succeed, it's not going to look good for your career.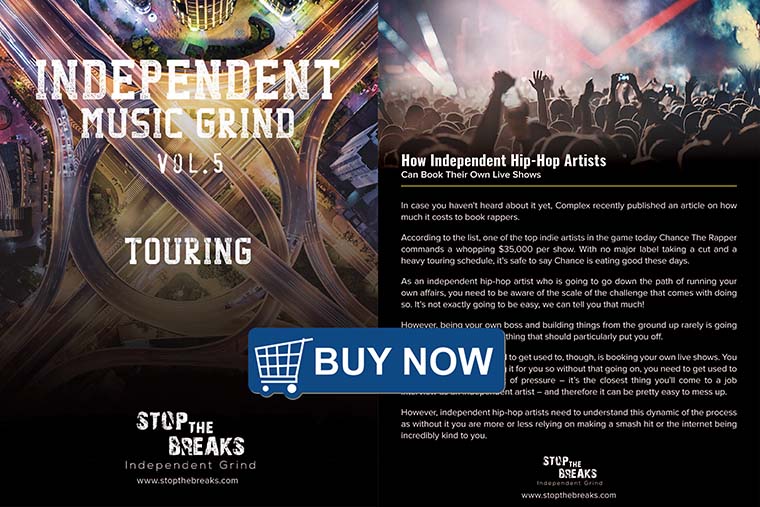 Steady stream of quality content
Following in the footsteps of Atlanta icons, Gucci Mane and Future, Migos have long focused on consistently putting out a steady of quality content for their fanbase.
Since their 2013 breakout mixtape, Y.R.N. (Young Rich Niggas), Migos have put out:
2 albums
4 mixtapes
8 collaboration mixtapes (with Rich The Kid, Gucci Mane and more)
1 EP
For the Migos, it seemed like music was always the answer to everything. Even when the trio ran into legal troubles in 2015, putting out more music was their solution to everything – they went back into the studio and recorded Back to the Bando.
That's where the Back to the Bando [mixtape, which produced the defining hit, "Look At My Dab"] came from. It came from them experiences that we went through in 2015.
Pierre "Pee" Thomas
For independent artists grinding with little resources, it can sometimes be easy to forget what your purpose. In between marketing your brand, promoting your music, trying to book shows, line up interviews, there can be times where you lose focus on actually making music.
But at the end of the day, it's your job to create a product. Everything else after that falls into place when you get the music right so make sure you focus on that as your first priority.
I don't talk that top-floor New York type shit. That ain't my business. My business is to make music. I'm an artist.
Quavo
Took their show on the road
In this day and age for independent artists, it can be very easy to focus most of your energy on the digital channels – building your brand with a website, distributing your music via Bandcamp and engaging with your fans on social media.
But if you don't get out there and interact with your target audience offline, you'll never be as successful as you can be. That's why we've said over and over again, touring is the most important thing for independent artists.
We built so much in North Carolina, South Carolina. I think we've been to the Carolinas the most. We hit those a lot, when we were first coming in. It doesn't matter the venue.
Takeoff
The reason why Migos have been so successful is because after putting out their music, they hit the road to capitalise on their buzz and expand their fanbase face-to-face. It's been a crucial aspect of Migos' fanbase building success and a big factor for their album topping the charts.
Financially speaking, there's also no reason for Migos not to hit the road. According to a Forbes article published last year, Migos' management confirmed that the group would make roughly $60,000 per night during their 15-date Dab Tour.
You can bet that price has at least doubled ever since "Bad and Boujee" topped the charts.
All the groundwork we put in added up to people finally putting their eyes on us. We've been putting out hits. It's been like "Bad and Boujee." But the attention wasn't focused on us how it is now. Now, they actually opening up their ears.
Takeoff