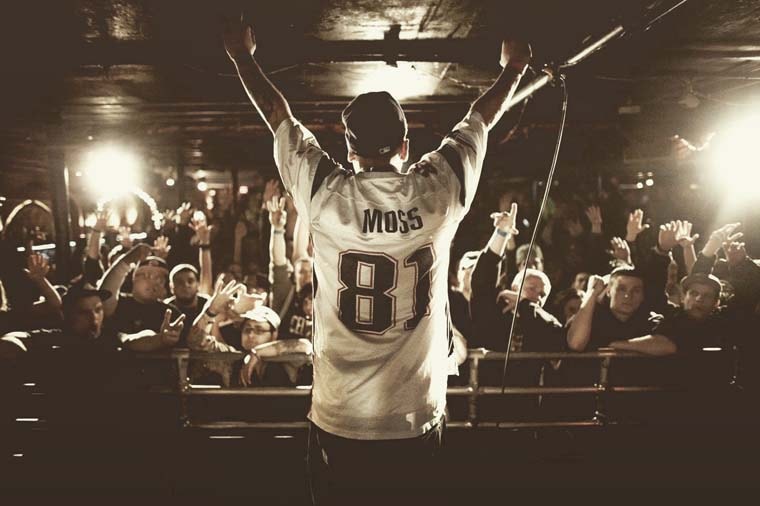 Hailing from Boston, Massachusetts, M-Dot is an Italian-American, blue-collar rapper who has been grinding independently and worked with a number of legendary artists, including Gang Starr Foundation. M-Dot has toured the world, sharing the stage with acts like Wu-Tang, Boot Camp Clik, Kid Cudi, Wiz Khalifa, Slaughterhouse, Ryan Leslie, N.O.R.E and many more.
With the recent release of his latest album egO anD The eneMy, Stop The Breaks had the opportunity to kick it with M-Dot and talk about first getting into hip hop, his thoughts on the independent rap scene, grinding it out by himself, building a loyal fanbase and more.
1) What inspired you to be a part of the music industry?
I never really aspired to be "apart of the music industry" just enjoyed making good music and have continued to do so. Probably at like 12 or so is when I fully got into hip-hop. Was enamored immediately. I was a fan first and I try not to lose sight of that.
2) Talk to me about the making of your latest project – egO anD The enemy.
Was a long process for sure. After years of dropping mixtapes & collaborative projects I needed this album to finally see the light of day though. Was stashing these records over the years, took a lot of patience to sit on beats with legends I look up to.
Nevertheless I wanted the timing to be right, the buzz to be built and to be at a high enough level MC wise to hopefully drop a special album, a lasting album. I feel too many projects are rushed in our current music climate. If it has my name on it I have to give my all and then some. Scary part is this is only the first half of "the ego and the enemy."
3) What are you trying to achieve with egO anD The enemy?
Showcase that there is still great music out there. Take listeners through the mental of an MC who has lived for years in the trenches of the hip-hop underground while painting viivd imagery of the bleak surroundings and insecure/scared peers who encompass that world. Change the new misconception that rap albums can no longer contain a larger track-list without ANY fillers.
4) What are your thoughts on the independent hip hop industry at the moment?
I think it's great. Nowadays being on a major label doesn't hold the same fruits as it did in the 90's. Being independent can allow the freedom of creative control, not having to pay back advances and let's ya never worried about being shelved. All major downfalls of current majors which have fewer "Hip-Hop" artists by the minute.
5) Do you enjoy grinding it out independently or would you prefer to be signed to a major label?
I enjoy the grind. Refer to the last answer haha. Of course I am never silly to say I wouldn't want a major deal if it was something that was right for my family and I though is key component.
6) What do you think goes into building a loyal fanbase?
Two things:
Genuine consistency
Quality (all forms of your media)
Have that and the rest will fall in place eventually.
7) What sort of online promo and marketing are you doing to reach your fanbase?
I'm old school. More of a HUMAN. Pathetic that there are less and less people who know how to interact socially without a phone/keyboard. But yea I do have my EMS team (especially Rev & DJ Workshard) who hold me down with an online presence.
It's not to say I don't email daily, as I set up most of my stuff myself. I just mean when it comes to promo campaigns or researching comments etc. I stray away from that. Rather be working on making better music.
8) As an indie artist, how do you brand yourself and your music to stand out from the rest of the artists out there?
Back to another answer: consistency and quality. Yet for me I think a big factor is I am MYSELF. People can sense that. I'm blue collar like the next man who may tune into the music. I'm neither a drug dealing murderer nor a hipster. My music deals with everyday real life stuff. Breakups, pain, family, ups and downs. Sincerity.