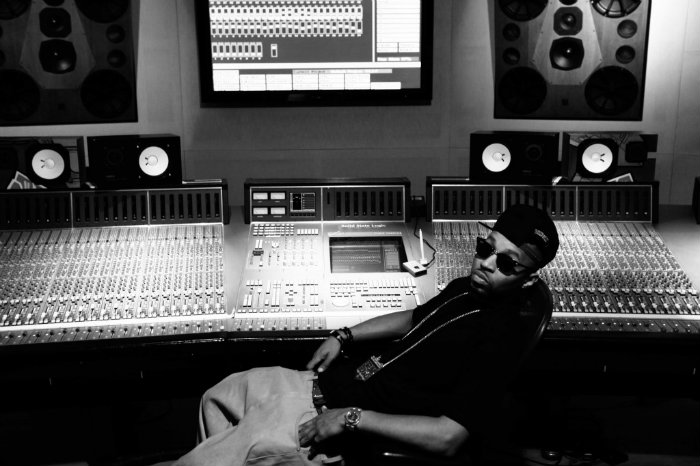 At the intersection of talent and hard work, you'll find Grammy nominated, multi-platinum producer and consistent hit-maker Drumma Boy.
Best known for producing chart-topping smash hits such as Jeezy's "I Put On," Migos' "Look At My Dab," Plies feat. T-Pain "Shawty," and Waka Flocka Flame's "No Hands" feat. Roscoe and Wale just to name a few.
Recently, Drumma garnered his first R&B record to go platinum with August Alsina's "No Love" featuring Nicki Minaj and continues to work with the who's who of music including Usher, 2 Chainz, T.I., Kanye West amongst others.
Stop The Breaks had the honour of interviewing Drumma Boy recently; speaking on topics like Gucci's return, the start of his recording career, forming relationships with rappers, creating film scores and more.
1) First off man, congratulations on producing Gucci's "All My Children" – I thought it was the perfect track to kick off Guwop's return. Was it something you cooked up together when he got out or something you had in the vault?
I actually made this track from scratch the day he got out. I wanted to give him something fresh and out the oven.
2) In your opinion, how extensive is Gucci's influence on the Atlanta scene, and subsequently, the entire hip-hop industry?
I think Gucci is one of the most influential rappers in the south as far as work ethic and the amount of music he releases to his fans. He has birthed and inspired many careers, whereas some rapper or CEOs try to shelve or hold back the artists they sign.
3) How would you describe how producing for Gucci has impacted on your career?
Producing for Gucci allowed me to make a name for myself and attract other people to want beats from me. "Photoshoot," "I Think I Love Her," & "Beat It Up" ft. Trey Songz all set me up to convince Warner Bros to allow me to Executive Producer (The Return of Mr. Zone 6), which the single was "Mouth Full Of Golds."
4) You started out shopping your beats to local Memphis rappers like Gangsta Boo, then workig with Scarface and Bun B. Do you remember the moment when you realized you could do this for the rest of your life?
I made it on the radio with a song called "Tennessee" that I produced for Tela when I was 18. The whole city was blowing me up for work and Pastor Troy reached out to come work.
I ended up driving to ATL the next day and he had $8k for me for 2 beats. I knew then it was about to go down in ATL.
Next week Block ENT reached out to me for Boyz N The Hood album which I produced "Trap Niggas" & "Look," followed by "Standing Ovation" for Young Jeezy's first solo album Thug Motivation 101.
5) How do you typically form a working relationship with rappers? Do you have to kick it with them first to figure out whether you have a good chemistry?
From the beginning of my career I would focus on the relationship with the artists more than anything else. Starting off, I would meet cats through in the mall passing out CDs, or in Barbershops etc. and ending up bumping into Playa Fly, Yo Gotti, 8Ball & MJG & 3 6 Mafia.
From working with them I got called by Pastor Troy. From there calls from Block, Jeezy, Rocko, Birdman and the list goes on and on. I just focused on making good music and earning respect first and foremost. Then came the money and power.
6) What's Gucci like in the studio? I've always wondered how he manages to create so many songs – he must live in the recording booth.
Gucci is the one rapper I've known to be so talented as a freestyle rapper. He can go in the booth and just nail a complete record no problem off the dome. He also is a dope writer, and when he comes out of jail he comes with massive amounts of lyrics.
Channeling the lyrics to music and finding the right beats to match the tempos and feeling is more of the challenge. Either way we get it done and have fun.
7) My favorite Drumma Boy produced tracks have always been Jeezy ones – "Put On" and "Me OK." Do you have any favorites?
"Flexin," "White Girl," "Put On," remix ft. Jay Z, "Standing Ovation," and "Lose My Mind" are probably my top 5 that I produced.
8) I found out that you've actually done some scoring for independent films. How did you get into that and where do you see yourself going with scoring?
I scored HOLLA II a scary movie, Blood First, and Chapters as whole back. People have always wanted to hear my music to film, so I figured I would answer my fans.
I enjoy making music for the soundtracks and have relationships with many artists so that would be my ultimate pitch to films, seeking the soundtrack opportunities. Then we break down pieces from the music of the soundtrack into the film along with Special FX and scoring.
9) Who are you listening to these days? Which artists are getting you hyped?
Drake, Bryson Tiller, Kendrick Lamar, Rae Sremmurd, Adele, Kiiara and Bebe Rexha
10) What's next for Drumma Boy?
Currently working on Too $hort's 30th year anniversary album, produced the next single for Young Greatness called Trap Holiday, Sevyn Streeter Just Wait, and released my own emoji pack #DrumMoji in any phone carrier App Store! Search "Drumma Boy" or "Drum Moji"!