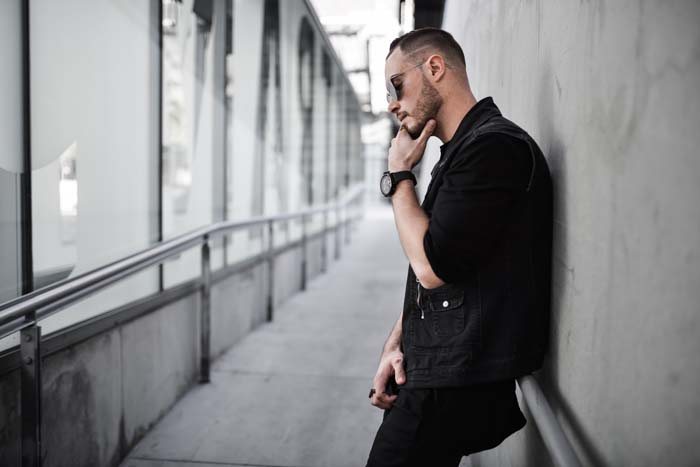 Koncept, the Queens-raised emcee, made a name for himself in the underground hip-hop trenches, but these days you can find him working with heavy hitters like Ty Dolla $ign, Pharoahe Monche, Big Daddy Kane, Doomtree, Tash of Tha Alkaholiks, Brand Nubian, Royce da 5'9" and Dead Prez.
Along with J57, the Long Island-raised/Brooklyn-based producer/rapper, the duo recently dropped The Fuel – a riveting underdog tale told as if the duo is looking back on its legacy a la ESPN's SportsCentury.
Fired up, Koncept details his hip-hop hustle over J57's big-statement music, the whole affair filled with ecstatic anticipation for the real-life successes on the horizon.
1) First thing's first, I know it's a bit late, but I wanted to congratulate you on releasing your joint album with J57 – The Fuel EP. I've been listening to it on Spotify and really like what I hear – what inspired you to link up with one producer for the whole project?
Thank you! That means a lot. J57 and I met at Fat Beats Record Store in NYC and quickly became friends. This is also where we formed our group Brown Bag AllStars.
At one point J was even my neighbor and we shared a studio in Bensonhurst, Brooklyn. We've also worked real close together whether it was within our group, or even on my solo stuff. Working on full records together as one rapper, one producer came pretty naturally.
2) It reminds me of Pete Rock and CL Smooth, Premo and Guru, Mobb Deep where artists create a consistent sound and vibe for a project. What was the creation process like with J57?
All of those mentioned are groups that I grew up listening to and are part of the reason I, and I can say we, make music today.
So J57 and I were in the process of picking out beats for an album that he would fully produce. Then one day I got an email from Red Bull saying that they found my music and would like me to be a part of their program. It was a good email to get.
Red Bull then brought us out to LA to record in their studio in Santa Monica. With this opportunity we knew we had to step it up and put everything we had into making the best music of our lives.
This is also when we decided to work as an official group as Koncept & J57. One rapper, one producer. I would bet that in that conversation we probably even spoke about the exact groups you mentioned above.
We began working and the result is our EP titled "The Fuel", which is out now, and our full length, "Flight" that is coming later this year.
Everything is sample free. J57 creates the beat, and then we decide how the verses, hooks, bridges, etc will be structured, and then I write the lyrics.
Typically the beat starts as a skeleton (the base sound/early stages of the full production) that we then bring to life by either J adding to it, or us bringing in some of our close friends and incredible musicians to build on.
Even though he's the producer, and I'm the rapper, we're both still very involved in both processes. We're a team in every regard.
3) What did it feel like getting that email from Red Bull and how was it recording at their Santa Monica studio? I'd imagine it must have been crazy! 
Getting that email was incredible. Red Bull is one of the major companies of the world so to be noticed by such a large entity is an honor. T
he A&R over there, who is responsible for signing both of Wiz Khalifa's deals, working with the Beastie Boys, and so much more, chose me out of all their artists to come out to LA to record in their studio. It was life changing to be honest.
Not only because it's one of the best studios with some of the best engineers with such a large platform, but just being given that opportunity alone gave me the perspective that I could really do this on a large scale.
That people really fucked with my music like that. It was then that made me realize that I can and need to make music that can impact the world. So that's exactly what I'm here to do.
4) The EP was released via KON57 Records which I assume is an independent record label founded by yourself and J57? What is it like being an independent hip-hop artist in 2016?
Yes it is. It's the label that we created to put out our music through. Being independent is beautiful. We don't have anyone telling us how to make our music, what to look like, what to eat, etc.
We did meet with a bunch of major labels and played them the records. It was definitely a crazy feeling sitting in those offices just days after completing the album. Sitting where so many huge names and legends have. The first time we were told they wanted to sign us felt so crazy I almost jumped out of the window in excitement.
Then after taking everything in we thought about it and knew the product we had, how hard we worked up until this point, and the knowledge we had on the industry and decided to do it ourselves.
It's definitely more work, and a lot more patience and energy that goes into it, but we're not scared to work hard. We actually love it.
I put my whole life into this, and as everything grows, and we reach more and more goals. we know that we created that on our own. We built it ourselves. And the feeling of that is incredible.
5) I've been on your website (www.iamkoncept.com) and I really like how you've set it up – it's one of the best independent rapper websites I've seen in a while. What would be your top 3 tips for indie artists who want to set up their own website?
Thank you! I really appreciate that. I designed the website myself. Most people don't know this, but I'm also a graphic designer. I'm actually also a DJ, but that's for another conversation.
My advice would be to keep it clean, and easy for people to navigate through. You want people to know what they're looking at and what you want them to have.
6) You also sell merchandise on your website – what's the process like for getting merchandise designed and sold online?
Some designs are by myself, some by others like the crazy dope illustration for The Fuel which was done by the homie, and Marvel Comics illustrator, Chris B. Murray. We have some things in the works where we're co-branding with other companies for "Flight". I'm super hyped for it!
7) As an independent artist, touring would be one of your top and most reliable revenue streams. How do you get started with touring and what's your advice for other independent artists who want to start?
My advice for new artists would be to understand that you start from ground level and you work your way up to doing bigger and bigger shows. So just to keep expectations realistic.
I think my most important advice would be to know that whether there is 5, 50, 500, or 5000 people, to ALWAYS put 150% into your performance.
No matter what. If you play a room of only 5 one night, that's okay because those 5 people are going to support you for life from then on. You do this because you love it, so always show that love in it. That love will be given back to you.
8) What was it like performing at SXSW this year?
Man, it was beautiful. I played on a rooftop that was off the hook. A storm was rolling in that day which was making me a little nervous about the show being canceled, but the rain stopped and the show went off. Had fans jumping high as fuck!
9) If you could collaborate with any 3 artists – one producer, one rapper and one singer – on one song, who would they be?
Hmmm, that's a hard one. There's a lot of different songs that could be made. Today I'll say Noah "40" Shebib producing, Sia signing, and me and Nas on the raps.
10) So what's next for Koncept?
Koncept & J57 Flight LP is up next. The Fuel EP is out now. And stay up on my social media and my SoundCloud for some other special surprises until then.