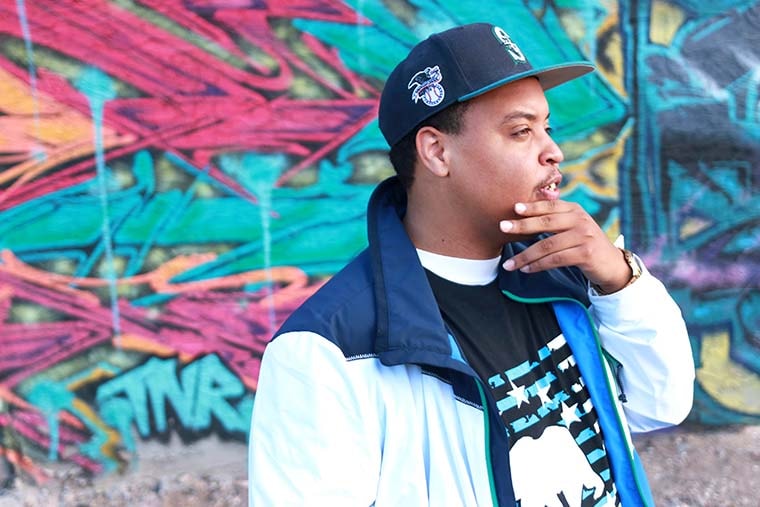 Born and raised in the Inland Empire, California its a challenge for anyone to make it — let alone really become something.
It started when I was about 7 or 8 years old I used to steal my older brother's cassette player along with his Master P, Bones Thugs n' Harmony, E-40 and Snoop Dogg tapes, which at times got me beat up.
It was all good though. I had developed a love for playing sports early; which helped keep me out the streets unlike many of my peers. I graduated High School and went to college in the North Bay Area where I graduated with a degree in Communication.
I was blessed to have met some good people during my college years that shared the same musical interests which led to me wanting to take music more serious.
1) What inspired you to be a part of the music industry?
I was inspired first by being able to even write and rap. I've always loved music. But, I found a platform where I could tell my story in a way that could really reach someone. Which is what I believe the culture should be about.
2) Talk to me about the making of your latest project. What was the inspiration behind it?
I was inspired by life's ups and downs. How quickly sorrow could turn to joy. Not to get to much into it, but the first track on the project "Introduction" pretty much sums it up.
3) What was the process behind making the project?
The process took a little longer me and Tony Castro, a very dope producer and close friend of mine, had anticipated. But, it turned out to be great because I was able to come in contact with Stop The Breaks on the way. God always has a plan.
The process taught me that it's better to not rush the music. After finishing conceptualizing, writing and recording these tracks, we had to find a mix and master that fit each track. It's also important to sit with it for a while and let it "marinate". Things just gradually came together and it's a dope project.
4) What are your thoughts on the hip-hop industry at the moment?
I think hip-hop is at a good place. It's really a great time to an independent hip-hop artist. I'm definitely excited to make a mark on the game.
5) Do you enjoy grinding it out independently or would you prefer to be signed to a major label?
I'm sure a major label has it's perks, but after seeing the success that can come from grinding independently, it seems like a no brainer. As of right now, I like being on my independent grind.
6) What do you think goes into building a loyal fanbase?
Allowing them to watch you grow as an artist. From playing my music on my friends AUX cord to playing it in a party. Just letting your music and story be heard however you can.
7) What sort of online promo and marketing are you doing to reach your fanbase?
I've really just began promoting and marketing my music. What I've found so far is that reaching out to the blogs and hip-hop sites is a must. You never know what could happen, if you don't try.
8) As an indie artist, how do you brand yourself and your music to stand out from the rest of the artists out there?
I just like telling the truth and paint pictures doing it. I grew up singing in gospel choir and going to church so I definitely have that spiritual side to my music. The task at hand is to keep making music, and music that lasts. Til' Infinity.
9) How do you currently make a living as an independent hip-hop artist? What sort of income streams do you have?
This is the first project that I'm going to stream. It's a great overall body of work that I'm very proud of. I'm excited to see how it's received.