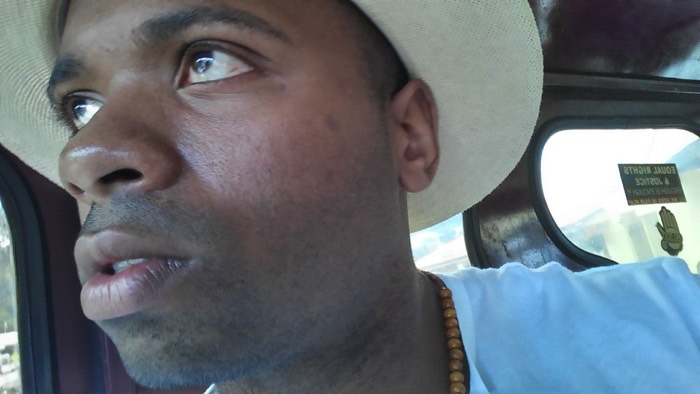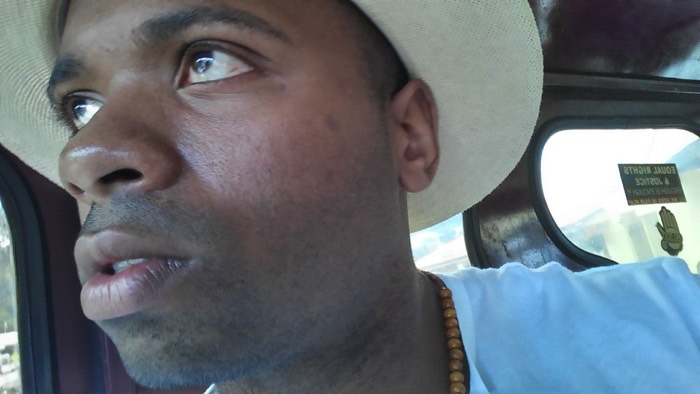 28 year old Philly lyricist Damo drops his highly anticipated mixtape – Save Yourself. The 11-track tape features guest appearances from Lindseypop and Davonne Daniel. You can stream or download Save Yourself here.
1) Tell us a little about yourself and your background.  
My real name is Andamo McCullough and I have been rapping since I was 9 years old. I've recently started getting into cinematography but hip-hop is still my number one as far as the arts are considered.
2) Who were some of your musical influences coming up?
A lot of my friends actually made the biggest impact on me. However, my aunt, Aimee McCullough "enlightened" my musical ear. She told me that I had to know more than rap if I wanted to actually understand music.
After that I began to listen to John Lennon, Bob Marley, Van Morrison and pretty much anything that I could get my hands on. My mother used to sing to us at night and all of my uncles were musicians. My rap influences are Nas, Jay-Z, and Eminem to keep the list short.
3) How would you describe yourself as an artist? Has your style changed much over the years?
My goal with the art is for it to be as visual as possible. I would actually call myself a "visual artist" as opposed to being strictly musical. I try to tell stories and paint pictures that the listener can see, maybe even feel like they can touch and smell the setting.
4) What's your process like for making music? Do you have a set routine or does it vary track by track?
Throughout the years I've learned to feed off of the inspiration. I try my best not to force anything out of the music (instrumental) anymore. I used to try to just lyrically slaughter every track without any regard to the melodies or rhythms that the track had already included in it.
I've learned that the challenge is to actually be able to craft great music and still remain lyrical without sounding like a "Dictionary Machine Alien."
5) Can you run me through the making of your latest project? Where were the studio vibes like? 
I recorded this whole project in Maryland with and engineer/artist named Saulreel who really understood the vision that I was going for and actually helped me arrange a few of the tracks so that they could be more listener friendly.
There were times that I was blinded by my vision and he used his objective ear to steer me in the right direction. I recorded one song in Philadelphia at a studio called Milkboy with an engineer named Joe Logic.
He was the most critical and caring engineer that I have ever recorded with and it was a very humbling experience. It was a little tenser than the Maryland recordings were I really felt like I was at home.
6) What sort of independent hip-hop promotion and marketing are you doing to differentiate yourself from other artists?
There is this movie concept that I am going to be a little tight lipped about right now. Aside from that, expect some performances and a lot of promo from different promotion companies and business that are willing to support independent artists like myself. But once again, there is this movie idea…
7) What are you thoughts on the current state of hip-hop music today?
I think that it's a mixed bag, however, the sugar is at the bottom. It's harder to hear the quality on a mainstream level. Our mainstream acts that produce quality music are scarce but there are a few of them out here.
8) What music are you listening to these days? Anyone in hip-hop really blowing your mind?
Nipsey Hussle, J. Cole, Kendrick, Big K.R.I.T., whoever comes out with something new, I normally try to get my hands on. I think the last project that blew my mind was The Yellow Album by Dom Kennedy. The last verse that blew my mind was Andre 3000's verse on T.I.'s song Sorry.
9) If you could work with any artist you wanted, what would be your dream collaboration?
Right now I would have to say Janelle Monae.
10) What has been the best moment in your music career so far?
There was a kid from Greece that found me on Facebook 4 years ago and got starstruck online. The craziest thing about that was I was probably happier to hear from him than he was to hear from me.
11) So what's next for you?
The Fades, Hotel Theresa, The Broad Street Line (My album). Immediately however, I will be performing and promoting this moment that I have created called "Save Yourself."