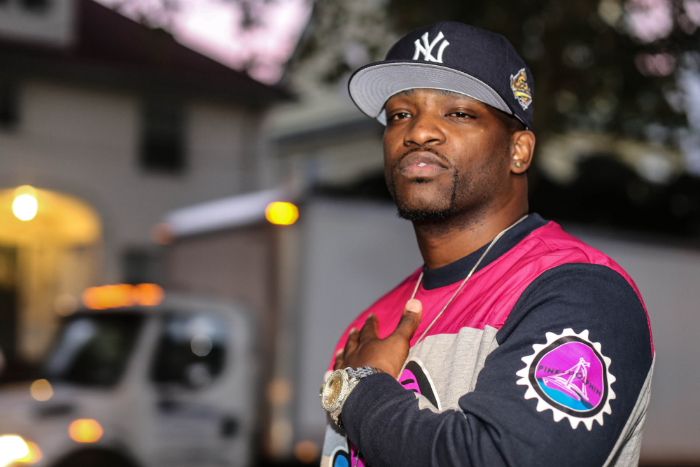 Queens hip-hop artist, Moka Blast, recently dropped his latest project Ladies Love Moka Vol. 3. The 12-track mixtape features diverse beats and rhymes with Moka attempting to cater to as many hip-hop demographics as possible as well as guest appearances from Young Vivo, Jay Atlas, Little J, Gaddie G, Sunset Aley, Mally Stackz and Joell Ortiz.
1) Tell me a little about yourself and your background.
I am just the new Ladies Love who have a very gripping story to tell. LOL. I was born in Trinidad & Tobago but left when I as a kid.
I grew up South Side Jamaica Queens but always wanted to explore different regions so I wasn't stagnated in my thoughts. I am the true definition of hustle hard as I will never make an excuse as to why I am next up.
2) Who were some of your musical influences coming up?
A lot of Slick Rick, Nas, Big Pun, & Big L. I the started listening to LL Cool J when I was in High School and thought he was dope as hell. I really liked how he could do a raw track like "4-3-2-1" but then switch it up by doing Hey Lover. Being from Queens I also enjoyed listening to The Lost Boyz, Kool G Rap, 50 cent and Mobb Deep. Those were the days!
3) What's your process like for making music? Do you have a set routine or does it vary track by track?
It really varies by track. I have been able to write tracks within 24 hours and then some take me over a month. I do start off writing every one on the treadmill though as that seems to get my brain jumpstarted.
4) Can you run me through the making of your latest project? How the idea came about and what the studio vibes were like?
Ladies Love Moka Vol. 3 was going to be different than any other mixtape. I wanted this one to cater to every hip hop demographic. If you like bars I got that, party tracks I got that. Even made a cool West Indian track and a romantic track for the ladies.
It feels great to know that every one was satisfied after listening. I also used all original beats so its really in that album lane as I am just getting my feet wet.
5) As independent artist, what are you doing in terms of promotion and marketing in order to differentiate yourself from others?
Hitting different states and pushing my music is what I do best. I fly to regions that never heard of me and by the time I leave every one knows who this Hansum Hustla is.
To me it's a sweet science as no one can promote you better than yourself. It also allow potential supporters see that you are all about this life and they appreciate that.
6) What's the number tip you would give to someone who's looking to get in the music industry?
You must stay humble, make no excuses and prepare to go all out. You will need a financial backer or have all your rainy day funds made readily available as this industry will devour you if you don't plan properly.
7) How do you feel about hip-hop today and where it's headed?
Change is inevitable and knowing that my voice will be heard pretty soon I am excited for it. It really all depends on who you listen too. I love listening to the spitters. Those who make you think and relate to their struggle.
As of the future of hip hop its heading in the right direction as certain individuals can influence an entire generation. I will be the catalyst of change.
8) What music are you listening to these days? Anyone in hip-hop really blowing your mind?
Love listening to Childish Gambino, Jon Connor, Iamsu! and Joell Ortiz. There are many more but you know its real when you out with your peeps and you catch yourself quoting lines from other artists tracks.