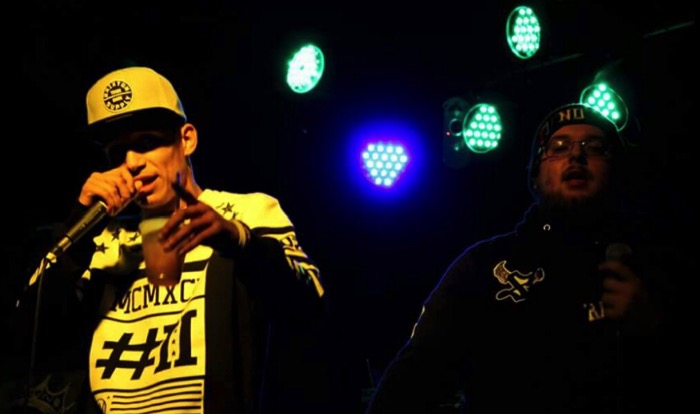 1) What inspired you to be a part of the music industry?
James Monroe: When I realized making music is the one thing I can't quit even if I tried, and I have, it's a peace creator for me.
Legend: Hearing all the bullshit that gets made famous, wanting bring something different and get everybody high in the process.
Marquis Gillette: Being an avid music listener and Loving the art of it.
2) Talk to me about the making of your latest project – Match A Gram: The Christmas Chronicles. What was the inspiration behind it?
The making of this latest project was definitely spur of the moment, the inspiration behind it was basically like, "damn, it's been 2 years since we dropped C.O.A.T.S., fuck it let's put another one out."
Not to mention 4/20 is the anniversary of our first video we released a few years back. It's called 'Match A Gram' because that's what we do and 4/20 is in essence like Christmas.
3) What was the process behind making Match A Gram: The Christmas Chronicles?
Even though we mentioned it being spur of the moment, the process of this project was much easier than our first one, real smooth. We had most of the tracks already recorded, just needed the fine tuning.
The covers were shot by one of our good pals and we did the editing. We'll have hard copies of the project for free as well as it being online.
4) What are your thoughts on the hip-hop industry at the moment?
The game is flourishing right now. There's so many cats out here doing some amazing things. Huge demographic of artists not just indie but some mainstream that are really trying to bring the art back to the music, and that's love.
5) Do you enjoy grinding it out independently or would you prefer to be signed to a major label?
We enjoy the independent grind for sure and as of right now it's a good path to be on. We are in full control and believe that's the way it should be. Being signed to a major label is like a dream come true and it's like every rappers greatest wish probably but it's not necessary in order to be very successful in this game.
6) What do you think goes into building a loyal fanbase?
Having a loyal fan base is key! Although we're real small time and don't have much of a fan base, those that listen to our music consistently show it, they tell us and that's awesome. Gotta make relatable shit, songs that your listeners can vibe to.
Something that makes them wanna listen to it everyday and you need to be consistent so you keep them tuned in. If what they come back for is better then before, chances are they'll be hooked.
7) What sort of online promo and marketing are you doing to reach your fanbase?
Making sure we consistently drop something. Whether it be songs, videos or a whole project and seriously push it through social media, blogs and various music websites. Attending performances and local events are a good way as well.
8) As an indie artist, how do you brand yourself and your music to stand out from the rest of the artists out there?
Just some chill ass pot smokers who love dope ass music. Kicking it wit the homies Rollin grams on top of grams.
9) Where do you distribute and promote your music and why do you think this channel works best for you?
All over the Internet. It's one of the easiest and most popular ways of listening to new, indie music.