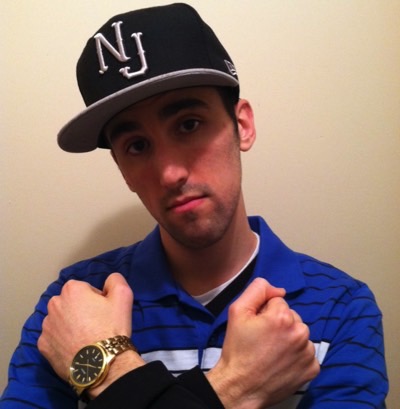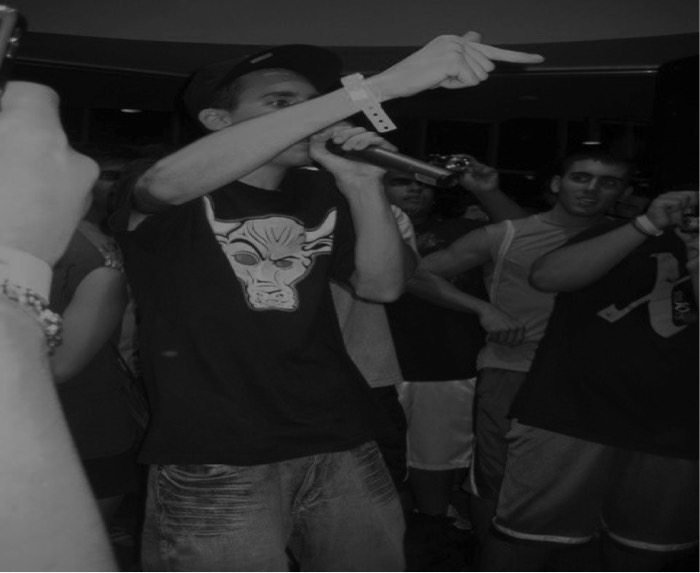 New Jersey hip-hop artist, D-Murda, has dropped his debut mixtape, The Campaign, marking his official introduction to the rap game.
The 11-track tape features beats from producers like SadikBeatz, Dan Morze the Inspecta, Vicky Stephenson, Studio Illegal, MGR and Pappi as well as several guest appearances from Dagrynch.
You can stream or download The Campaign here.
1) Tell us a little about yourself and your background.
I grew up in Edison, New Jersey, an extremely diverse and large town. I lived in a suburban neighborhood and I was into basketball, pro wrestling, cartoons, swimming, biking and just having fun.
I started writing my own raps during senior year of high school. My friends and I would rap Eminem songs in trigonometry class and they would tell me, "You should write your own stuff." I was like "Nah, I can't be that good."
But one day I was listening to the "Remember the Name" instrumental and suddenly a hook came in my head. I wrote it down immediately so I wouldn't forget it. After about a week, I wrote full verses to the beat centered on that hook and just like that, my first song was written.
I wrote two other ones and recorded them with my friend DJ Si-Guy, who helped edit and master the tracks. I put the songs out on YouTube over the weekend and within a week, I started hearing the buzz all around high school.
People I knew and people who I didn't know from other grades came up to me and said how much they liked my music. I didn't think it was going to be that big of a deal but when everyone started talking about it, that encouraged me to keep rapping. They recognized I had something to say and a lot of them liked it.
I've carried this through college and beyond and the rest is history.
2) Who were some of your musical influences coming up?
When I was a kid, I mainly listened to what was on the radio, the Nickelodeon Video Pick of the Week or whatever music was on my video games.
But as I grew up, I was exposed to a variety of music like rock, alternative, metal, pop and hip hop through my older brother's CDs and recommendations from friends.
My biggest exposure to hip hop was through video games such as the "Tony Hawk's Pro Skater" series, "True Crime: Streets of L.A." and "Grand Theft Auto: San Andreas."
For hip hop, my top five rappers are Eminem, 2Pac, 50 Cent, DMX and Jadakiss.
Eminem: What drew me to Eminem was his artistry. I can listen to his songs, understand everything he is saying and he makes me laugh along with him. "Lose Yourself" is my favorite hip hop song of all time because everything from the lyricism to the energy of Shady's flow and the story clicks with me. Another thing I admire about Eminem is that he has stood the test of time. He's been in the business for a while and now there's a new generation of Shady fans that appreciate his talent. I hope to be at that level one day.
2Pac: 2Pac is a complex artist. It's almost as if he speaks in poetry. I may not have lived his life, but I feel like he talks to me in his songs. He just knows the right words and beats that resonate with me. I love listening to 2Pac instrumentals. They're the kind of beats you can throw on in your car and just cruise to on a deserted highway at night.
50 Cent: I've been a fan of 50 Cent since I was 11 and as I grew up, I came to realize what a smart business man he is. He's a hell of a rapper, but his business mindset has helped him to stay relevant, so he's a very balanced individual.
DMX: His energy inspires me. He's a good lyricist, but the way he delivers his vocals makes him unique. One of my favorite songs by him is "Dogs for Life," because it has a mellow beat, but DMX still maintains that ferociousness that balances out the track.
Jadakiss: Jada is very lyrical and nitty gritty in his lyrics. I like him because he has a more calm flow than the other rappers listed, but his lyrics still hit hard. Plus, you gotta love the laugh.
3) How would you describe yourself as an artist? Has your style changed much over the years?
I would describe myself as a 90s kid who chooses to use the old school/underground style of hip hop instead of the modern mainstream flow that a lot of people my age gravitate towards. I let the classics or the underground influence me instead.
My style has changed from when I started. As I've listened to more lyrical hip hop, the more lyrical my own raps become and the more I am inspired to better myself as an MC. But the things that haven't changed are my energy levels, my straightforwardness and my emphasis on perfectionism.
4) What's your process like for making music? Do you have a set routine or does it vary track by track?
Most of the time, I find that I write my best lyrics when it's just me, my notebook, the beat and my rhyming dictionary – no distractions. I just let the beat play and write while I'm in the zone.
Sometimes, I'll randomly get inspired by something and then rush to write what comes to mind. You never know if you'll forget it later, so I always make sure I write down what I think of.
Even when I'm not writing songs, I write lyrics at least once daily. You have to keep your mind sharp. Even if you think they're the worst lyrics ever, write them down because you have to dig through trash to get to the gems.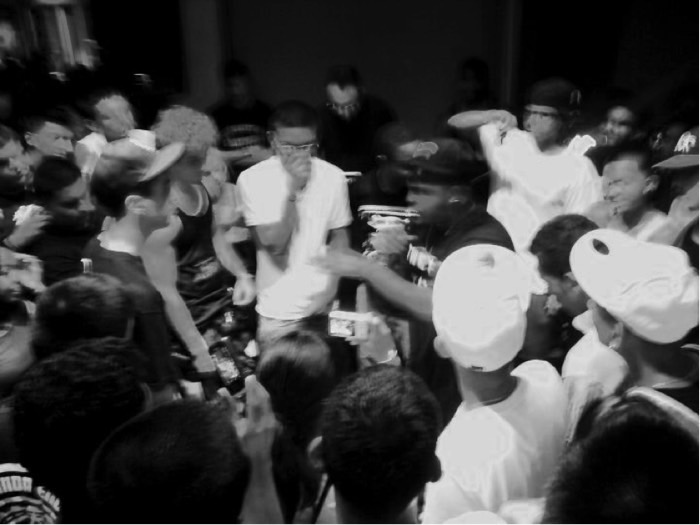 5) Can you run me through the making of your latest project? Where were the studio vibes like?
The idea of "The Campaign" was a relaunch of the D-Murda brand. I had never recorded a mixtape before and I wanted to for the past three years, but it never came to fruition. So, in 2014, I got serious about it. I developed an outline for how this launch was going to work and what I wanted to get from it.
I made a new Facebook, Twitter and website and also revamped my YouTube page as part of my social media and internet promotions.
For the songs themselves, I decided to use unused lyrics that I had written over the last four years while I was in college. I also decided to use original beats or use free beats from websites that were not industry beats.
I wanted to refrain from using industry beats because I wanted people to hear me in all aspects of this mixtape. I also didn't want any guest verses, except on hooks. And I titled it "The Campaign" because this mixtape was a campaign to get people to see that there's a new face of hip hop and his name is D-Murda.
For recording, I used my friend DaGrynch's basement. I also let him get in on the project because he's a good hook writer and I felt that he could contribute his talents to that part of the project. Any hook that I did not sing was sung by Grynch.
And I think he did a fantastic job; he's a great artist in his own right and I'm glad we were able to show the world what we've been doing for the past five years. And it made sense to have him on "The Campaign" because every president needs a VP for his campaign.
6) What sort of independent hip-hop promotion and marketing are you doing to differentiate yourself from other artists?
Mostly, my promotion consists of social media promotion. I also hand out CDs of my work when I can.
One of the most important things I do, though, is whenever there's an open mic or an opportunity to freestyle or rap battle, I take that opportunity. That's the best way to do it because I put myself out there and people can get a taste of my style. That's the first step in building your brand as an artist.
7) What are you thoughts on the current state of hip-hop music today?
Hip hop has definitely changed. The way I look at it is how one of my journalism professors describes the world: we live in the Twitter world where people only comprehend 140 characters or less.
That applies to mainstream hip hop because the emphasis is primarily on a hot beat and a catchy hook. I can't say I'm a fan of today's mainstream hip hop music because I can't relate to it and I don't feel the artists' hunger.
I think Hopsin made a good point about this in an interview he did. He said "Today's songs are all about the end of the journey (being rich), but there's no story that leads up to it." And when you have no story, there's not much of a reason to relate to what the artist has to say, except that they're rich.
I like hip hop's emphasis on the struggle because people can relate to it. So, I recognize that hip hop has changed, but I'm just not feeling it. I listen to old school hip hop for the most part, and if it's new, it's underground.
8) What music are you listening to these days? Anyone in hip-hop really blowing your mind?
As far as mainstream hip hop goes, I like J. Cole and Kendrick Lamar. J. Cole is a great storyteller and he almost has that 2Pac feel where I can relate to what he's saying.
I remember when I first heard his "Friday Night Lights" mixtape; very introspective and that style has carried over to his albums. Kendrick is also a skilled lyricist, but J. Cole is definitely my favorite of the two.
Hopsin is my favorite modern underground artist. He's like Slim Shady reincarnated, but he has his own spin on it. He's got the energy, the lyrics and the message which he's trying to get across.
Another group of rappers I like are The Homeless Sons. I know them personally, because I worked with them on school projects for my Stage and Studio TV class. They have the motivation to get themselves known. Check out their song "It's a G Thang."
9) If you could work with any artist you wanted, what would be your dream collaboration?
I would love to work with Eminem. He's my favorite artist of all time and my inspiration, so it would be an honor to collaborate with Slim Shady.
I'd also like to be in a rap rock band. I loved bands like Limp Bizkit, Linkin Park, Kid Rock and P.O.D. Rap and rock are two of my favorite genres and if you do it right, you could get a real great vibe out of it.
10) What has been the best moment in your music career so far?
The best moment of my career so far has been my rap feud with S.T.C, now known as Nathaniel Cartiay. Before I started rapping, he released his own mixtape when we were in high school and he had been rapping for a long time. We were in choir and had a couple classes together, but we weren't close friends at the time.
But after I caught my buzz from my music, people tried to get me to start a beef with S.T.C. And I knew that even though I was a rookie, I could really make a mark by calling out the biggest dog in the pack, which happened to be S.T.C. So, during an assembly where he performed, our classmates were chanting D-Murda at him, it got his attention and he gave me a shout out.
Even though it was a friendly shout out, I knew this was my time to strike, so I said "It's on!" And before you know it, I had everyone coming up to me saying "When's the diss track droppin'?" Well, sure enough, it dropped the next day and he released his response. We kept this up until graduation a month and a half later.
I thought this beef was great for both of us. Classmates took sides; he had his fans and I had mine, so we had a lot of people talking about it, speculating who would come out on top of the beef. So we had a lot more people recognize our talents and they supported us. We gave them something to look forward to.
This beef also helped us to improve as artists and personally helped me overcome my shyness. Plus, this was the best end to high school, because how many people can say they ended high school with a rap beef?
Most importantly, I made a dear friend of S.T.C from this beef. Ever since then, we've collaborated on several tracks and I have come to see him perform a few times. He's a great artist who has evolved overtime and I credit him for being a major difference maker in my life.
11) So what's next for you?
I'm currently brainstorming ideas for my next mixtape. This next project will be more introspective, lyrically. I'm also working on a joint mixtape with Grynch, which we hope to release sometime in the near future. In the meantime, I will still be performing live whenever I get the chance to.
So, basically, keep your eyes open for D-Murda! Follow me on Twitter, Facebook, YouTube and Soundcloud for the latest updates. Check out The Campaign on DatPiff. Let me know what you think about my music and tell your friends that a new brand is here and his name is D-Murda.