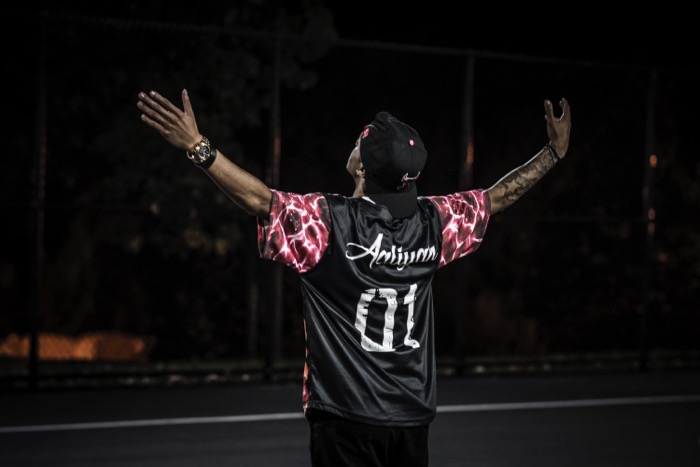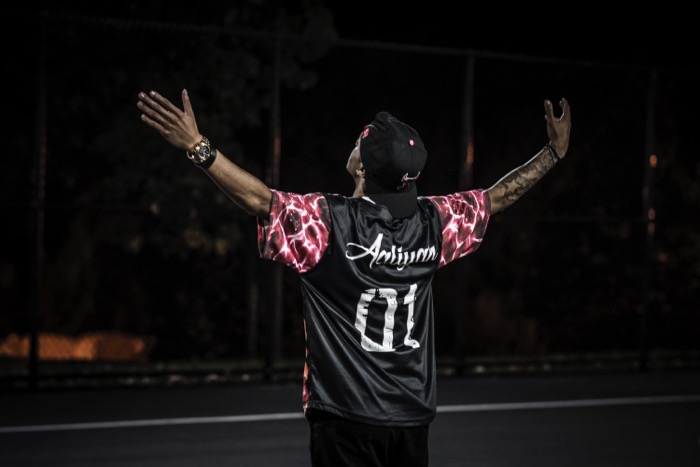 DR3 , also known as Diandre Williams has been rapping since the age of 9. Born in the Bronx and raised in Jersey, DR3 has put a huge focus on building his name and brand.
As of now, DR3 is gearing up for the release of his new mixtape called Courtesy of Me, Reportedly dropping late July.
The 22 year old college rapper also just released his highly anticipated single "Difference" ft. Newark's very own Brandon Pain. DR3 has let all his fans know to be on the lookout for this tape , as he enters a new stage in his career.
1) Tell us a little about yourself and your background.
Well my real name is Diandre Williams. I'm 22 years old. I was born in the Bronx, NY where I stayed until I was about 11. Then I moved out to Union City, New Jersey for about 3 years.
After that I moved to Cliffside Park New Jersey where I stayed for 4 years while I was in High School. Then I went to College at University of New Haven and dormed there until I finally got my own apartment in Connecticut, which is where I currently reside. So I guess Its fair to say I have been around. I'm getting ready to finish off my college years at Southern Connecticut State University.
As a young kid I always wanted to do the cool stuff like everyone else. Things like basketball, football, and music. That's actually how I came about doing music. I started writing lyrics at the age of 8. Little raps here and there but no real complete songs. I kind of just did it for fun.
It wasn't until my second year of college where my boy asked me to do a feature and after that that's really how I started my music career.
2) Who were some of your musical influences coming up?
Starting my music career, I knew I wanted to be known. I didn't want to just be a one hit wonder or known for a short amount of time then people just forget about you. I knew I wanted to be someone who created timeless music.
So some of the artist I was heavily influenced by was Jay-Z, Andre 3000, J Cole, Kendrick Lamar, Drake, and Eminem. Artist with substance in their music. These artists utilized not only their talent but the power of music also.
We don't realize how powerful music actually is. So to be able to create your own sound along with creating a message in the song that people can relate to years from now, I think that's really special. It's definitely something I want to do with my own music as my career progresses.
3) How would you describe yourself as an artist? Has your style changed much over the years?
I still personally think I'm finding myself as an artist. I know I want to give people substance. Something they can relate to years from now. But I want to do it in a way that I'm telling my story and my life experiences.
As I started, I got sucked into the sounds everyone else wanted to hear and not necessarily what I wanted. So as time progressed, I began to develop my own sound. I'm still working on that now. It's hard because you hear what's poppin in the club and what they playing on the radio and how successful the songs are and you want that.
But you also want to remain true to yourself you know? But I don't think my style has wavered far from where I started. I want to be that artist that breaks social norms. I feel we get so comfortable with how things are and how life is and there arenot enough people to change anything.
I want to be the person to start a revolution of just music with purpose. Even if I'm just another person adding to that revolution, I want to keep it going.
4) What's your process like for making music? Do you have a set routine or does it vary track by track?
My music making process definitely varies track by track. With my music, majority of the time, I like to take my time with it. Write a hook here, then maybe a week later start the verse or add to the verse. But I like to take my time.
Especially with any songs that have a meaning to it or have a message within them. Other times, it just comes to me. For example, I'll hear a beat, make a hook in my head, and then continue to write the verses then bang. I have a song.
But even then, I still take some stuff off or add to the song. Maybe because I'm never satisfied with my music. I always feel there is another level I can reach. So for now I just continue to write as much music as possible. But majority of the time I have to sit down, have the beat on repeat and just write.
I also do some research, look for words that may help me but it takes time. But I think that's what sets me apart from other artist because rappers won't take the time to perfect their songs or add certain things that will just push them that much further. But for me, I have to take my time and be patient with my music.
5) Can you run me through the making of your latest project – It's My Turn? Where were the studio vibes like?
Aw man. My latest project took some time. I actually had a mix tape out before this project that I have now. It was more of a trial and error tape. I sold some hard copies here and there but never really put too much into it.
It was my first tape so it was more just to see my talent and who really supported me. I dropped that tape in August of 2013 I believe. It was called "It's My Turn". It was a cool tape but I improved so much more. I took almost 2 years off just the learn and study. I wanted this project to be my break out project.
Slowly but surely it's turning into that. Because I took so much time off to just study a lot of my music was already made before I got into the studio but being with my friends in the studio just added a whole different feel. The style of the song usually depicted the vibe of the session. If it was a deep, meaningful song, it was more of a chill and very quiet vibe.
Usually my boys would either be listening or writing their own stuff. However, if it's a hype song, We are all usually jumping around, yelling the lyrics, bumping in our chairs with some liquor. It gets crazy! But it's so much fun. Other times we just go to the studio and chill.
We usually always get some kind of work done but sometimes we go in there play some video games, talk about girls, life and career goals. Conversations in the studio can get pretty deep. But the vibes from this new tape I'm getting ready to put out were amazing. I think it was because my friends could all see my growth.
My tape created so many intellectual thoughts and ideas. Conversations got real deep. I didn't intend for that to happen but I think I sparked a new way of thinking with me and my team and it's kind of cool.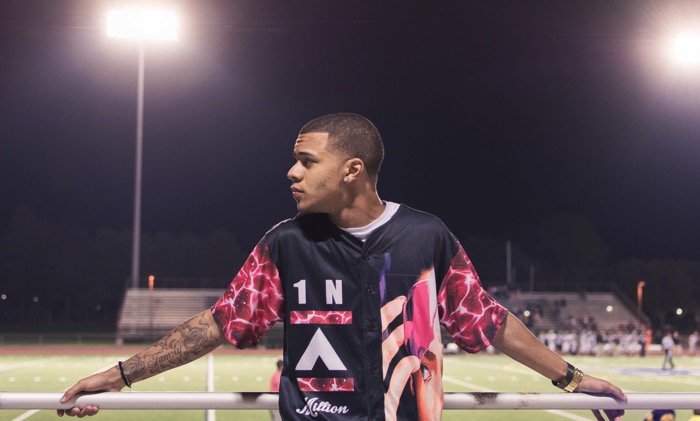 6) What sort of independent hip-hop promotion and marketing are you doing to differentiate yourself from other artists?
I have been putting as much money into promotion and marketing as possible. What independent artist fail to understand is promotion is a whole project in itself. It sounds cliché but what you put in is what you get out. Promotion is key.
You have to get you name out there. The chances of someone just happening to find you and your talent are very rare because there is so much talent out there. So you have to differentiate yourself. Especially when everyone wants to be a rapper nowadays.
I'm in the process of doing a lot of different kind of promotions like having a street team, contacting hundreds of blogs, different promotion companies, hiring a marketing rep, contacting small radio stations, working on stickers, fliers, anything to get my name out there. Whatever it takes to elevates me to the next level.
7) What are you thoughts on the current state of hip-hop music today?
I think Hip-Hop is doing well. Not bad, not great but well. There are so many young emerging artists like J Cole, Kendrick Lamar, Chance the Rapper, and Vic Mensa who are evolving Hip-hop, as we know it and making it even better.
It's sad because it's hard to see. There is so much saturated crap played on a day-to-day basis and its labeled Hip-Hop. I don'tknow. Personally, I think Hip-Hop is doing a lot better but we still have ways to go.
8) What music are you listening to these days? Anyone in hip-hop really blowing your mind?
I have actually been listening to a lot of old school jazz lately. I took a course in college that dealt with old school jazz and I was amazed. I didn't know that there were so many old school jazz and blues songs that were sampled into today's music.
So I've actually just been listening to cool samples I want to use for my own music. I'm still staying current and listening to the hottest stuff out but more of my time comes from listening to old school blues and jazz.
9) If you could work with any artist you wanted, what would be your dream collaboration?
Oh that's easy. J Cole would be that person. People actually tell me I remind them of him. I just think that way he makes his music is amazing. I feel we would make a great collaboration. Two different stories. Two artists. Plenty of ideas. That would be my dream collaboration.
10) What has been the best moment in your music career so far?
I would say the best moment in my music career so far was definitely finishing my tape now. I felt that after all the studying, learning, and understanding I did, it was finally time.
There was a huge sense of relief once I was finished. But I also knew, I was just scraping the surface. But I don't know. I feel my best has yet to come. I just have so much in store.
11) So what's next for you?
Well, right now I am finishing up my tape, which is called Courtesy of Me. It should be dropping late July August. I also have my single "Difference" which just dropped a week ago and is doing great. After this we have one more single coming out possibly 2.
Me and my team are still working on it but I don't know the sky is the limit. After this tape, I have a some projects I'm working on with a couple artists along with my next tape so it should be an eventful couple of months. But I will always have music for everyone to bump to.