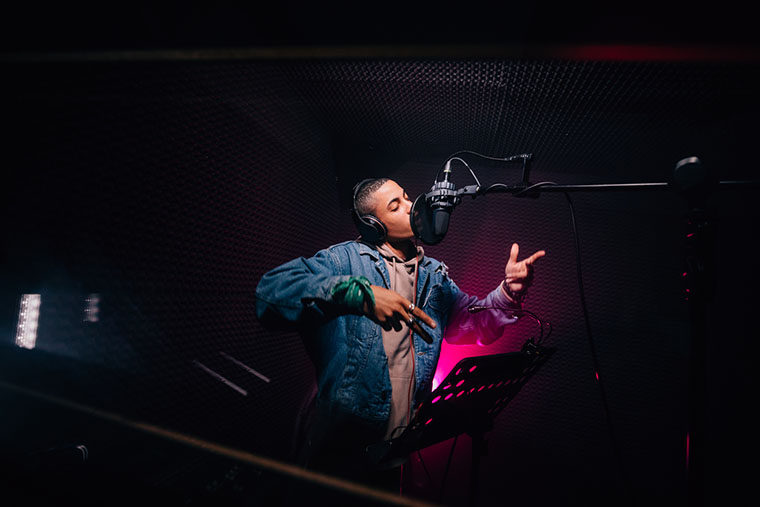 Hip hop exploded on the mainstream music world in the late 1990s. And despite some lulls here and there, the genre has remained near the top of the charts and the culture ever since. The result has been widespread acclaim and riches for the top artists in rap.
Jay-Z is now worth north of $1 billion, Sean "P Diddy" Combs is a mogul in his own right, and acts like Will Smith, Ice Cube, Queen Latifah and LL Cool J have become bonafide Hollywood stars.
That said, the younger, flashier acts are still more known for their musical hits and larger-than-life behavior. If the 1960s and 1970s era was dominated by the "sex, drugs and rock and roll" attitude, today's marquee hip hop artists are synonymous with fast cash, late nights and living it up 24/7.
Some of that is certainly deserved. But there are other aspects that are exaggerated or played up just to get a rep. So what does the life of a hip hop artist really look like? The following breakdown
offers a little bit of insight into a few of the key perks, drawbacks and realities of being a rap star.
1. CREATIVE DEDICATION
While it may all seem like glamour and glitz, make no mistake: These guys work really hard — at least most of them. The creativity and perfectionism is often on display in the booth, with leading artists like Kendrick Lamar taking years to craft their next masterpiece release. Others, like prolific Atlanta rapper Future, have another lane and put out a staggering volume of content. Whichever way they go, however, there is no arguing that these icons of their field are often out-working the competition — and not just in rap but across all musical genres.
2. TOURING ALL THE TIME
These days, with record sales on the decline and streaming revenue not bringing in the same revenue that CDs once did, rappers need to hit the road. The top acts today tour — a lot. And with the fame and appeal they have, it is rarely difficult for the real stars to move tickets. Even older acts that seem to have fallen out of the public eye, like Public Enemy, can easily sell out large venues in Europe and Asia. That's how big hip hop has grown, and modern chart-toppers like Kanye West and Drake can make tens of millions of dollars in a single tour.
3. LIVING THE HIGH LIFE
One of the biggest perks of being successful is getting to enjoy some of life's finer thrills. Everybody knows about all the foreign cars, bling bling jewelry and fancy clothes. But one more thing that many rappers love is gambling. Jay-Z, in a collaboration on "I Love the Dough" with The Notorious B.I.G. before his untimely death, rhymed about the two of them playing Monopoly with real cash. Others boast about winning fortunes in cee-lo, Texas hold 'em poker or Vegas casino games. Platinum-selling rapper Nelly and Atlanta legend T.I. are among the many rappers known to enjoy playing cards. For very high stakes, of course.
4. GLOBE TROTTING RELAXATION
Even when they aren't being especially flashing for the Instagram, it's clear that rappers like to enjoy the rewards of their success. The world tours are largely work trips and the expensive toys are definitely nice. But we now hear as much in hip hop lyrics about the destination vacations as we do about the big-ticket purchases. From Saint-Tropez in the French Riviera to Turks & Caicos to domestic trips to Miami, it seems like none of these guys spend much time at home.
WORK HARD, PLAY HARDER
We simply can't lie: Being a hip hop star sounds like an absolute blast. Of course, it's the the rappers who are selling the most records are the ones we hear from and idolize the most. That's the lifestyle we most associate with the genre.
And even those at the top only stay there if they stay dedicated to their craft and tour all over to keep the fans happy. When the hard work is over though, there's no doubt they know how to live it up — whether in Vegas, France or the Caribbean.