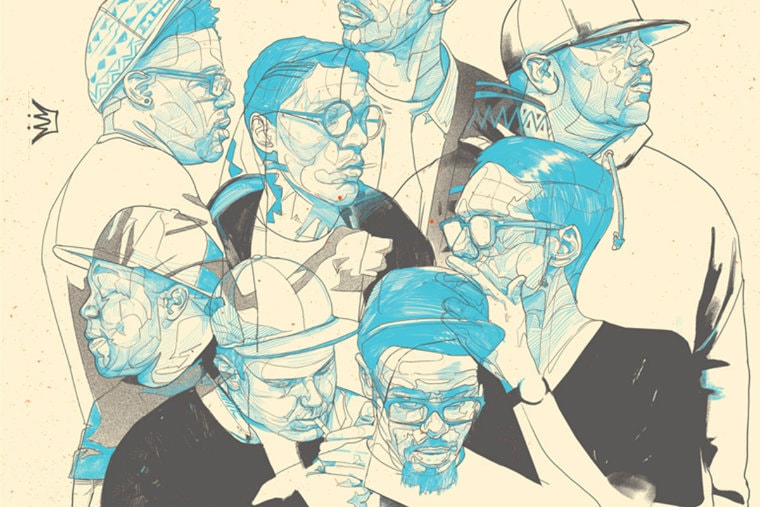 Although you might not expect Arizona to house one of the most dynamic indie record labels for hip-hop artists, the Mello Music Group, which is stationed here, has been providing a powerful platform for dope independent artists all across the globe to build and develop their craft.
Formed in 2007 as the current name, the actual roots of the group go back three years earlier to 204 when Michael Tolle, a hip-hop fan and DJ, deided to release a range of hip-hop mixtapes.
Fast forward three years, and he was in charge of a budding and exciting group who were going places. The emphasis on the word group in the name should never be forgotten, as Tolle puts it himself "no one person makes us."
The growth and development of Mello is very unique, and since then they have gone to be very involved in a wide range of careers across the board. The actual emphasis behind the companies growth and success is quite simple – as Michael states himself he "put the money I made into what I knew: Kev Brown beats, Rob Swift scratches and Kenn Starr verses!"
It might sound like a rather simple way to start building up what has become arguably the primary source of record label success in Arizona for indie hip-hop stars, but this is the truth. Mello Music Group started up from being promoted after-hours in clubs, and now it helps people make it big.
Label Beginnings
The background of Mello Music Group is actually rather simple; as described above, it was one hip hop fan trying to find a place to get noticed. Tolle spent a lot of time working with friends who done club sets, managing to get his playlists being heard. Tolle also freely admits that there was a lot of help along the way, stating that;
"I would be remiss if I didn't mention the support players along the way who taught us the aspects of the game: the marketing people like Audible Treats and Synergy Works. The radio people like Black Fist Radio. And of course the distributors who helped me every step of the way: Demian at Groove Attack, Table Sauce when he was back at FatBeats, Joe Dent over at FatBeats now, and the genius duo of Corey Sheridan & Oz Ogktur at IODA who help every step of the way with our digital game"
As you can see, there was plenty of build-up and time taken to make Mello Music Group come together and become the imperious force that it is. They are the proof that time, commitment and learning can take a company all the way these days.
Their background is built up around a meticulous plan; to constantly listen. Tolle himself admits he's up til 4AM most days, listening to all of their tracks and trying to work out "what we're making and what were missing." It's this intricate detail and attention to precision, perfection, that makes Mello Music Group such an enjoyable part of the indie hip-hop industry today.
Coming Up In The Game
The rise of the company actually comes from another bit of logic; they committed artists to being their best by actually paying them. Instead of advances and the like, they provide their artists with a salary. They brought this into play in 2011, and this made the four since after grow much faster than the first four years of the group.
Tolle believes that "we try to provide stability, regular paychecks instead of chunk advances" and the reasons (and results) of this are easy to see. It created freedom for artists to work and create their own vibe and their own sound, not pressured to create something that might catch fire and get them a quick few bucks. If artists can eat, travel and work without pressure they are more likely to produce something outstanding.
This kind of logical, smart approach to music has been the absolutely key factor for the rise and growth of Mello Music Goup. Since 2010, though, their output has gone through the roof which has led to a big growth and rise in their fame. From using things like Bandcamp to put their music out all across the camp, the company has made sure that new releases are being created regularly but without the pressure for it to be a mainstream hit. Their rise comes from fiscal security, allowing artists to simply grow and develop.
Key Artists At Mello Music Group
Given that the group manages to fit in a whole range of emcees and names in there, they have more than a few names you might have heard of. Mello Music Group, though, is well-known for their love of instrumental albums with are usually side projects of their artists.
They also tend to focus on specific music scenes; they try and create content about stuff we all understand like inner contentment, raising the kids and even getting food on the table. They aren't flash and they aren't fake; they produce real stuff, and they make sure it sounds good before they do it.
This has led to big artists like Diamond District, Apollo Brown and Has-Lo. Diamond District was a huge success for the group; with XO providing the superstar hit and the likes of yU creating in the background and not getting involved too much. Oddssee acts as their sticking plaster, the one who holds it all together and produces in so many ways. They are one of the main names on the list, for sure.
Apollo Brown, though, is a master at improving and changing a verse. He can create songs from just a verse, and is like the musical equivalent of an article spinner; he knows his stuff, and can create brilliant music on a whim. He's a key asset to the group, but also to hip-hop in general.
Their last "main" name at the moment would be Has-Lo, who has a real quality for creating a consistent and awesome style in his music. The best thing about him, though, is that he manages to show an ability to create those movie-style tracks that people love to hear; the ones that tell a story over the course of an album.
Managing to capture both that old-school Wu-tang style sound as well as going for something more electronic at the same time, Has-Lo's diverse style on the mic is arguably his biggest strength, and he produces it in spades for the Mello Music Group, time and time again.