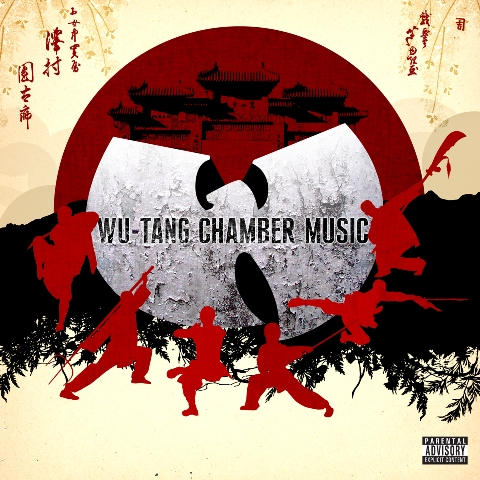 At first the relatively low-profile release of Chamber Music had me disregard the album as another one of RZA's overzealous side projects, something along the lines of Wu-Tang Meets the Indie Culture or The World According to RZA; albums that were admittedly interesting but lacked replay value and were quite bland.
But the marketing campaign for Chamber Music seemed to promise a return to the original gritty rawness of back in the days and after listening to it, it turns out this album is one of this year's most pleasant surprises.
Though the awesome album artwork boasts a nice big red W logo on the front as well as the standard martial arts/Chinese references, Chamber Music feels more like an East Coast hip hop compilation album featuring some great songs rather than an official Wu-Tang Clan release.
GZA, Method Man and Masta Killa are inexplicably missing and while RZA's the executively producer, he actually contributes very little to the actual production; instead leaving it mostly up to Fizzy Womack of M.O.P., who together with Andrew Kelley, Noah Rubin and Bob Perry work together with The Revelations to re-create the vintage soul and boom bap sound of early 1990s New York on Chamber Music.
Chamber Music unarguably features some of the best rhymes and beats I've heard from the Clan in a long time. The remaining members – Inspectah Deck, U-God, RZA, Raekwon and Ghostface Killah – sound refreshed, hungry and like they're having the most fun they've had in a while.
To top it all off, 1980s and early 1990s New York veterans – Kool G Rap, Masta Ace, Havoc, AZ, M.O.P., Sean Price, Cormega, and Sadat X – come along for the ride and the result is the teaming up of some of hardcore hip hop's finest lyricists.
While GZA's razor sharp lyrics, Meth's slippery flow and Masta Killa's shadowy presence are definitely missed, the rest of the Clan along with their East Coast peers are able to easily hold down the album (even if it is a mere 8 songs out of 17 tracks).
Deck, U-God and Masta Ace join forces on the foreboding 'Kill Too Hard' with Deck opening up the track with his muderous lyrical dexterity, "At the same time, marvel the speed, I'm so dope, I can bottle it free, the most influential modern day murderous he."
'Harbor Masters' combines a dusty-as-hell break-beat with some psychedelic guitar sounds for Ghost, AZ and Deck to floss and posture as mock club-bangers; and while they encourage the listener to dance and "two step", Ghost does so while flashing his "tech like Clint East", AZ threatening "New Jack ni**as" and Deck claiming notorious status of "Mohammad Atta."
'Radiant Jewels' is a masterfully produced track; featuring a heart-stopping cello loop that soars brilliantly like a film score with Raekwon, Cormega and Sean Price's gritty urban tales sounding right at home. As a matter of fact, the cinematic 'Radiant Jewels' would have felt right at home on Only Built 4 Cuban Linx… Pt. II.
'I Wish You Were Here' turns the violence down a notch with Ghost's evocative imagery ("That's when I slide on over with a Guinness on the Stouffer, to talk a little sh*t, then get a little close") and emotional delivery ("I get butterflies when we hug and kiss, do you?") providing the perfect introduction for Tre Williams to step up and pour out his heart.
The Chef shows up again on 'Ill Figures' but this time he gets to trade rhymes with the man who sparked off the whole mafioso trend in hip hop; Kool G Rap.
The two of them are joined by M.O.P. over a simple but effective bass line; Rae narrating "Blue ice, hundred thousand in the Nike bag, license, drug shop, I'm sorry. Atari in the Ferrari, next time see the Lex A Shallah" and Kool G Rap as usual demonstrating his talent for internal rhymes "Like storm drains, boss man, bundling raw 'caine, fours bang, neighbourhood war games, get your weight up, you looking anorexic, posted on the block proper with the hammer vested."
'Sound the Horns' finishes off Inspectah Deck's hat trick on Chamber Music, confirming him as the low key lyrical star on the album while the album's closer 'NYC Crack' is RZA's time to shine.
With only 8 actual songs, Chamber Music is unexpectedly short in length, and while RZA's philosophical musings tie in nicely with the tracks and adds a cohesive feel to the album, I can't help but expect more from the clan.
Maybe that's what they wanted, because after Chamber Music my anticipation for Only Built 4 Cuban Linx… Pt. II certainly increased as well as for The Wu-Massacre coming out 2010.
Whatever the case, Chamber Music is both a refreshing addition and welcome confirmation to the Wu-Tang catalogue. It does not break through any creative boundaries nor does it try to. It's simply a throwback to the mid-1990s when Wu-Tang had this hip-hop shit on lock.