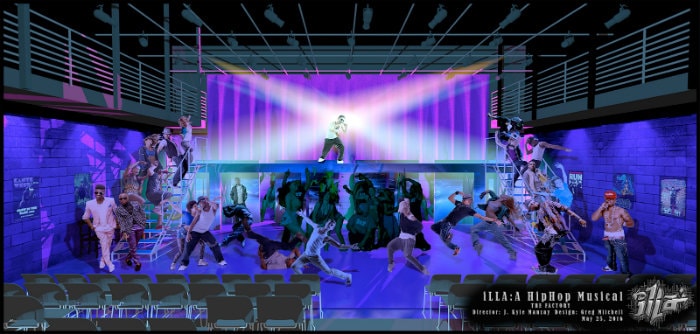 A hip hop musical dreamed up in NYC, celebrated by Broadway trade publication Playbill, and destined for top markets will be making its way through Atlanta, GA for 5 performances on June 10 to 12, and Cobb County Center for Excellence in the Performing Arts (CCCEPA) is thrilled to play host.
iLLA! A Hip Hop Musical was not only named as one of the "Top 10 Musicals Not To Miss" by Playbill, the Broadway trade magazine, but also won the 2015 Award for Excellence at the New York Musical Theatre Festival (NYMF) Developmental Reading Series.
After selling out at NYMF and Toledo, iLLA! travels to Atlanta this summer. CCCEPA alumni Ronve O'Daniel & Jevares Myrick are thrilled to be returning to Atlanta, the city that first propelled them on their showbiz journey.
"The production team is genuinely excited about returning to their alma mater and have been very involved in the process of establishing the project," said Frank Timmerman, CCCEPA Director.
iLLA, which is slang and an adjective meaning, "to be greater," is a musical set against the challenges of the 2008 U.S. financial meltdown. We meet Prince, a classically trained dancer who dreams of becoming a famous rap star.
After suffering a humiliating defeat at a leading open mic competition, Prince struggles to redeem himself in the eyes of his friends and family. He falls hard for a girl named Stacy but his father's prejudice threaten to tear them apart.
Can Prince overcome his fears and trouble home life to achieve his Hip Hop dreams? It's a journey of Swagger, Survival and the Search for Self. Do you have what it takes to be iLLA?
More on the CCCEPA workshop, Timmerman explained, "Musicals destined for Broadway undergo an extended process of development from conception to realization. Workshops help the writers and director see how the story plays to the audience."
iLLA! has already won significant awards and recognition before and sold out the Toledo workshop. The June 2016 iteration with CCCEPA will be the third, with probably one or more workshop productions to go before the show moves to other major productions in larger theaters. Success there determines if a show will become a Broadway offering.
The workshop has multiple benefits for our center, including our young theater enthusiasts studying at CCCEPA who will be working with active and successful Broadway performers, directors, writers, and producers.
The NYC iLLA! production team will be at CCCEPA for over three weeks, rehearsing, and staging the show with CCCEPA students, plus local adult performers – many of whom are also CCCEPA alum.
"While CCCEPA sometimes enjoys guest artist visits from working professionals, this is an opportunity on a whole other level – they will be preparing roles under the direction of these professionals, having a chance to demonstrate their abilities.
It's not impossible that these students could be cast in later workshops or productions, or might make valuable contacts," noted Timmerman. "Our students are very well-prepared and are up to the challenge this experience offers. Ronve O'Daniel and Jevares Myrick have seen this first-hand, and recognize that the partnership can be successful."
The conclusion of the CCCEPA workshop will result in five unprecedented open-to-the-public workshop performances of iLLA! A Hip Hop Musical.
Our community will be given the opportunity to sit in on a show destined for Broadway as an Award-winning NYC production team develops it.
Shows are scheduled in the James Wilson Studio Theatre, located in the Betty Gray building at Pebblebrook High School (991 Old Alabama Rd. SW, Mableton, GA), Friday June 10 @ 8 pm, Saturday June 11 @ 2 pm & 8 pm, Sunday June 12 @ 2 pm & 7 pm.
With only 140 seats available for each performance, the public is advised to secure tickets quickly! Tickets are $15 each, available at: www.cccepa.com/CCCEPA-Box-Office.html