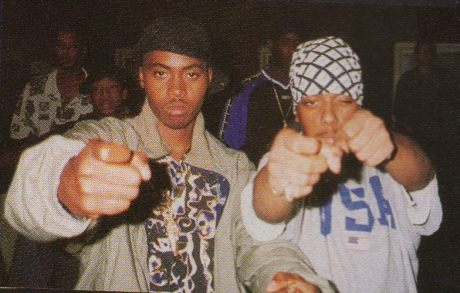 Hip-hop heads, did you know that Nas' classic joint "Live Nigga Rap" off It Was Written was originally created for Mobb Deep's Hell on Earth?
In an interview with Complex, Mobb Deep's Prodigy recounted how the duo originally recorded "Live Nigga Rap" for their third album, Hell on Earth, but Nas bought it off them for It Was Written.
With his commercially friendly singles like "If I Ruled the World (Imagine That)" and "Street Dreams" climbing the music charts, Nas was looking for that gully, Queensbridge sound to balance out the album.
Since he couldn't get the Juice Crew head honcho, Marley Marl, on his second project, Nas went and copped the next best thing – Havoc's grimey production.
Prodigy: We recorded that for Hell On Earth. Nas called us when he was working on his album like, 'Yo, I want to buy that song from y'all that we did.' I was real reluctant at first because that shit was crazy hot and that was our Nas feature for our album. He was like, 'I want to buy that shit.' After thinking about it for a while, we sold it to him. We figured his shit would be bigger than our shit and it'd be good promotion for us because it's Nas.
It Was Written has gone on to become one of Nas' most successful and widely regarded albums. The record debuted on top of the Billboard 200 and has since moved over 2 million copies in the US only.
Lupe Fiasco once said it was his favourite album and 2Pac himself was inspired by "I Gave You Power" to create "Me and My Girlfriend."
https://www.youtube.com/watch?v=SG5yR2VVyJo
Source: Complex – Prodigy Breaks Down His 25 Most Essential Songs