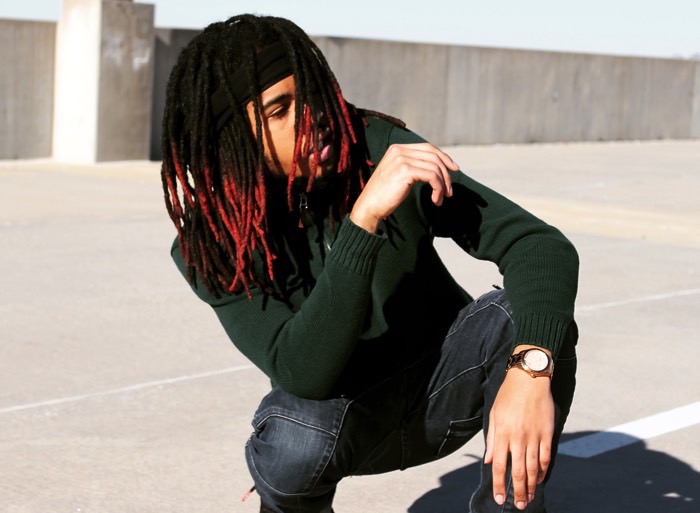 Washington DC hip-hop producer FlyLovah has dropped his debut mixtape – 6 – on DatPiff and SoundCloud, marking his official introduction into the rap game.
Influenced by superstar producers like Kanye, Timbaland and Pharrell, FlyLovah has crafted a 9-track tape which showcases his diversity and ability to blend unique soundscapes with head-bopping rhythms.
You can stream or download the project here.
1) Tell us a little about yourself and your background.  
Im FlyLovah Thats My Name, My Government is strictly for government purposes lls but yea I'm from washington DC I've lived all over but thats home and thats what I love.
Im a Young Hungry Producer And I'm here to create dope music and look incredibly dope doing it. I've wanted to producer since i was like 8 man me n my father used to beat box lls but i finally said man forget everything else, forget what people say IM A PRODUCER and I'm going to make it happen
2) Who were some of your musical influences coming up?
Main influences coming up number 1 is Kanye West i heard "College Dropout" and thats been my favorite rapper ever since. But also Pusha T, Biggie, man the old lil wayne carter 1-2 days, timbaland, !llmind, Pharrell, And Dipset those are who i can think of off top and i have a few newer influences from today
3) How would you describe yourself as an artist? Has your style changed much over the years?
As a artist id say I'm Weird+Dope i make all kinds of stuff but lately its been a lot of dark stuff with some trap sounds here & there. I'm still growing, Learning and trying to find and perfect my sound but its definitely being shaped and i hope becomes recognized world wide
4) What's your process like for making music? Do you have a set routine or does it vary track by track?
My process for making music is just like my thoughts: Random as hell lls i open up my macbook and just start piecing together melodies or messing around with samples after that everything else just falls into place. I'm still learning all the ins & outs but i try to do something new on every beat i put out
5) Can you run me through the making of your latest project? Where were the studio vibes like? 
Man 6 was crazy I'm a horrible procrastinator i knew i wanted to drop something for my birthday and i ended it up doing it las minute as always. but my thought process was. let me wake people up, let me show people that I'm serious about this music.
I wanted to make something that sounded like it be a movie or something when being listened to. the vibes were dope but i finished it in my aunts closet lls crazy. id zone out piece different beats together and whatever stood out to me id rock out to it for a bit put it to the side and work on the next beat. there are a few things off here and there because i didn't know too much about eqing and stuff but what i dont know i learn
6) What sort of independent hip-hop promotion and marketing are you doing to differentiate yourself from other artists?
I need way better help in the promotion department I'm still trying to find something that works. as far as promotion I'm on twitter and IG constantly promoting new beats i dropped thats for sale or trying to get people to listen to me and know.
I'm not just like every other "producer" out here with the same basslines & sounds every track or only making trap music. Im FlyLovah Listen To Me and i guarantee you'll like me. you may not like everything but you'll like something
7) What are you thoughts on the current state of hip-hop music today?
The current state of hip hop is pretty cool. i can't really complain I'm loving a lot of stuff thats dropping right now but i really wish everybody would stop trying to be like everyone else. I can't stand how so many rappers are trying to sound like the Migos smh i can't stand it. but a few artists have me keeping faith in hip hop and the future of it
8) What music are you listening to these days? Anyone in hip-hop really blowing your mind?
My favorite question so far, right now I'm listening to Kanye West of course, Pusha T, Travis Scott, A$ap Rocky, A$ap Ferg, Young Thug, Wale, Lil Uzi Vert, OG Maco, PND, The Weekend, And Anything Produced By Metro Boomin.
Metro's Sound Is Crazy If I Could Have a sit down and learn from dude that'd be a blessing. Kanye surprises me everytime hell always be the GOAT to me personally, and A$AP rocky is a huge influence to me dude dope as hell i gotta be A$AP affiliated soon "Lord Pretty Flacko Joyde 2" Is My Theme Song & Long Live A$AP is always in rotation.
9) If you could work with any artist you wanted, what would be your dream collaboration?
If i could work with any artist i have to work with, Kanye, A$AP, Pusha T. or Young Thug. they always dropping something crazy man or next level i know as i grow ill be there soon. but i definitely have to get pusha T or A$ap on one of my beats that'd be dope as hell i could die in peace after that lls
10) What has been the best moment in your music career so far?
The best moment in music to me has been the reception I've been getting from people. there are still som people out here who over look me or don't care but I've only been producing since the summer of 2014 so the love I've been getting is crazy to me. you guys reaching out to me has def been at the top i love blogs and to be on one is def a accomplishment to me.
11) So what's next for you?
The future is looking really bright for me man I'm too excited I Got My hand in everything. I've learned a whole bunch of new techniques to help with my sound. i have a bunch of new stuff I'm working on with my boy Ace Savage (@AceSavageMusic) its crazy how fast dude can make songs and makes my beats even better with his flow on them.
Me & My Bro Rah Rah (@Rahbygod) have been modeling and taking doing dope pictures and visuals we have clothing lines reaching out to us n stuff i hope to take that to the next level. My Dope Ass Photographer Jasphy (@Jasphyyy) Doing big things and shoots every video i edit.
And I hope my relationship with my sensei Ahmed Mughal (@iameddymogul) gets even better & i officially get under his wing. i know endless dopeness is going to come from that. pretty much a takeover for me and my gang. With God By My Side Things can only get bigger from here. RIP A$AP Yams.