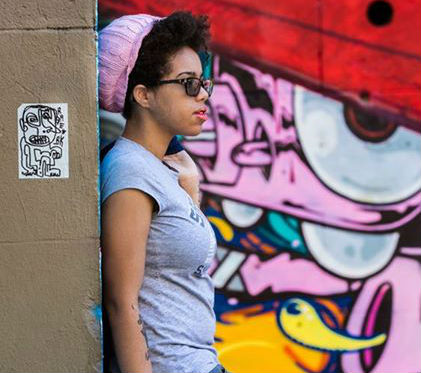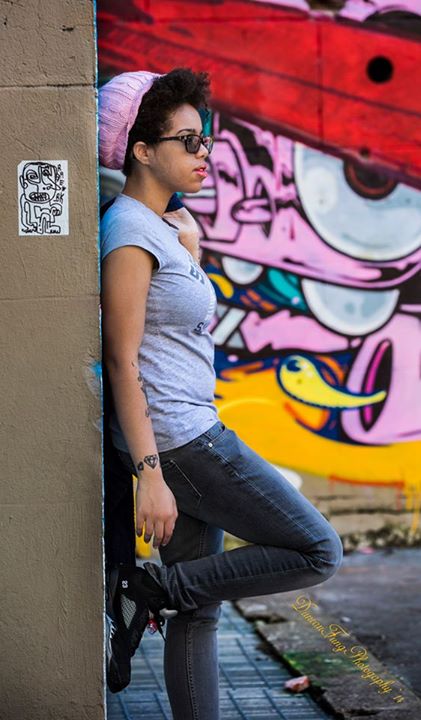 1) Tell me a little about yourself and your background.
I always was into music I recall beating on my desk as a child with a pencil,trying to imitate the Clipse's "Grindin" beat. My first instrument was a guitar at the age of 7.
By the age of 13 I started playing drums. Then by 16 I started rapping and making my own beats. And now I'm 22 still doing this.I could've gave up long ago.
I guess you could say I come from a musical family, my granddad plays guitar, my uncle plays guitar and drums, and my other uncle produces beats in his spare time. Music is pretty much all I know.
2) Who were some of your musical influences coming up?
Some of my musical influences for hip hop are Jay-Z, Kanye, Aaliyah, J. Cole, Pharrell, Timbaland, Missy Elliot, Chris Brown, A Tribe Called Quest and Wiz Khalifa. I grew up collecting CDs at an early age. I also have some Rock influences as well Korn, Limp Bizkit, Beastie Boys and Avril Lavigne.
My ambition is to make for myself first, also for my family, and to help my musician friends get put on. I still want to complete college before the success gets to crazy. Once I make it I'm paying off my student loans and paying back my mom lol.
3) What's your process like for making music? Do you have a set routine or does it vary track by track?
I have 7 steps that explains the process I use to record:
Smoke Weed
Light A Candle (Set The Mood)
Listen To My Favorite Artists
Get In The Zone (Meditate)
Start Making A Beat
Write Lyrics
Record Myself
Thats my usual routine lol its a little different if I'm working with somebody. Also I watch beat tutorials to improve my sound.
4) Can you run me through the making of your latest project? How the idea came about and what the studio vibes were like?
I spent a lot of time writing for this project. I was going through a stressful period. I just wanted to vent didn't have nobody to turn to. So I decided to make another mixtape but this time seriously, not for fun like the previous two rap mixtapes that I put out.
So basically I usually produce beat mixtapes for free (for the public to use) but recently my beat sales were dropping so I decided to rap over the beats that wasnt being put to use.
Trapstation is my 3rd mixtape under the alias Mizz Frankie J Beatz / Frankie Jane (I considered Frankie Jane like my alter ego. She's more outgoing and not afraid to say whats on her mind), while Mizz Frankie J Beatz is more reserved and peaceful side of me.
My original rap name back in high school was Mizz B.I.S. you might can search for some of my older stuff (during the myspace days). I Came up with the name Trapstation after listening to some trap music such as Yo Gotti, Gucci Mane, and Migos. And I like to play video games so I thought it sounded cool to add the station to end. Even though Im more of an Xbox Girl lol.
I wanted to fuse Trap With Hip Hop/Pop to create a different sound than thats out.  I used a few beats from a few producers online and the rest was prod by me. I didn't record in a real studio not even a studio at all. I went to this chill spot where i go to clear my mind. I pulled out my phone opened the f'n voice recorder app and started recording (went back home and edited it in Fl Studio.So for the making of this mixtape it was priceless.
5) As independent artist, what are you doing in terms of promotion and marketing in order to differentiate yourself from others?
For promotion Im usually on all the social media sites Tumblr, Twitter, Facebook, Instagram and Youtube etc. You have to interact with artists, listeners or nobody is going to hear your work.
Most of the time I post of links of my mixtapes and music but I don't force people to listen to – it's their personal choice. I don't believe in paying for views.
Like let them come to you, you will feel more rewarded in the end cause you will start to have a fan base. Lately i built up the courage to record dailyvlogs of myself on youtube. You get to see me being silly(which is rare) – Its like a inside view of my lifestyle.
6) What's the number tip you would give to someone who's looking to get in the music industry?
To study your fav artists, it will help guide you in the right direction. Like hey my fav rapper did it I know I can (like Nas lol).
7) How do you feel about hip-hop today and where it's headed?
I Feel that hip hop has come along way. It went from being lyrical to just focusing on a banging beat. At one point I was anti hip hop/rap when the Crunk Era was out. I went back to listening to rock because of the state of hip hop at that time.
But now theirs so many sub-genres out here like trap,backrap,chopped and screwed,and trip hop.So i personally enjoy any type of sound now . I realized I will listen to anything depending on the mood im in.
8) What music are you listening to these days? Anyone in hip-hop really blowing your mind?
Heres a list of whats in my beats by dre:
Jhene Aiko (for when im in my feelings lol She has that Earthy,Peaceful Vibe)
Tinashe (I remembered when I discovered her , i was impressed because she sings and makes her own beats) She deserves the respect shes getting now
Partynextdoor (Sex To My Ears…thats all I'm going to say)
Migos (I listen to them when I want to turn up, its hard to resist)
Rich Homie Quan (It's something about his style , me and my friends joke and say he has so much soul like a young James Brown lol.)
Mind Blown by The Weeknd, Everything he puts out I usually download and play it a billion times. I really want to see him live. His music is like a new drug in the industry. My next project will be called Luv & Hip Pop. No date yet.