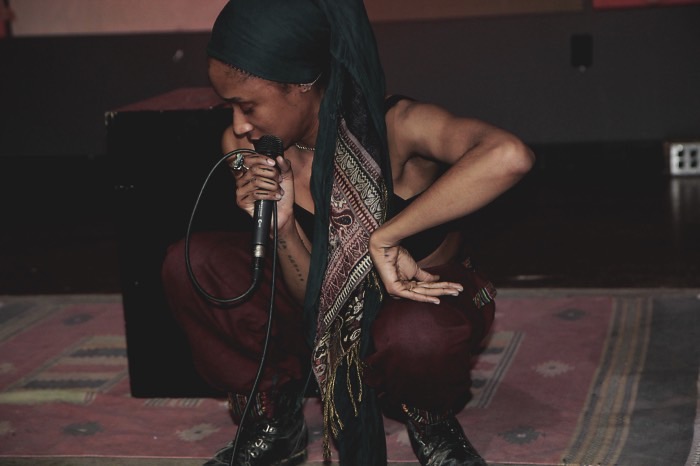 Toronto hip-hop artist, Xolisa, recently dropped her second EP to date, the incredible Rhyme Until My Spirit Needs No Words To Fly, a follow up to her debut project A Beautiful Mind.
You can stream and download Rhyme Until My Spirit Needs No Words To Fly here, but not before you check out our interview with Xolisa below where she talks in-depth about everything relation to her artform. A must-read for fans of the Toronto hip-hop scene and dope music in general.
1) Tell me a little about yourself and your background.
For starters, my name is pronounced, "Koh-Lee-Sah". That's the English pronunciation, or at least the one my dad created (ha!). I've realized people think my name is "Lisa" and that in an attempt at trying to be cute or something, I add a "xo" (hugs and kisses) in front of it. That's not the case.
The name originates from South Africa; it means "To Forgive". I was born and raised in Toronto, Canada – to Trinidadian parents, one of which, my dad, has been a musician all his life; He plays, makes and teaches the steel pan.
As of the end of this month (December 20th), I'll be entering my 3rd year of creating, sharing and investing in my music…damn, 3 years… just the thought of that is such a reality check… but yes, this is where I am.
My connection with Hip Hop has been a part of me since I was little and has only continued to grow, as I grew. But it was at the age 21 that I tapped into my voice, potential and I guess overall essence of an emcee and a producer.
2) Who were some of your musical influences coming up?
Coming up my musical influences varied. I could name at least one artist in the genres of House, Calypso, Soca, R&B, Rock, Reggae and more that I was inspired by in their sound. In regards to Hip Hop, A Tribe Called Quest was my root and anchor…all I wanted to do was sound like Tip.
When I made that decision to explore and pursue my path in Hip Hop, my first task was to try and rhyme like him, execute like him, deliver like him – I just thought Tip's essence was the closest to what I believed was in me. I loved that he was abstract, that he was poetic, witty and cocky all at the same time. His flow, his style and the energy that him, Phife and Shaheed shared and contrasted in each other, was golden. I guess in many ways, I wanted to embody the group all together.
Starting was probably the most challenging part for me. Imagine a kid who has known for all her life that she wanted to contribute to this bigger picture and source called "Music" and knew that was her end goal, but didn't know how to go about being a part of it.
Imagine you've spent your middle school, teenage and early adulthood years exercising different strengths of your musical creative muscles, trying your hand at dance/choreography, singing, music journalism, production, song writing, playing the piano and still haven't found that one path you wanted to invest in and then finally, it just comes to you.
That period of trying to find and understand my voice and its qualities, understanding my own style and not Tip's style, trying to wrap my head around who I was and wanted to project…man, that shit was exhausting. Growing pains at its rawest. Having that urge to rap and having to strip myself down before placing myself out there… that was my process. I took it seriously and wanted to go about it 100.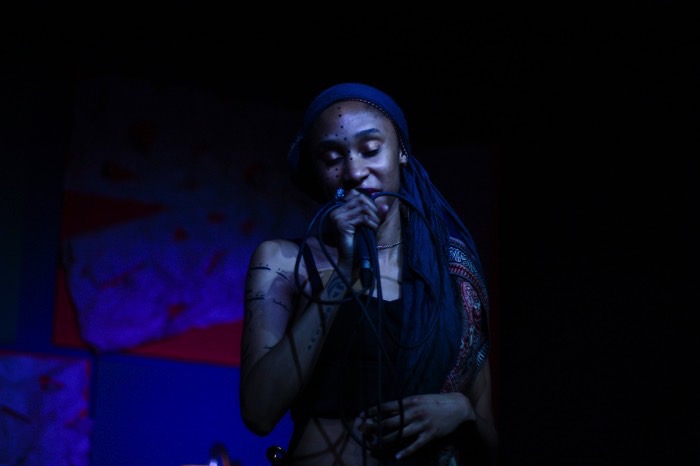 3) What's your process like for making music? Do you have a set routine or does it vary track by track?
My creative process varies track by track. Because I handle my own production, my worlds are split into two in a sense where on one hand, I'm focused on the soundscape – creating and building my beats layer by layer. Then on the other hand, my sole purpose is writing.
With my first couple of single releases, "Until Then" and "Be Felt" – I remember feeling completely overwhelmed with choosing to produce my own music. With my very first piece of music released, "Until Then", I remember thinking I'd just produce that one song for myself, seeing as I had no connections to producers, or the money to invest in it.
Aside from that, I knew what I wanted to hear, what I wanted to feel – I didn't want to trust another producer with the task of capturing what I felt so strongly inside. So I did it, thinking that would be my first and last time. With that track, I didn't know where to start, I knew what I needed to say and knew what I needed to hear but executing both the writing/delivery and the beat itself simultaneously was daunting…yet, working with another producer was out of the question. Pride? Probably. I was motivated nonetheless.
My strength was in writing, naturally, but I was at such an infant stage in finding my voice, my style, my delivery as an emcee, which is was an expedition in itself, that to add the quest of finding my sound and grounding as a producer as well?
Man, you can imagine how overwhelming that was. I would work on the beat for "Until Then", then panic because I didn't know where to stop and begin writing its verses, or vice versa. With "Be Felt", my second single, It was the same deal, I was too inspired to pass on the production responsibility to another, so I thought alright, whatever – I'll do this too. After "Be Felt" I just decided within myself that I'd continue creating my own sound from the lyrics to the beat, independently.
And the more songs I'd create, the more I'd understand and develop a process. Which brings us to the present. I'll either start off with an idea or concept for a beat by being inspired by a groove I've heard and lay it out, then build it up till I know inside I've reached the limit for that moment. During that time, words, flows, thoughts, hooks and topics are brewing.
Once I've gotten as far as I can with the beat – I begin writing. I won't touch the beat at all, just continue to write and flow till I reach the limit of that moment, then go back to the beat and continue going back and forth from world to world until the song is complete and the two – my words and my soundscape, are completely in sync. People always ask if I begin with a beat, or with lyrics – it's been different for every song. Sometimes the above-mentioned process begins with my words.
4) Can you run me through the making of your latest project? How the ideas come about and what the studio vibes were like?
My latest project is entitled, "Rhyme Until My Spirit Needs No Words To Fly" – it's my second EP. The title is actually a line from a song of mine, "A Beautiful Mind" from my debut EP baring the same title: "A Beautiful Mind".
This project is really a reflection of what the title suggests; it's me going deeper into myself and my spirit in understanding, acceptance, exploring and resolving. It's me going off lyrically, rhyming for as long as I have a breath and a voice to do so – to say what I want about myself and the situations around me.
I'm an introspective person by nature; I always have been – even as a little child. My music tends to always reflect that quality of mine because I create to figure myself out, to release and to ultimately understand the world around me. It's through that nature of my lyrics and sound that I've built the circle of supporters I have – because they were able to find something to use in their own personal journeys.
Being able to pass on that concept and importance of positive self-building, discovering self-love to another, that's golden. I didn't go into this thinking that would be my goal or aim, it just began happening that way with the words of appreciation I'd receive from complete strangers…If that's what my purpose is in this journey of mine, I accept it.
The studio vibes were interesting. I record from home and as convenient as that is, it's a challenge in itself because you have to learn to be your own source of discipline, yet your own source of encouragement – your own source of energy yet your own source of advice and care at the same time.
When I say "my own source" that goes beyond just me as a being. That source is my higher self…most high, God, however you want to label that higher being. What I'm saying is, when you're left alone to create a project…you can't help but learn so much about yourself, your habits, what things or people distract you and drain you and what things or people fill you up.  With all that time alone, it's easy to feel as if you have to take on every single little thing solo. My biggest lesson was that I in fact, don't.
The next biggest aspect that set the tone of the studio vibes was my collaboration with the engineer I work with, Erik Flowchild. Flow has been the one responsible for taking my finished mixes and mastering em, as well as directing my music videos…yeah, he does it all.
Our friendship and trust has really grown and strengthened over the course of the last 2 years and working on this project has really unveiled how much I trust his ears and how much he trusts mine and my vision. We definitely had intense moments of frustration due to pressures of trying to make an extremely tight deadline but he never gave up on me, or this music.
I never gave up on him. We respect and care about each others art and well being period and I guess because of the simple fact that we believe in ourselves and each other so strongly, it out weighed those intense moments. I sit back and laugh now at how much work went into finishing this EP.
Both of us up all throughout the night emailing mixes and edits and versions upon versions of tracks, back and forth or at times, both of us taking turns at getting a master or mix just right, at his place. I remember times when I had absolutely no energy left and would feel my body completely shutting down in sleep; he'd be there to continue the process.
When he seemed to be slowing down, I was up and taking it forward. For the record, "Don't Shoot The Messenger" was the hardest song to mix. My skills were definitely pushed to the limit with that track; I'd say Flow's as well. We've discussed new ways to ago about working on future songs though…ways that are probably healthier for us both haha.
The creation of this project was such a collaborative process. It was me with the overall idea and vision and the dope, ride-or-die individuals who helped me execute this orchestration. As with Flowchild, my friendships and respect for each of these people has only solidified.
Tony G of XVXY Photo (www.xvxyphoto.com) was the photographer responsible for capturing and editing the EP's incredible front and back cover artwork. Chantal Rose (www.ahippyrose.tumblr.com) (who is also Flowchild's significant other) worked with capturing and editing the EP's inside cover artwork, not to mention was an amazing extra ear to the project during Flowchild's mastering process and was a beautiful friend, support and believer during the project's creation.
Camille Lauren (www.artofciel.ca) was the breathtaking body paint artist for the EP's front and back cover, whom I connected so deeply with and who I hold so much respect for, even more so than I already did to begin with…such a beautiful soul. C.J Cromwell of T.O. Studio (www.tostudio.ca) was responsible for providing the space and housing for the EP's cover art photo shoot as well as for the music video shooting for the single, "Dig Me".
Moe Naaman was such a huge help behind the scenes in offering support, his time, his van (lol) and advice. Monah "Mammie" Water was the official journalist to cover the EP's listening session event. Duane Hall (www.spokenheard.ca) was the gracious host for the EP's listening session. Shamaia Veira (DJ Afroditee) (www.soundcloud.com/djafroditee-1) was the official DJ for the EP's release party.
Jemelle Williams and S-Quire Johnson of YYZ Hilightz (www.yyzhilightz.com) were sources of guidance, true moral support and were the first platform to share and promote the project. You see, it was not so much the vibes within the studio, but the vibes these individuals and the many others who know who they are, who gave life to me-the person first and foremost, which in return translated in the music.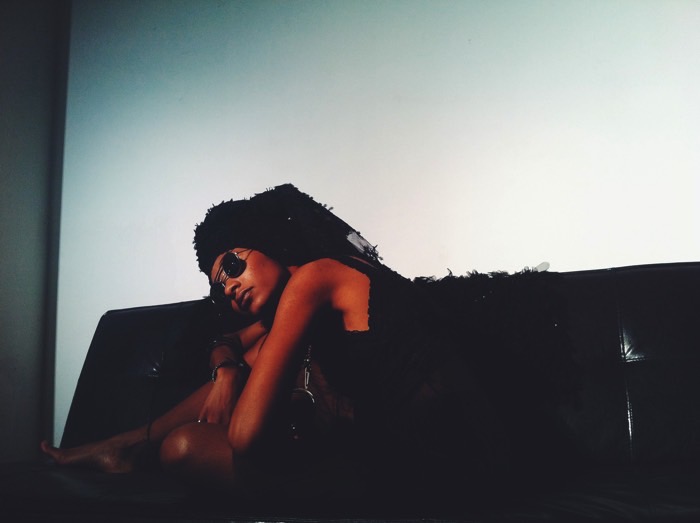 5) What sort of independent hip-hop promotion and marketing are you doing to differentiate yourself from other artists?
Well for one, I'm here answering these questions. I'm taking the time to not only share my story, but share and introduce the amazing artists who reside in my city and contribute to and continue to support my vision and the person I am, and becoming.
As this stands as the very first interview done in regards to this new project, I'm taking the time to invest in an outlet (stopthebreaks.com) and the person behind it whom I believe actually gives a shit about being a platform for dope artists and is about running and sustaining a successful business as well.
I'm taking the time to constantly recognize my dopeness, my strengths and individual style as well as my areas that can improve and strengthen and give energy to it by celebrating it, creating in ways that are me and no other.
I'm taking the time and I guess what some may call "a risk", to be completely true to my art, my style from the way I rap to the beats I make, to the way I dress and the way I present myself, even if it is very different than what is happening in Hip Hop this very moment.
Even if it does mean that my listeners will be made up of ones who have to consciously choose to invest in my music because it isn't always the most digestible or "common" to what is most popular right now.
The thing is I believe in myself. I believe in Me.
I can continue to observe, learn and understand the "rules", tricks, trades and formula's of this industry- and I will. I will always look for ways to grow and create a balance between doing whatever I want and being completely naive. But I can only create by being true to my spirit.
"Intuition it does guide, often down the path less travelled by…" (Yield)
It's taken time to build that confidence and my stance is always being challenged, but if my gut, leads me left while the rest of the industry is going right…you better believe I'm going with it.
I work hard for what I get and have to prove myself each and every time I grab that mic, but it all ends the same way once I've finished pouring my soul out on stage or in a recording- either you decide to be a part of the world I'm creating or you don't.
Overall, I'm differentiating myself from others by simply being me. There is only one me. What I do and how I choose to do it will always be unique to myself.
6) What's the number tip you would give to someone who's looking to get in the music industry?
Trust You and your higher self. Act on that trust and use it to put in hard work for what you believe in with a good heart, a motivated soul and with appreciation. Everything you work your ass off for, if done with the right intentions, it will find its way right back to you.
7) How do you feel about hip-hop today and where it's headed?
My intake in what's happening right now in Hip Hop is very small. I'll be honest, I'm so wrapped up in my own world of creating that stopping to really take in where Hip Hop is, it's very, very…what's the word…it's very…limited. I listen through friends who share new music with me and when I'm ready to go exploring, I do.
Even if that's months after that "hot new joint" is out. One thing I can say for certain is that Hip Hop is in a place where I feel every city or borough is trying to big up themselves and represent. I see it here at home, I see it across the border, but it's nothing new.
In Toronto at least, we're in a space where people are wavering between,
"This person is wack. They sound so Toronto. This is why I don't listen to Toronto artists, except Drake. Drake is the only exception. These underground dudes? And the female rappers?… Yeah right."
And,
"I dig this artist. I hear what this person's saying and you know what? I'ma go listen to more music of this person and see if I like more of their work and decide if I want to stand behind it…and maybe I'll even reach out and let em know I'm feelin' em."
Or somewhere in-between,
"Should I support this local cat? But he/she is a "Toronto" rapper. But the music is kinda dope…But I'd probably never outwardly admit I dig him/her."
And in various places along that spectrum.
We're trying to find an identity, but are not always admitting it. People here (generally speaking of course), they need a lot in order to really support someone from here and not for the best of reasons. We easily and readily accept those from outside of our grounds with open arms and lower standards.
We have this disgusting 6th sense for anything that sounds "too Toronto" and immediately turn our noses up and shut it out. Lol…it's amazing really. I know this because I was definitely one of those people when I was younger. It took being "accidentally" introduced to a rapper by the name of K.J who is based here in T.O to be left dumbfounded.
It was through discovering him at a live show that I threw my old mentalities out and began to intensely dig, absorb and seek out as many emcees and more from this city whose music I gravitated to. It was like clearing out an old record collection that was made up of Hip Hop legends of the past and make room for a new found collection of rappers, singers and musicians right here in my own front yard – I haven't looked back since.
At that time I wasn't into what was happening mainstream outside of Toronto, I was stuck in 90's Hip Hop and felt like, "well, looks like this is it because everything on the radio ain't speaking to me. Everything on TV definitely ain't speaking to me. People here are non-existent. I'll just keep to what I know – old school Hip Hop. "
That being said, there is definitely a strong growing undercurrent of movements, artists and outlets that are tired of that "too Toronto" mentality and are really taking the lead to model what it looks like (as if it's the hardest thing to recognize right?) to support and invest in our own simply for the fact that, that artist is straight up dope.
I'm looking around seeing dudes rocking "416" or "905" on their sweaters, their fitted's, their toques…I'm seeing men and women come out to more local shows, share more music from artists and actually be excited to follow what artists from here are doing. It's an interesting space we're in but it's progress. Slow progress is still progress.
8) What music are you listening to these days? Anyone in hip-hop really blowing your mind?
Right now I'm completely involved in D'Angelo's, "Black Messiah" – the ending track, "Another Life" to be specific. In regards to Hip Hop, I'm looking for a new artist to get lost in, haven't found one just yet…there's nothing that's really blowing my mind right now in terms of a Hip Hop project.
But, there are a lot of specific singles that have me amped, and all of em are from right here in Toronto: Dynesti Williams' "Dun The Place", Erik Flowchild's "Peace", Hydeff's, "Camouflage & Tye Dye", Junia T's "Eye See You" project, ELMNT's, "Yours, JAH" and Plaitwright's, "Insects, Ligaments" project to name a few. Outside of Hip Hop: Enuma Flux, Shi Wisdom… If you don't know their names now, believe me – you will.