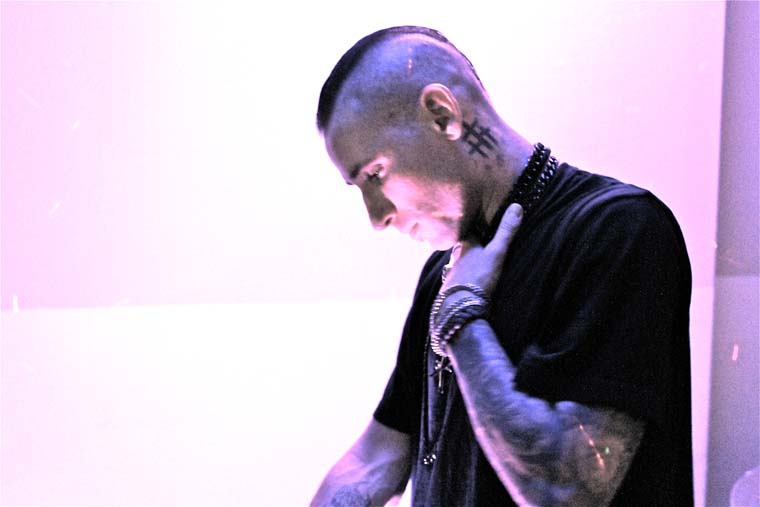 Artist Bio: HEIZMAN is the exact definition of turn up! His bold energy and bass heavy production puts speakers to max capacity. Most known for his on-stage presence and creative wordplay, HEIZMAN brings a unique edge to the hip hop industry, and it's evident.
From fast rap to melodic vocal creativity, his music reaches both ends of the spectrum pushing the envelope to new heights of future hip hop production.
HEIZMAN was born April 13th, 1991, learned his craft living in Lake Havasu City, AZ, and took his future career to Southern California to work with some of the best engineers in the industry, you can tell there is no cap when it comes to quality of his work.
Most visually known for being heavily tattooed, HEIZMAN catches eyes everywhere he goes, he is a natural rockstar.
1) What inspired you to be a part of the music industry?
I'm addicted to making my own music. I grew up playing about a dozen instruments, mainly heavy lead metal guitar. Writing lyrics is always something i've been good at, i observed the hip-hop industry very late in my teens, thought that i can write better stuff than most of the industry cats and i make fire beats. Lets go for it.
2) Talk to me about the making of your latest project. What was the inspiration behind it?
So it was brought to my attention I should have a real producer make my instrumentals, i was introduced to a producer that meshes well with the kind of heavy hip-hop I am trying to develop, we did about 15 songs together, "mai tai" was the most liked.
I actually submitted our top 3 songs to Steve Lobel's tastemaker team to critique and review the songs, "mai tai" was favorites right away.
So we made a music Video for it and brought out the most famous tattoo model I could think of, (Queen Esther). We killed the video together, got the Rolls Royce, RED camera, rented out club, and "mai tai's to go around while we were shooting!
3) What was the process behind making the project?
My Producer (XIV) and I always put our minds together on each song. We both make the beat together, and both figure out the catchiest lyrics together. The process was pretty easy.
Make the beat, write the lyrics, record and mix it down. When we were making the beat we had already come up with the name of the song and the melody, it came to us naturally, we loved the song "mai tai" instantly.
4) What are your thoughts on the hip-hop industry at the moment?
My thoughts are youngsters are taking over the industry. There is definitely a lot of competition out there with real talent, however I don't look at it as competing, we are all out here winning regardless because we get to do what we love. In my opinion, producers and engineers are the biggest asset to an artist.
They are the ones coming up with their "sound." Take Lil Pump for instance, to me, he has a plain voice, but the producers got him poppin, not sure if there is real talent there, I'm used to someone like Tech N9ne, so thats a major education barrier there. Not to say Tech is the best, we are going from lyrical/respectable, to repetitive lyrics and no meaning.
5) Do you enjoy grinding it out independently or would you prefer to be signed to a major label?
I enjoy the grind! I'd like a highly known manager that's not afraid to throw me in with the wolves. I'm used to this hustle my whole life.
6) What do you think goes into building a loyal fan base?
Being seen and heard, period. Constant flow of visuals and audio, keeping the buzz going and excelling upward to bigger collaborations of producers/artists/show cases. Re-investing money into bigger projects than last time.
Keeping the adrenaline rushes coming with new bikes/boats/cars/people/toys and including the fans with everything we do. Look at Drake's video "God's Plan" as an example, he is including all his fans. I love that vibe the most.
7) What sort of online promo and marketing are you doing to reach your fan base?
There are several marketing packages I have running right now through Spotify, YouTube, Facebook, Twitter, Gym's, Mall's, Nightclubs, and even on Instagram promo. I also do a lot of first hand interaction on Instagram where I'll comment on pictures, send funny or motivating vids directly to loyal fans inbox to chat it up a little.
8) As an indie artist, how do you brand yourself and your music to stand out from the rest of the artists out there?
The on-stage presence is where it's at. At shows I go into the pit and start lifting tons of people up for crowd surfing, its a big party down there. I throw money, spray water, have a pop-locker on stage, camera-men, purge masks standing on stage looking creepy, – its the whole experience.
With the sound of the music its the Bass-heavy production, creative lyrical content. I sing, fast rap, anthem rap, and get creative with how the words fit, also how the percussion is placed. Its a new-wave of creativity. People have said I'm like a cross between "The Weekend" and "MGK," I've also heard the new rap form of Limp Biskit – that made me laugh.
9) How do you currently make a living as an independent hip-hop artist? What sort of income streams do you have?
When I was 16 I started as a tattoo artist and rapped in a rap group that started doing pretty well, but I kept getting arrested and life started going downhill. I ended up getting convicted multiple times of felony's in Arizona, moved to California and landed a corporate job even my friends don't know how I landed.
Since then I have been putting my mind back to music and coming up with a MONSTER idea in my head for new hip-hop production. I feel like the songs we have made so far will set the bar for most new artists coming into the hip-hop industry.