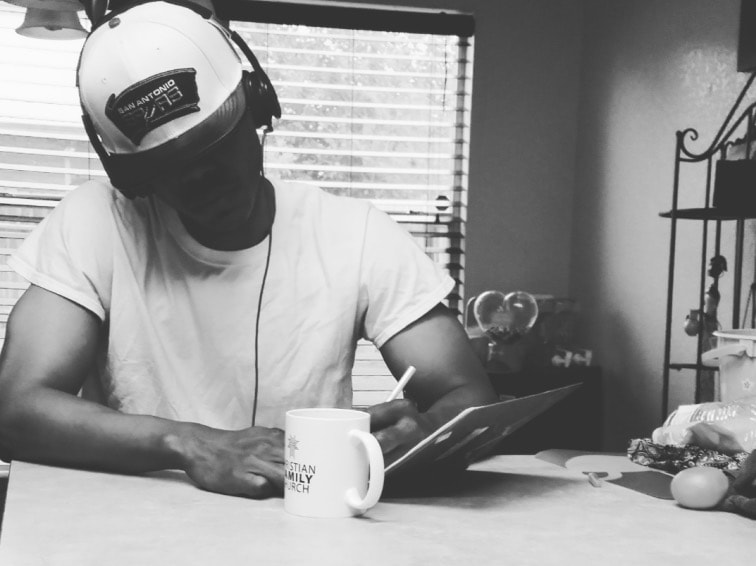 Rapper Earl Lee Allen was born—and raised—in Hammond, Indiana, but currently resides in San Antonio, Texas, a city ripe with hip-hop talent and history.
While he enjoys his work a supervisor at a juvenile treatment center, making music is his 'true' passion. "I believe the music I create is relatable and can make a positive impact in someone's life," he says.
He describes his music as having a therapeutic approach to it—it's conscience, thought provoking material.
1) Do you remember the moment you wanted to be a hip-hop artist?
Two years ago I decided I wanted to be a hip-hop artist. As a teenager I use to always write lyrics and freestyle with my brothers.
I love the whole process of making music such listening to instrumental, crafting lyrics, going to the studio and gaining knowledge from the producer.
2) What was it like creating your latest project?
Creating my latest project "Adamant" was amazing. The song goes in detail what I stand for, what success means to me and the route I'm going to take to reach my pinnacle.
3) What are you trying to achieve with the project?
I'm trying to let world know who I am along with motivating and elevating the youth. I believe music has the ability to make a difference and making a difference is my main goal.
4) What are your thoughts on staying independent or signing to a major label?
I believe both has its pros and cons. Being an independent artist is ideal.
5) How do you feel about the independent hip-hop industry right now?
I believe the independent industry right now is in a good state. I see artist like Nipsey Hussle and Chance The Rapper achieve great success by putting forth hard work and dedication achieving their dream.
I believe if we continue to educate ourselves we can make an impact in this music industry.
6) As an independent hip-hop artist grinding it out, what sort of promotion and marketing are you doing to stand out from the rest?
I'm just being myself. I enjoy making videos of me giving words of wisdom, freestyling, creating quotes and sayings, sharing my life experience and constantly reading and learning gaining knowledge how to effectively promote and market my brand.
7) How do you currently make money as an independent artist?
I'm currently a supervisor which I truly enjoy at a residential treatment facility.
8) How do you feel about hip-hop today?
I believe hip- hop music today is in a good state. There are many artist out there showcasing talent in creative ways which are refreshing.
9) What artists in the game today do you look at for inspiration?
I really like PartyNextDoor style.
10) Who are your top 5 rappers dead or alive?
My top five rappers are 50 Cent, 2Pac, Busta Rhymes, T.I. and Ludacris.