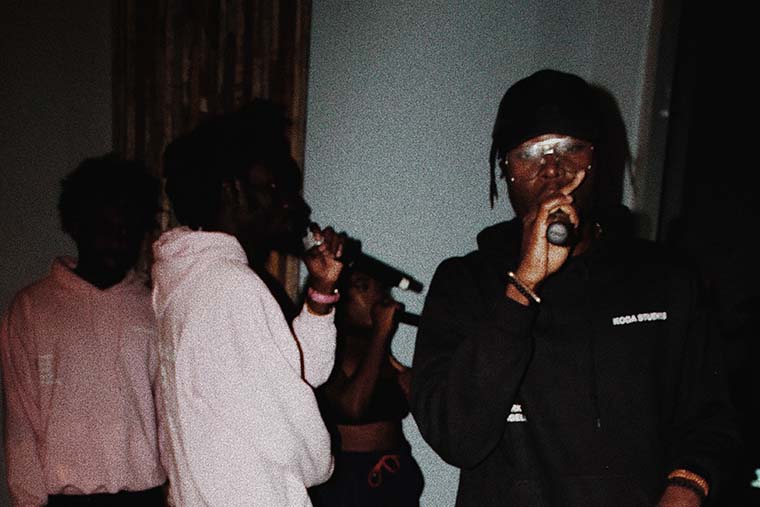 Artist Bio: Training Season is a Canadian Artist collective from the city of Ottawa.The group is led by vocalists GP, King Caexar, and Queenn. Our music is influenced by West Coast, Midwest, Old School Hip Hop, R&B and Japanese anime.
1) What inspired you to be a part of the music industry?
Artistic expression has always been apart of our lives. From singing to poem/songwriting, to acting. I feel like we were always meant to be doing this. Music is just a medium that allows us to do all the things that we want to do. When you wake up and you can't think of anything else you'd rather do than making art with your best friends then you should pursue that ambition.
2) Talk to me about the making of your latest project. What was the inspiration behind it?
L-Man was inspired by heartbreak. The moment when you realize that the perfect romance you were having was an illusion in its entirety that's the moment when you stop believing in unicorns.
Love is not a fantasy it involves real people & emotions that are going to change in unpredictable ways.
Sonically, L-MAN is the musical equivalent of the unicorn species. Its borderline fantasy in the sense where the listener is finally able to imagine a full story by the acoustic sounds, neo-soul/borderline rock segments, and bluesy interludes all sweetening the rap/hip-hop foundation Training Season is structured off of.
L-MAN is the first of its kind and is the beginning of a new genre of contemporary music. Btw L-MAN is an EP.
3) What was the process behind making the project?
We wrote half of the songs in the winter, around the same time we were discovering our own sound. So a lot of the tracks were very experimental. We spent most of our days at Kory's studio writing and recording and coming up with melodies and ideas. A lot of the inspiration for the project came from our own personal experiences so in a lot of ways the songs wrote themselves.
4) What are your thoughts on the hip-hop industry at the moment?
We feel like this is a very polarizing time in hip-hop, we have an amazing pool of talented artists and multitude of genres, so it allows artists to be more versatile than ever before.
But at the same time, there's a lot of questionable content being released/pushed that doesn't really seem to be benefiting the culture for the long run.
The clash between the new & old era is just a consequence of hip-hop evolving & Training Season is all about finding that balance between the two extremes, making music that's still meaningful but at the same time relevant. After all, hip-hop will always be shaped by the people.
5) Do you enjoy grinding it out independently or would you prefer to be signed to a major label?
Honestly being independent is hard.The difference is that though once we build that solid foundation we don't have worry about anything else, no 360 deals, no shady contracts, no creative restrictions, and deadlines. We want to have complete creative control. We want to cut our own cheques.
6) What do you think goes into building a loyal fanbase?
For one; being real goes a long way. Our personas, pseudonyms, alter egos and the music we make are all inspired by events that occur in real life and the environments that surround us. The people who support our music will feel like they can relate. As long we keep that authenticity and that rawness, there will always be someone listening to Training Season.
7) What sort of online promo and marketing are you doing to reach your fanbase?
In terms of online promo and marketing before any release, we try to reach out to as many influencers, blogs, writers, vloggers to let them know what content we are about to release. We just started using facebook/Instagram paid advertising to increase the reach of our content. All of the marketing is mainly done through Social Media.
8) As an indie artist, how do you brand yourself and your music to stand out from the rest of the artists out there?
As cliche as it sounds saying it over and over, it all stems from being real and authentic. Our whole movement is inspired by real-life events. It would be counterproductive to portray a brand that does not fit the foundation we stand on an artist.
We stand out from other artists by making music that reflects us. We don't feel the pressure to sound a certain way because other artists are following that sound. Training Season has its own sound so it's our collective interest to perfect it for our supporters.
9) How do you currently make a living as an independent hip-hop artist? What sort of income streams do you have?
Every member of the team is currently working full/part-time jobs in order for us to collective cover the cost of day to day operations. Whether it is studio time, mixing/mastering, ads, travel, equipment rental, or promo it is all funded in-house.