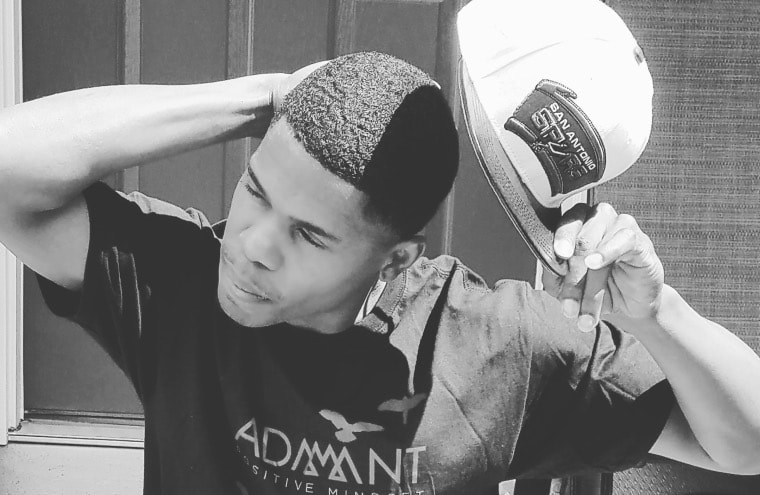 Rapper Earl Lee Allen was born—and raised—in Hammond, Indiana, but currently resides in San Antonio, Texas, a city ripe with hip-hop talent and history.
While he enjoys his work a supervisor at a juvenile treatment center, making music is his 'true' passion. "I believe the music I create is relatable and can make a positive impact in someone's life," he says.
He describes his music as having a therapeutic approach to it—it's conscience, thought provoking material.
"I enjoy writing and performing spoken word," says Earl, who began with poetry base before transitioning into writing hip-hop over soulful instrumentals.
He initially became inspired by his younger brother, Rico Loso—an artist who has been crafting material for years. He's quick to acknowledge that his biggest influences and motivating factors, though, are his adoring wife and daughter.
"My aim is to make music my kids can be proud of–[music] that will make them proud to say that's my dad."
1) Talk to me about the making of your latest project. What was the inspiration behind it?
My latest project is titled "Cant Get Enough". When I initially heard the instrumental "Cant Get Enough" produced by Adamack Beats I knew exactly how I was going to approach the track.
The instrumental inspired me to craft a song discussing my marriage and how I appreciate and acknowledge everything my wife does although I may not show it on the day to day basis.
On "Cant Get Enough" I was able to express my love and affection effortlessly. According to my wife I'm not an affectionate person. On "Cant Get Enough" I was able to speak her love language.
2) With the music industry tanking and record sales falling, how do you currently make money as an independent hip-hop artist?
I am currently a supervisor at a residential treatment center. I have been working at the treatment center for four years. I truly enjoy working with the teenagers.
Being able to make a difference in their lives is truly a blessing. The residents enjoy listening to my music.
There are many aspiring musician at the facility. I love helping the kids with their music and motivating them to follow their dreams.
3) From a business point of view, which artists in the game do you think are really pushing the boundaries and changing it up?
I am a huge 50 Cent fan. Get Rich Or Die Tryin' was the first rap album I purchased. I was in 8th grade. I like 50 Cent's approach to stay relevant and business savvy.
4) What business lessons have you learnt from the music industry so far?
I learned that in order to be a successful artist you have to have control over your art form. Knowing what direction you are going in is essential to becoming successful. Being passionate about your music your craft is very important.
5) What do you love about hip-hop music?
I love hip hop because its an art. Hip hop allows you to express yourself. Hip hop is my coping skill.
6) What still surprises you about hip-hop?
What surprises me about hip hop is how lyrical, heartfelt, thought provoking content gets overlooked by many.
7) If you had the power to change one thing about the hip-hop industry to help independent artists – what would it be?
If I had the ability to help independent artist, I would have more events, sponsors and tour opportunities available for artist who are dedicated. I believe more intern opportunities would also be great for artist development.
8) Who do you think are top 3 rappers doing it at the moment?
I believe Kendrick Lamar, Chance The Rapper and Drake are the top three rappers. I believe these three artist are making a huge impact in music.
9) So what are your plans for the future?
My plans for the future are to travel. I would love to go on tour and meet new people. I also want to work with other artist who are going in the direction I am such as crating positive uplifting music.
In addition I would like to gain more knowledge on the music industry and continue helping kids writing lyrics, performing and being a positive role model.