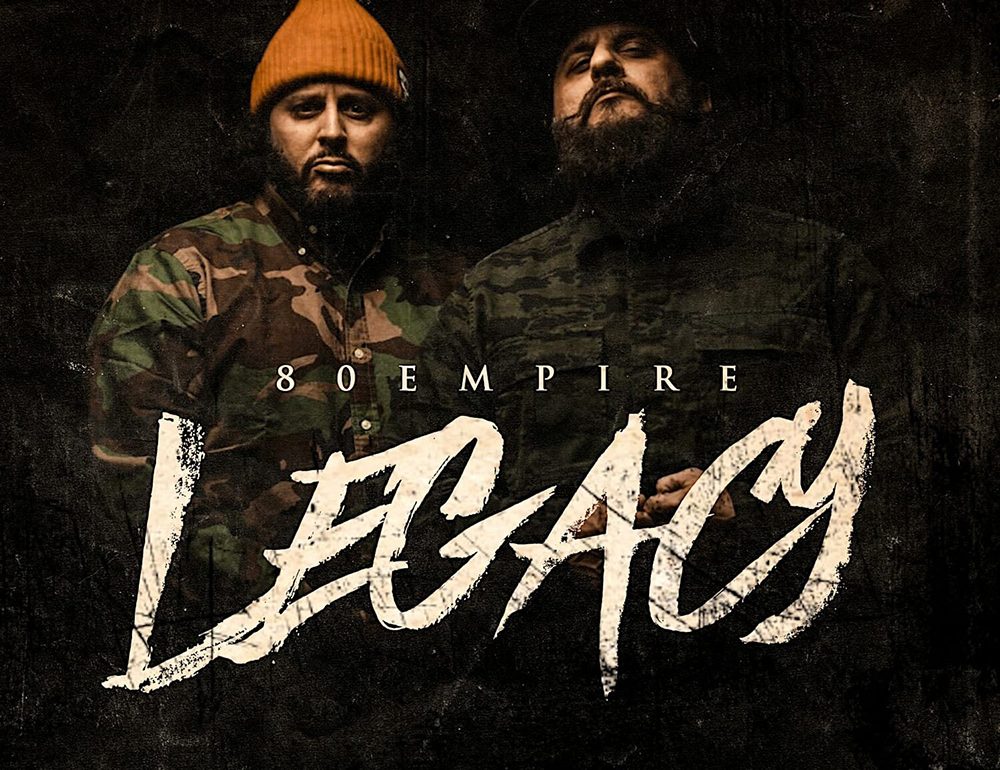 80 Empire are multi platinum, Universal Publishing, Juno nominated singer songwriter producers / artists who thrive on their versatile and eclectic love of music and music making.
1) Do you remember the moment you wanted to be a hip-hop artist?
Yes, the first time we saw Harry Belafonte's movie Beat Street we wanted to be part of Hiphop culture.
2) What was it like creating your latest project?
It's been a real dope experience, we've been able to connect with alot of amazing and talented artists. We've derailed a bit from our original plan but I think that's for the better, other projects
and musical friendships have blossomed out of this and we are also making new songs in real time with all that's going on in the world for example our song FIT IN with Fred the Godson
became like a tribute because he passed way from covid.
Then with all the police brutality that has finally caught people's attention on a mass scale, we were inspired to make a protest song.
Our whole life we have been influenced by African American culture so we sincerely wanted to make a protest song creating awareness about systemic racism and incessant police
profiling of African American men. The song is called "To Kill A Black Man" featuring some of our talented brothers, Balistic Man and Speedie Da Icon from Buffalo Newyork and Rich Celeb from
Philadelphia.
3) What are you trying to achieve with the project?
The Goal is to really create awareness about our sound. We really feel like this project is going to do exactly that. Lucas spoke with Fred the Godson a month before his tragic passing and he said we had a unique sound and he wanted more people to hear about us in Newyork. Luke and him discussed an EP between the three of us and we were in the tadpole stages, then 4 weeks
later he passed away. ( RIP FRED )
The reason why we have so many features is because we are fans of the music and really wanted to show case our sound, ability to produce and make melodies, verses, lyrics accompanied with some of the dopest in the game.
We have been so busy trying to support other people's careers so we said it was time to bet on ourselves and really get the 80 Empire / Gladiator Records sound out there into the world, we also have a full album coming out with Swifty Mcvay of D12 and working on a project with Crooked 1 as well.
4) What are your thoughts on staying independent or signing to a major label?
We've been signed to major labels before, have a publishing deal with a major label. Here is the thing we have an indie label Gladiator, if a bigger fish wants to come along and give us a distribution deal with marketing etc then we can talk business but we've been there and done that and if we sign anything it has to be a lucrative situation other wise we'll have to kindly pass.
The thing is many of these majors want you to do all the leg work then they want to come in when things are already taking off…that's fine as long as they're going to put muscle behind it.
5) How do you feel about the independent hip-hop industry right now?
We like where it's headed, their is more diversity in the music and sound, and with social media there are many more opportunities. This is like fishing you just have to find the right spot on the ocean and when you do BOOM you caught a big one ya dig!?
6) As an independent hip-hop artist grinding it out, what sort of promotion and marketing are you doing to stand out from the rest?
I think with us it's all about the authenticity, the messaging from the actual music to the visuals is real and especially during this pandemic this seems to be really resonating with people. We
put out a record called Cosa Nostra on soundcloud and made multiple videos on IG all of this awareness got us to over 1million streams on the cloud in 4 weeks. We now put it on Spotify.
7) How do you currently make money as an independent artist?
Our biggest source of revenue as indie artists is by producing for other artists and by landing placements in tv and film. We are also going to start going real heavy with the merch.
8) How do you feel about hip-hop today?
I think Hiphop is going more to it's roots, and we are happy about that. The world is changing and I think we need a bit more substance, I think it's important for the youth to hear messaging in the music they listen to, that not only makes them dance but makes them think as well.
We need to raise thinkers and problem solvers and we want that to be reflected in our messaging. We're not saying people can't get turnt up, however there has to be some substance as well, a good counter balance and healthy equilibrium if you will.
9) What artists in the game today do you look at for inspiration?
D-smoke, Kendrick Lamar, Conway the Machine, (who we have on our single Legacy ) just to name a few.
10) Who are your top 5 rappers dead or alive?
That's a great question whooo. Tupac for sure without question! Big Daddy Kane, Scarface, Nas, Guru – Man that's a hard one!