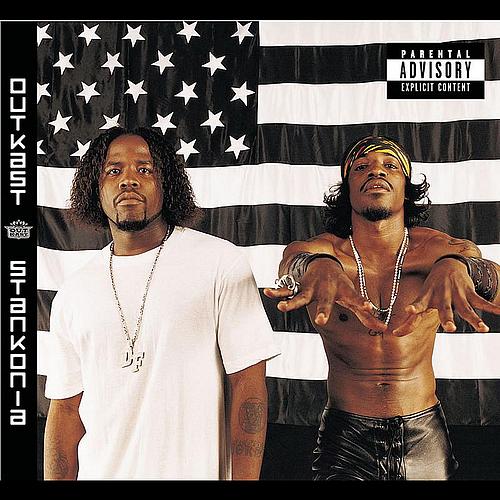 As snazzy and offbeat as Southernplayalisticadillacmuzik is, it's nowhere near the inventive brilliance of ATLiens, which in turn, pales in comparison to the sheer sonic perfection and lyrical diversity displayed on Aquemini. So it's only right that Stankonia, Outkast's first album into the millennium, improved on all the ones before it.
Standing at a whopping 73 minutes, Stankonia is like one great big ball of P-Funk and cosmic energy that makes up for its sprawling length by delivering wild-eyed experimentalism, catchy hooks and striking pop hits. If you ever had any doubts about OutKast's creative genius, then Stankonia should shut those thoughts down instantly.
Strangely surreal at times while largely grounded, Andre 3000 and Big Boi juggle left-field concepts with pop music, showing why they're one of the most creative hip-hop acts of all time. Blessed with a gift to spit a rapid-fire flow with tongue-twisting couplets, the duo are lyrically on fire with this record. Andre 3000 becoming more and more flamboyant and out-there with his rhymes while Big Boi keeping his side locked down to Earth.
Musically, the record's all over the place: psychedelic rock, soul, drum 'n' bass rhythms, live guitar riffs, bouncy percussion loops, all of it filtered through rich George Clinton-styled funk.
This is intelligent, danceable, underground, mainstream hip-hop at its finest. Animated, imaginative and incredibly entertaining, Stankonia is OutKast's greatest record yet. If only they'd get back in the studio as a duo and deliver something like this again.