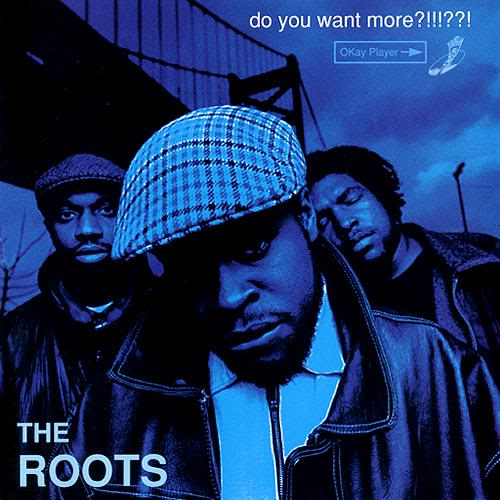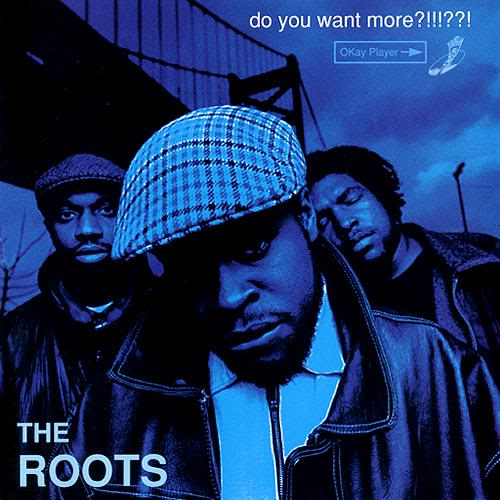 Do You Want More?!!!??! wasn't The Roots break-though album, that honour belongs to their fourth album, the Grammy Award-winning Things Fall Apart. And despite what some people think, it wasn't even their debut album – that title goes to the 1993 independent release Organix.
But to this day, after 17 years in the music industry, 9 top-notch studio albums including a couple of masterpieces, a fantastic live release and countless side projects and collaborations, Do You Want More?!!!??! still remains my favourite Roots album ever. Why? It's entertaining as hell! Never again would the band sound so fresh, jovial, carefree or full of spirit as they did on this album.
At that time, in '95, hip hop was dominated by New York's brooding boom-bap and the West Coast's melodic synth-laden G-Funk. So when The Roots came with their live instrumentation – Questlove's hard-hitting drumbeats, Leonard Hubbard's muted basslines, Scott Storch's nimble keyboard work – it was totally different to anything else at the time.
Emphasising sparse jazz grooves and an improvisational approach, Do You Want More?!!!??! is perhaps the greatest display of jazz and hip hop combined. The production is finely textured with different sounds weaving in and out. Rhythmic tongue clicks open up 'What Goes On Pt. 7' while the jarring bagpipes do so for the title track.
'Proceed' features mellow keyboard tunes floating over the gentle thumps of Questlove's drumming, 'Lazy Afternoon' funky vibe depends largely on Hubbard's unpredictable bass-lines, '? vs. Rahzel' is a friendly stand-off between drummer and beatboxer with the latter member, Rahzel, creating some incredible sounds with his mouth while 'Datskat', arguably the most-head bopping moment, finishes off with a dense jam.
And while the band hails from Philadelphia, their lead vocalist Black Thought would have no problem rhyming alongside any New York super-lyricist. Thought and his partner-in-rhyme Malik B tag-team furiously back and forth with some of the cleverest battle rhymes ever and despite the band's impulsive instrumentation, the two emcees never miss a step.
Particularly in Thought's case whose rhymes have never sounded as spontaneous as they do on Do You Want More?!!!??! Quick-witted and blessed with a razor sharp tongue, Thought's fluid braggadocio sound as if they're delivered right off the top of his head, and even though the two emcees rarely stray from the battle arena, their rhymes and flow have never sounded so energetic or enjoyable.
When you hear Black Thought break down with hysterical laughter at the end of 'Lazy Afternoon' – you picture the rest of the group outside the recording booth pulling funny faces at their lead emcee.
The Roots would begin to incorporate other forms of music genre later in their career; blending in elements of funk, indie rock, soul and electronica with fantastic results, but Do You Want More?!!!??! stands as the peak of their jazz style.
Tracks seemingly merge together as if they're part of one great big jam fest with scat breaks providing the link between each record. Highly energetic but mellow at the same; heavily rhythmic-based but also incredibly melodic – each cut is the result of musicianship's at its finest. I guarantee you won't find one weak song on the album.
But surprisingly, it's the album's astonishing consistency that also proves to be its only weakness. With no obvious structure or unifying theme, besides the live instrumentation, songs have very little to distinguish among each other.
There are no real standout tracks, songs that just jump out and sum up Do You Want More?!!!??! Add that to the fact that Black Thought and Malik B don't venture very far with their songwriting and you have an album that's focused purely on rhymes and beats. But hey, it could be worse right?
With this album, The Roots manage to focus all the ingredients that would turn them into one of the most acclaimed musical acts in history – the sharp rhymes, the experimental artistry, the fine musicianship, the strict devotion to creating music for music's sake – and deliver one hell of a kick to hip hop's status quo.
They would go on to tackle more serious lyrical themes, pursue grander musical ambitions and gain considerably more commercial and critical success with later albums down the track. But immortalised in Do You Want More?!!!??!is the never-again, care-free spirit and vibe of a hip hop band from Philly bursting at the seams with their desire to make great music and not giving a f**k about anything else.