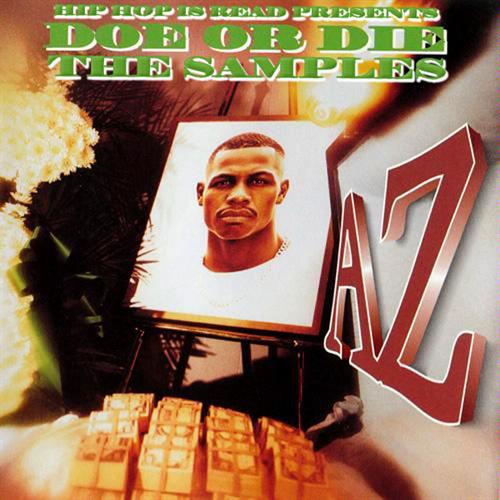 If Nas' appearance on Main Source's 'Live at the Barbeque' is generally touted as the greatest guest verse in hip hop history, then I'd have to say AZ's verse on Illmatic's 'Life's a Bitch' would have to be a close second.
Summing up inner-city philosophies, the daily hustle and the general cynicism of the NYC lifestyle, all within a single verse, and delivered through flawless lyrical technique; AZ quickly became one of the most sought after emcees.
After securing a deal with record label EMI and roping in Nas as well as production credits from Pete Rock, L.E.S. and Buckwild, he released, to much anticipation, Doe or Die. Though often hidden among the shadows of more commercially successful and arguably more influential records, AZ's 1995 debut album is one of the many 90s East Coast albums that never seems outdated.
Musically, the album's soundscape is quite diverse; swinging between grimy street cuts ('Uncut Raw') and sunnier G-Funk hits ('Sugar Hill'). Illmatic production star, Pete Rock blesses AZ with the noirish, mafioso-inspired 'Gimme Yours', and also delivers the outstanding 'Rather Unique' – a Big Daddy Kane-sampling track that's simply bursting at the seams with smooth braggadocio.
The cautionary 'Ho Happy Jackie' courtesy of D.I.T.C. producer Buckwild is a mellow jazz piece, which features AZ on the warning side against those paper-chasing females.
And then there's 'Mo Money, Mo Murder, Mo Homicide' – arguably the centrepiece of Doe or Die. Based on a violin snippet of 'Cry Together' by The O'Jays, it's a majestic crime tale that features AZ and Nas planning high-stakes hits and "sippin Cristal in crystal."
At a time when Nas was on an untouchable level, AZ was the one of the few that managed to keep up with him, and in this particular case – outshine QB's finest. Not only did Doe or Die show how nice of a rapper AZ was (and still is) – with that hot liquid flow and silky voice – it also confirmed his prowess as an incredible writer.
Throughout the album, AZ effortlessly switches between the lavish lifestyles and drug-trafficking tales of Only Built 4 Cuban Linx… and the optimistic ghetto poetry of Illmatic.
'Uncut Raw' is no-holds-barred battle rhymes, AZ unleashing a torrent of vicious threats while enlightening us on the laws of the daily grind while the title track is a serene moment of reflection and mediation, as AZ ponders over life and the endless paper chase.
'We Can't Win' and 'Your World Don't Stop', two of the weaker cuts on the album juggle government conspiracies and autobiographical elements with the former featuring Amar Pep on a couple of verses and Ski producing the glimmering beat for the latter.
Comparisons between Doe or Die and Illmatic are inevitable. Both albums were crafted by lyrical wizards born and raised in New York, both albums feature the same jazzy, gritty musical backdrop and both albums delve deep into urban city mentality, corner-boy hustles and ghetto philosophies. And like Nas, AZ would have a particularly hard time following up this masterpiece. Thanks to AZ, rapping about crime has never sounded so smooth.