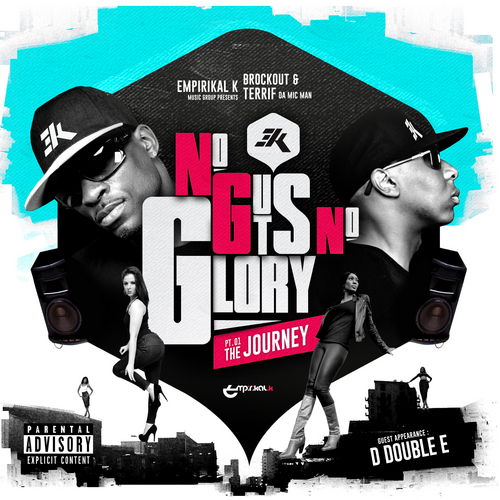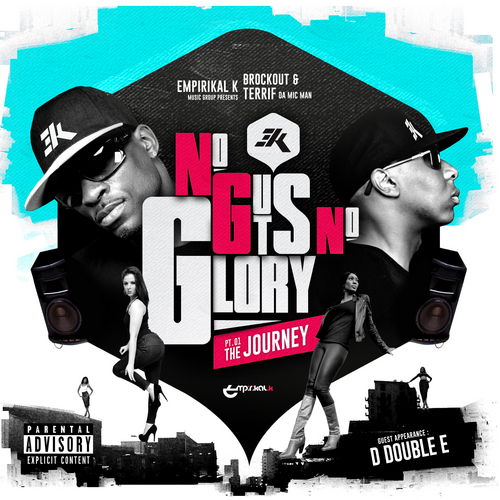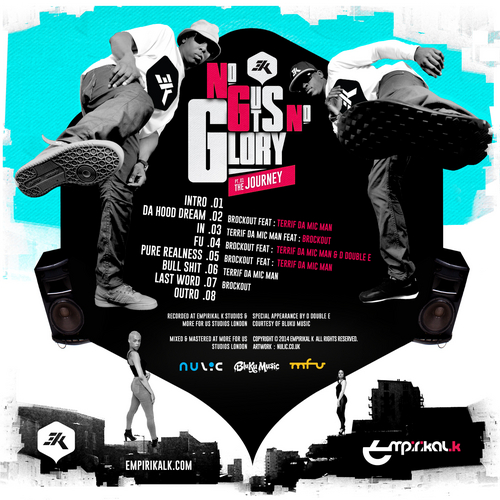 Empirikal K Music Group is proud to present the latest EP from two of their finest hip-hop artists – Brockout and Terrif. No Guts No Glory – The Journey Part 1 is an 8-track project which showcases the two rappers chemistry on the mic.
Being from the diverse musical hub of London, Brockout and Terrif's influences aren't just limited to rappers – they've been inspired by other genres such as drum 'n' bass and reggae – and this diversity is clearly seen over the course of the EP.
Artist Background: As far back as I could remember I have always been a fun of music. My obsession for music began with the discovery of Michael Jackson's music. Two years later age twelve I discovered Wu Tang Clan, Nas, Snoop Dogg, 2Pac and Biggie. I instantly became hooked and fascinated by this new sound this new music.
The beats, the rhymes especially the words used in their rhymes amazed me. In between my discovery of Michael Jackson and Rap I was into Drum and Bass Jungle as well as Reggae Bashment.
With Drum and Bass Jungle and Reggae I discovered my ability to Mc and the ability to write lyrics. But with Rap it was totally a different world to DnB Jungle and Reggae. The depth of vocabulary in Rap, in terms the incorporation of words used by Rappers was completely worlds apart from what I was used to.
Born in a struggle, music for me was my way to escape the everyday pressures of the hood. So it was natural for me to gravitate to it. With no male role figure and my father in jail or sometimes on the run, I had just me for company. My mother was busy trying to keep us alive naturally I got busy too and with no friends music became that friend, allowing me to express myself.
In all that time I never once thought of pursuing a career in music, it just happened. From Secondary school (high school) I started preforming at house parties, underground radio and now here I am.
My ambition from the beginning has always been to give my all whenever I write, or nowadays whenever I record. So whenever anybody listens to me they would immediately recognise the passion, the honesty and above all take them into that world I am creating. Judging from the feedback I get from some funs it seems they get that from me.
Now under Empirikal K I hope I can take the opportunity to make a career for myself with my gift, and hopefully get me and my people out the struggle.
Stream No Guts No Glory – The Journey Part 1 below and head on over to Audiomack to download the tape. Yo can also check out Stop The Breaks' interview with Brockout here. Hit up Empirikal K Music for more information on the artist.
[audiomack src="http://www.audiomack.com/album/empirikal-k/no-guts-no-glory-the-journey-part-1″]