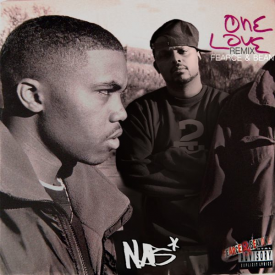 Hip-hop heads, did you know that "One Love," the classic track off Nas' debut album, Illmatic, was originally supposed to be titled "My Summer Vacation"?
As the fifth and final single of Illmatic, "One Love" won the hearts of hip-hop fans with its unique letter structure, Nas' sincere lyrics to his incarcerated friend and Q-Tip's out of the box production which combined his boom-bap drum patterns with exotic xylophone samples.
But did you know that when Q-Tip brought Nas the beat, the Tribe frontman actually already had an idea for the track and wanted to call it "My Summer Vacation"?
Nas: When Q-Tip first gave me the beat, he had this idea…it was called "My Summer Vacation." It was funny he said that, because it was like a student who's off for the summer and comes back and tells the class what he did. I had "One Love"—at least the first two verses—already written, and I couldn't wait to show him the different kind of letter I had [laughs]. It wasn't summer vacation, but it was about something else that Q-Tip could relate to. When he heard it, he was like, "Wow. That's it."
As one of the most acclaimed and memorable tracks off Illmatic, "One Love" played a huge part in showing hip-hop fans Nas' extraordinary lyrical skills and storytelling abilities, with many heralding him as one of the best rappers of all time after listening to it.
Source: HipHopDX – Memory Lane: 5 Lesser-Known Stories From The Creation Of Nas' "Illmatic"