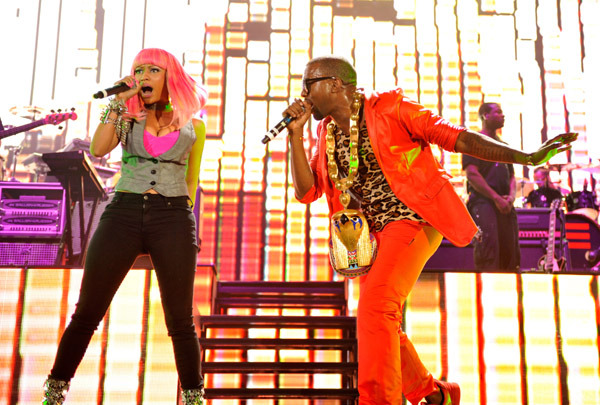 Hip-hop heads, did you know that Kanye was thinking of cutting Nicki Minaj's career-making verse from "Monster" because he thought it would outshine everything on My Beautiful Dark Twisted Fantasy?
Nicki's landmark verse on the song has been heralded as one of the greatest verses of the past few years and was instrumental in pushing her career to the next level. Rapping alongside rap veterans like Kanye, Jay-Z and Rick Ross; Nicki killed all three and made hip-hop heads take her seriously with one verse.
However, in an interview with Sway, Kanye revealed that he considered deleting Nicki's verse from "Monster" because it was so amazing and might overshadow everything on his album.
It was like that moment when I thought about taking Nicki's verse off of 'Monster' because I knew people would say that was the best verse on the best Hip Hop album of all time or arguably top ten albums of all time. And I would do all that work, eight months of work on "Dark Fantasy" and people to this day would say to me 'My favorite thing was Nicki Minaj's verse.' So if I let my ego get the best of me instead of letting that girl get the shot to get that platform to be all she could be, I would take it off or marginalize her, try to stop her from having that shining moment.
Luckily for Nicki and for rap fans, Kanye kept the verse and we got a classic. If you need a reminder on how dope Nicki's verse was, check out the live performance below: