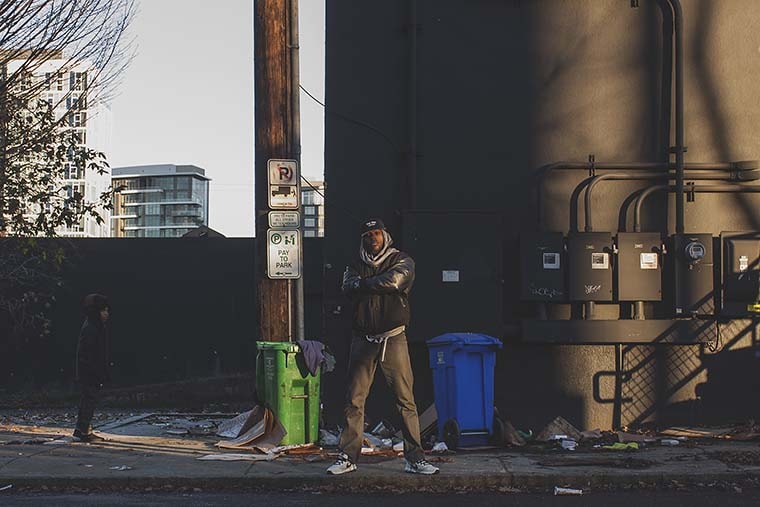 Portland artist Libretto is not slowing down anytime soon. After a strong return year in 2016 with Gangsta Jazz 2, Portland (via Watts, CA) artist Libretto is kicking off 2017 with a new full length project entitled, Captain Crook Snatchin' Crumbs and All.
Featuring an all-star line up of talent including; Guilty Simpson, Vursatyl, Jumbo, Stewart Villain, Theory Hazit, Tony Ozier, and many more, Libretto finds a way to steal the show on every track.
For his first scheduled release of the year, Libretto connected with Kiasu Records to release his long-awaited project, plus a very special limited-edition vinyl pressing of Captain Crook Snatchin' Crumbs and All (available now via CDBaby).
Coming in strong at 17 tracks, Libretto's latest project plays out like the theme music to a 70's Blaxploitation film, rich in funk and soul grooves with Captain Crook narrating the story of every song.
Stop The Breaks had the chance to kick it with Libretto to talk about his come up, growing up in Watts, CA, moving to Portland, his struggles and plenty more.
1. For people who might not be aware, can you give listeners a brief introduction?
Greetings I am Libretto. 1/6 of the Mighty Misfit Massive which includes the Lifesavas, Rev.Shines, Wolveryne and Sly da Brown Hornet. I am an artist, musician, creator, revolutionary activist, purist, father and businessman.
2. Growing up in Watts, CA what brought you to Portland, OR?
My sister relocated to the Portland area in the early 90's she had a dream that I had gotten killed in watts, and she talked my pops into moving to Portland with her. I was basically like a caretaker for my pops since he was diagnosed with kidney failure and was on dialysis so I had to go with him.
3. How did you first link up with Lifesavas?
I met Jumbo once I moved to Portland at a record store called One Stop Records on Lomabard near the St. Johns area. I didnt know he was a producer, emcee or nothing I just use to go in there and shop for music and we would chop it up about Hip Hop and I would end up the store for hours just bussing it up.
Then one day he had asked me if I rhyme, and I told him yeah He invited me to his crib on 15th and Prescott at the time I spit for him and the rest is our-story! I met Vursatyl a little later after that cant recall exactly when tho but I was inducted into the crew at that time.
4. How would you compare Portland's Hip Hop scene vs LA?
Portland's Hip Hop scene is dope I really like the energy, but compared to LA where I grew up swinging swords in the projects with gangstas who knew how to rhyme, going to The Good Life Cafe, Project Blowed and being in the midst of greatness and danger is a lot different than Portland.
I feel there are a lot of followers here who just do cookie cutter music and not pushing the line style wise or content wise but they have a good work ethic.
Whereas in LA you got a lot of innovators of style and people who get out and grind, battle on street corners, bus stops and at shows in parking lots taking heads. They also work hard too in the booth. Back in the 90's around the time I came to Portland, that's what it was about
5. For people who are unaware, you went to prison when your music career was just starting to flourish. What changed for you with regards to the music business in your time away?
When I went in to do my bid, the industry was still hands on! You had CDs, vinyl and still got out on the road to pump your music and deliver a show with eloquence. And you had to actually sell music!
Now its strictly digital and the social media that controls the music business. Its all about likes, hits, and giving away free music. You really don't have to sell music anymore, just likes, plays, and how many people follow you and all that jazz its more or a popularity contest than how dope you are as an artist.
6. There's an ongoing debate about whether prison can truly rehabilitate someone or if it's meant to break a person down. Recently with Gucci Mane's release a lot of people have come to the agreement prison was good for him and actually helped his music career. Where do you stand on that, do you feel like your time away helped you be more focused or made things more of a challenge?
My time in Federal Prison definitely helped me. It taught me discipline, obedience and gave me time on that bottom bunk to write and plan out my life. I also gained a lot of wisdom from the cons I was bidding with.
Got closer to the Most High, learned how to read, write and perform music on the piano, wrote over 300 songs lyrically, got my physical in tip top condition and gained a lot of business sense from investors, wall street cats and businessmen doing time. So overall It was a divine experience. That I would never do again!
7. What advice would you give young artists that are talented but have one foot in the streets and one foot in music?
Artist that are trying to juggle the streets and the business, you can't do both. Due to the fact that beef will come to your place of business and you could get zapped while you're on stage performing, or get booked trying to protect yourself from enemies and when it comes to hustling.
It's only a matter of time before that informant is in your circle wearing that wire and recording your every move for the Feds no future in it.
9. You've recently released two full-length projects, Gangsta Jazz 2 and Captain Crook Snatching Crumbs And All – give us your favorite song from each project and why?
Fav song of GJV2 Would have to be "Jesus Had'a Afro". I love that composition because when I wrote it in prison i was fasting during the month of Black August and I was doing a lot of reading and studying and I wrote it to a completely different BPM than the music I recorded it to.
It all worked out perfect tho and I want to big my man Zoo, from the Renaissance Coalition/Misfit Massive who came up with the title of the song.
On "Captain Crook" its a toss up between "Black Boy" and "A Loan". I guess "Black Boy" because of its content, the music production of King Wolveryne and how the concept of the song came together.
I found the sample digging and looped it and took it to Wolve who then did his magic with it and made it into a monster the female singing on the chorus I randomly met while I was out hustling and I can't even remember her name. But she is very talented and she killed it, and a couple other unreleased compositions as well.
10. Portland's Hip Hop scene has been thriving as of lately, are there any PDX based artists you've wanted to work with that you haven't yet?
The only artist I am interested in working with in the town right now is probably Last Artful Dodger and Rasheed Jamal, maybe.
11. What's next for Libretto?
Next for Libretto is a new 12″ called "Hit Or Miss" Feat. Boots Riley and Joe Mendonca /"Get Away" Feat. Lyrics Born.