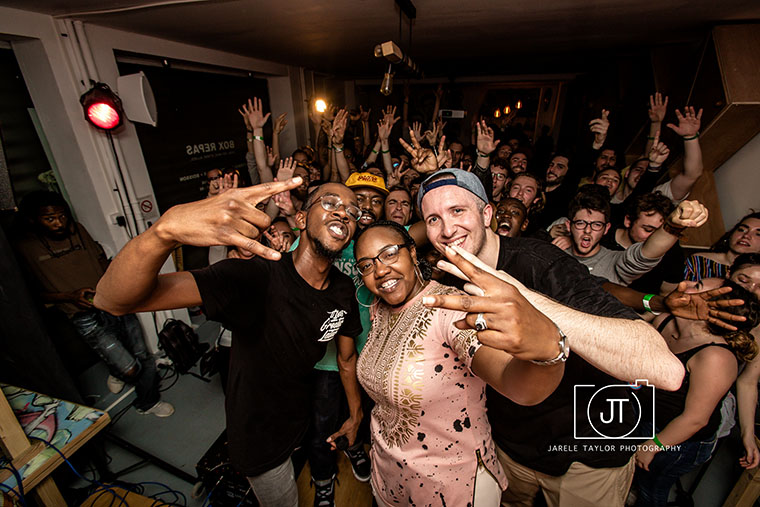 Hailing from Houston, Texas, independent artist Anti Lilly recently finished his first European tour with the Don't Sleep Records family and has some great stories to tell!
Anti Lilly sat down with Stop The Breaks to give us a recap on his experiences, the organization behind the tour, building a fanbase in Europe, touring overseas and plenty more.
1. Can you give me an overview on your first European tour?
Honestly man, this was my first time leaving the states so I truly didn't know what to expect. I was crazy anxious boarding the plane, also this was my first time meeting the entire Don't Sleep family; including Phoniks after all of these years (believe it or not).
I mean I dreamed about travelling the world with music most of my life but everything goes out of the window when you actually touch down in a new environment different from your own. You take in the new smells, scenery, and sounds.
My favorite part was being able to interact with the listeners who'd been supporting me for years before. It's crazy how literally everyone spoke at least two languages, which isn't too commonplace in my country.
Out of the 6 shows we sold out 5 (last minute venue change). The energy in Europe was nothing that I've experienced in my short 25 years on this Earth Hao. I'll never forget this tour and this definitely won't be the last time man. It was life changing and I came home more focused and calibrated than before.
It was exactly what I needed to see and be at this point in my life, I'm blessed man.
2. What was organizing it like?
All credit goes to Tiff The Gift brother, she took care of making sure all of our flights were on point and our housing situations as well.
Even though this was my first time going there personally; the family had been a few times before and had some dope relationships established which made it a bit easier to book the venues. I was nothing more than a sponge in the overall process man.
Much love to my big brother Awon for never hesitating to give me jewels or answer my questions. I have no problems giving folks their proper credit and making sure they smell their flowers you know?
Tiff is the big sister I never knew I had, same with Awon. It was truly a family affair. I just did the rapping, Phoniks was the DJ/Mad Scientist in general, Tiff and Awon were pretty much the booking and tour managers on top of being amazing emcees.
3. How did you manage to build a fanbase in Europe and tour there?
I believe through consistently great music from my family and myself through the past years helps a ton bro. Also, I love interacting with my listeners which is extremely important.
In my opinion I believe at this point you have to do more than make the music. We have so many tools and resources to connect with folks thousands of miles away in an instant. The sound we produce with Phoniks has always been well received in the regions we visited.
I definitely saw a spike in my overseas listeners once I connected with Don't Sleep a few years ago. Also, like I mentioned earlier these amazing artists I build with had been there a couple times and rocked it. So between the dope music, interactions, and word of mouth is what mostly made that possible.
4. What are European fans like?
Honestly the best, they don't give a damn (in the best possible ways) and just want to enjoy the show and build with us. I've never experienced that amount of transparent appreciation and love from the shows i've done here.
I mean I love performing period, but where i'm from most folks are too cool to have a good time. In the words of Awon its mostly idle worship; folks were grooving with us every city we performed at.
I've never done a show were pretty much everyone in crowd knows every damn word to the song Hao (and barely speak English at that!). We kicked it with everyone after every show as well; I heard folks stories and life situations. It's humbling to be inspired by people who you inspire bro.
I'll never forget the faces, experiences, and drunken multicultural cyphers we had (true story). I made sure to let everyone know I interacted with that I wouldn't even be able to be where I was if it weren't for them, shit comes full circle so beautifully.
5. What was your experience like touring?
When i first starting creating, it was more of a therapeutic process than anything. My microphone always has and will always be who I vent to; but to actually see the fruits from all of your pain and hard work materialize into your first tour is unexplainable.
I was able to take my boy Jarele (the dope ass photographer black_jeezuz) from my city with me which adds to the perspective. I will never forget the times we had out there, we've been locked in since coming home with the goal to get back sooner than later.
I'm very goal oriented as a young man but doing what we did provides you with an entire different energy. I'm grateful and blessed to be able to do what my parents and my family were never able to do.
I want to thank everyone who came, everyone who couldn't make it but reached out, the strangers who became friends, and the entire Don't Sleep for believing in me even when I didn't.