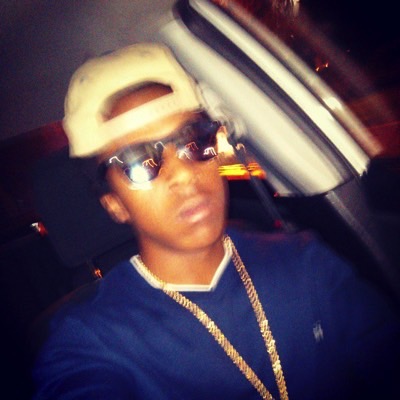 Hailing from Savannah, Georgia, indie hip-hop artist Thai Lanotics has been influenced heavily by the likes of rappers like Wiz Khalifa, Currensy and Future.
Channeling his passion into his latest project, Thai Lanotics recently dropped Paccman: Young, Wild, And Free – a 13-track tape featuring production from DJ Fusion, Einstein, Sigma, Alchemist, Yd Beatz, RLBeatz, DJ Swift, BluKolla, Dizzy Visionz, Trackhedz Productions and Michael Joel.
You can stream or download Paccman: Young, Wild, And Free here.
1) Do you remember the moment you wanted to be a hip-hop artist?
I knew wanted to be a hip hop artist when I dropped my first track in 7th grade and everybody at school was getting to know me for a talent that came very natural to me. I rapped with 8th graders, so it felt cool getting love from the older kids. Making music came so natural, I couldn't see myself without.
2) What was it like creating your latest project?
Creating Paccman was interesting. My past content had a history of carrying deeper meanings, or very lyrical content, and I would only dabble in radio friendly, catch type songs. With this project, it was all about vibes; the songs just had to give off the vibe I felt they should have individually and as a collective project.
Some tracks were free styled, some tracks written, but all were made in the same 2 week period. Being a college freshman, I also was given some input straight from people around me on a daily basis as to what they felt about some tracks. Its a nice start to a new phase for me.
3) What are you trying to achieve with the project?
This project was all about starting a new phase in my musical journey and beginning to take things even more seriously than I did with my previous projects.
Hopefully, this project can bring more awareness to myself and the #FreeWorld Movement, help sprout some commercial endeavors, and give EVERYBODY from EVERYWHERE some day to day music.
Been making good music, and there is more to come. This project was just another page of the book that should be thoroughly read.
4) What are your thoughts on staying independent or signing to a major label?
I would sign to a major label if they weren't going to fuck me over and if I could keep control over my content creativity wise.
Obviously my music would have to meet certain agendas, but if the label just turned me into a puppy for whatever they wanted to push, I wouldnt be with that. I wouldnt have any problems with that if I stayed independent, but the lack of a platform and exposure really dampers my potential.
5) How do you feel about the independent hip-hop industry right now?
Right now its crazy independent artists everywhere. Either just making music for fun or really out here tryna get it. Competition out here is really thick, so I think now more than ever its important that no matter what you are trying to do musically, its important you stay true to yourself.
If your music is 100% you from the start, then no matter how far you go, you know you can keep it up because all you gotta do,is you. Mad love for everybody out here doing their own thing and even the people out here jackin swag, it adds to the culture.
6) As an independent hip-hop artist grinding it out, what sort of promotion and marketing are you doing to stand out from the rest?
From music, to college, to working, to my athletic endeavors, its always been important to me to stay connected to people around me throughout all the experiences, rather than just moving from activity to activity like a robot.
You gotta connect with people. I dont have time to truly connect with each human on as deep of a level as I would enjoy, so my promotion is just being a good guy to people, while supplementing our shared moments with my music, without coming off as if Im tryna sell my brand, because Im really not.
I just like vibin with different people. So even If Im not as close to all possible listeners as I could be, the people who do listen to me REALLY REALLY fuck with me because I fuck with me on some real shit.
7) How do you think you've grown as an artist?
The more I come into my style, the more I realize my potential. Ive grown to involve elements from different genres, even sampling different genres, while adding in elements of the hip hop genre, creating my own shit. I call it "Moon-Tunes".
I'm growing into an icon, its possible to me, solely because of imprint that I stamp my music with. We all feel the same spectrum of emotions, and as of late I want every song I create to involve one of those emotions that I feel, because I know someone else feels it too,so they will enjoy the track
8) How do you feel about hip-hop today?
I'm not sure the direction hip hop will take. I think future is currently tossed up in the air, and whoever grabs all the stars before they hit the ground will end up being the future of the culture. Not the trend, not the rapper of the year, but the basis of the next era of Hip-Hop music.
9) What artists in the game today do you look at for inspiration?
I look to Wiz Khalifa for inspiration. Not only do I feel like we're long lost homies some how, but the artistic approach that he takes to life and his music, all while keeping his business in check, is a dream you gotta wanna achieve. Someone very similar would be Curren$y. I just like real shit, like people who say real shit on the record.
One person who I think stands out is Future. He has the commercial shit done packed, he can make something for the radio, but when its time to put in that dirty work and break it down on a level everybody can straight up, he'll drop a mixtape discussing the flashy shit, and more personal shit. I dont like anyone filled with deception, cause you can feel that energy.
10) Who are your top 5 rappers dead or alive?
Pimp C, Eminem, Wiz Khalifa, Future, Thai Lanotics. I'll catch flack, but each artist transcended the game by merging elements of their influences, and adding their own spice.