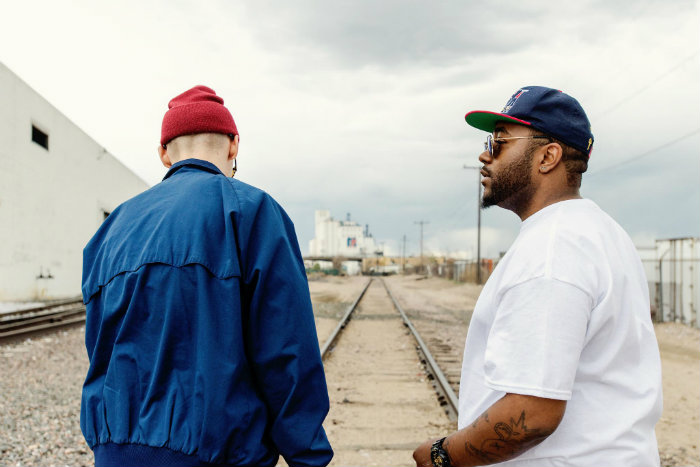 While Mister Freedom is new on the scene, Neon Brown and FL have been in the hip hop world for years. Brown has built his reputation as a producer, working with artists such as Truck North of The Legendary Roots Crew, Zion I, and Homeboy Sandman.
But now it's time for his music to come to the forefront – "I'd like to make a name for myself in 2016 and believe I'm in a good place to make it happen."
Joining forces with FL, who's collaborated with artists like Talib Kweli and Raekwon, the duo will be releasing their debut project titled Mister Freedom. The album features a handful of talented artists including Fast4ward, CRL CRRLL, and Vast Aire of Cannibal Ox.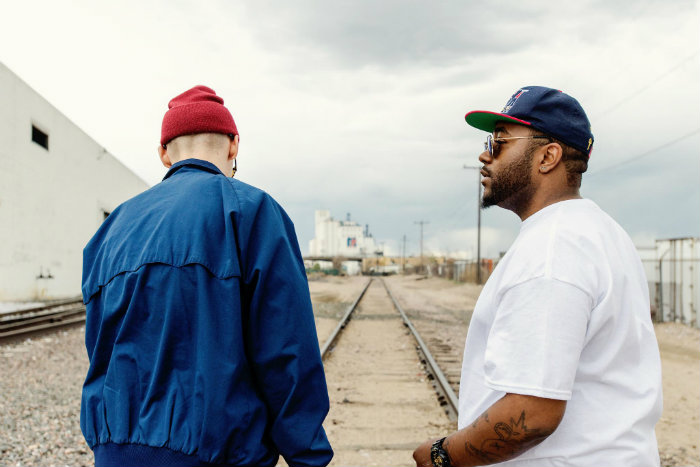 1) How long have you been doing what you're doing and how did you get started in the first place?
I've been playing music for over 20 years, and collecting records for over 18. I first picked up the guitar, which belonged to my brother and taught myself how to play when I was ten or eleven years old.
2) What sort of hurdles and obstacles did you face to get to where you are now?
I've been blessed with a very decent life, although I have had many obstacles like every living and breathing thing on this planet.
I would rather speak on the positives and say that I have a very supportive family and a strong ­minded woman in my life that have helped me get through the hardest periods in my life and motivated me to keep pushing.
3) What's the hardest thing about being an independent artist?
It's difficult being an independent artist for many reasons, including lack of steady income, people always trying to put you in a certain category, and simply trying to be understood for what you are tying to achieve.
4) Are there any independent hip­-hop artists out there who inspire and motivate you?
Rev. Shines, Homeboy Sandman, Quelle Chris, House shoes, Mr. Len, Jake Sanders, Mickey Duzyj, Jakob Perry, Chelsea Chorpenning, FL and Zak Harper.
5) Where do you see yourself in 5 years?
Creatively, composing music for film, putting out good music, creating funny videos, and painting. As well, in a home, with a dog, and my lady building a future that will support us both and bring us happiness. Lastly, I wish to be healthy, strong, with a positive outlook.
https://soundcloud.com/wearemisterfreedom/kevin-ware-1
6) Who were the first influences on your music and style?
I was influenced by many genres of music as a youth. I was into hip hop, punk rock, grunge, and some jazz. My major influences as a child were, De La Soul, Minor Threat, Nirvana, The Beatles, and A Tribe Called Quest. Since then my tastes and influences have extended quite some length.
7) If you could choose to collaborate with 3 other artists on the same track ­ who would they be?
This is a tough one. I'm going to get abstract with it because I believe it is the most suitable answer. It would have to be Kool Keith, Connan Mockasin, and Roy Ayers. I think we would make something pretty special.
8) What makes your music different to other artists?
Me. My mind is like stepping onto the devils playground.
9) What are you hoping to achieve with your music?
I hope to bring positivity and love through my musical efforts. In addition, I want to bring about social justice and change. We have many issues affecting all of us here in America that need to be tackled and if I can help spread the word and enlighten the public on such issues, I've done my job.
That's one of the main reasons I started my podcast. I felt it was a platform that would help me spread the word.
10) What do you think is the biggest barrier an artist like yourself has to overcome, to gain commercial success?
Money and politics. Everybody is shooting for the same target, except some people have a gun with a scope, some have a plastic gat, some have been taught, and some have learned on their own.
We all have different perspectives of the same obstacle, though many of us see it as a threat. I try to look at it as a teaching lesson and push forward.