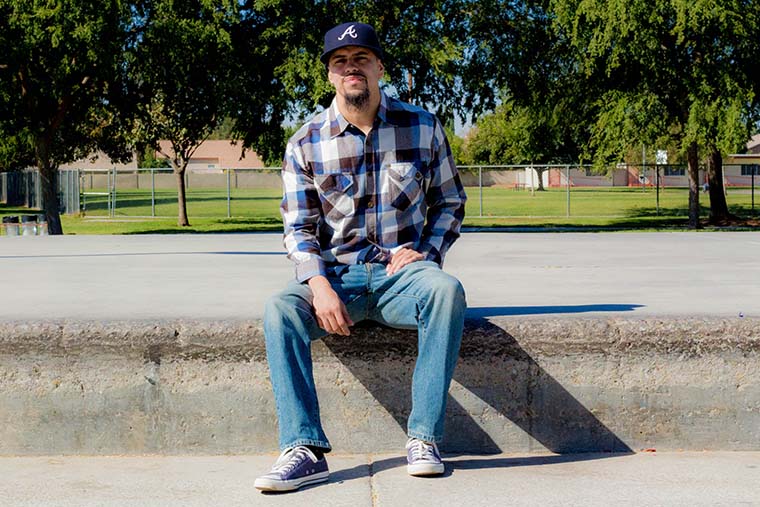 Suelo is a hip hop artist out of Bakersfield, California. He was inspired to make music by friends. He always enjoyed rap music and wrote poetry, but was swayed by a friend to record his rhymes over beats.
It's been 5 years since he first recorded and fell in love with making music ever since. "Music is like a drug: addictive. Each track inspires me to make the next one even better." His goals are to spread the word of positivity to people across the globe and use his experience of growing up in the struggle to share hope to the hopeless.
1) Do you remember the moment you wanted to be a hip-hop artist?
The moment I realized I wanted to be a hip-hop artist was after I recorded my first record. From then on I knew I wanted to continue recording.
2) What was it like creating your latest project?
Creating my latest project was the most fun/frustrating experience so far. Its a lot of pressure funding and creating a project on my own, but the end result makes it all worth it.
3) What are you trying to achieve with the project?
I plan on generating a buzz for me and my brand with my project.
4) What are your thoughts on staying independent or signing to a major label?
I plan on staying independent, but am always open to partnerships; two parties benefitting from each other, but I will not sign to a label that does not have my best interest at heart.
5) How do you feel about the independent hip-hop industry right now?
The independent industry is beautiful right now. The internet really opened it up for all indie artists everywhere.
6) As an independent hip-hop artist grinding it out, what sort of promotion and marketing are you doing to stand out from the rest?
I am on almost all social media sites working with small marketing companies and this work I'm doing with Stop The Breaks will most definitely elevate my status.
7) How do you currently make money as an independent artist?
I work a job like most indie artists, but I also make some money off music sales and throwing my own shows.
8) How do you feel about hip-hop today?
Hip Hop today is weird… in a good and bad way. I don't hate off these rap artists now days, but I respect their grind. I just think a lot of the rap music today sucks. I don't really listen to new hip hop. I listen to a lot of R&B and country.
9) What artists in the game today do you look at for inspiration?
Nipsey Hussle. He's an inspiration to everyone everywhere in any industry.
10) Who are your top 5 rappers dead or alive?
Nipsey Hussle
Tupac
Lil Wayne
Jay-Z
Eminem