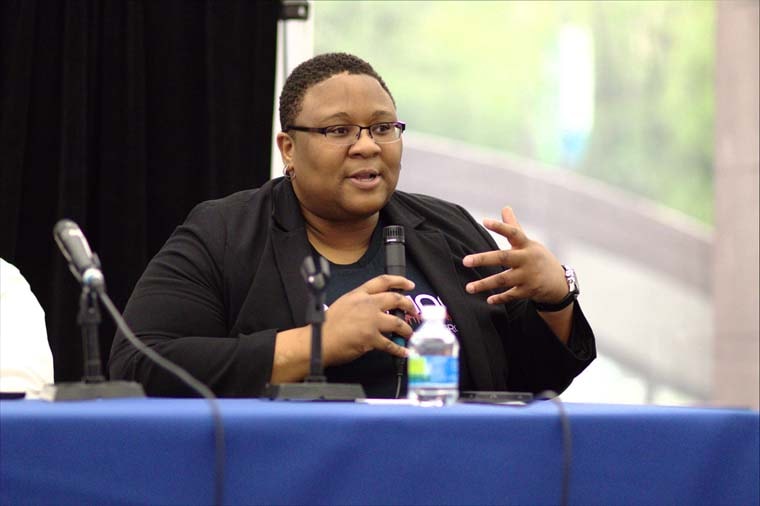 The 9-5 life in corporate America is not for everyone, but yet so many feel that there is no way out. Not Patrice K. Cokley. She was determined to escape the beige cubicle environment by any means necessary.
Patrice K. Cokley has been a hidden gem in the marketing industry. Although the former music major holds both a BS and MBA in Marketing, her 8-years of marketing experience came for consulting and pursuing entrepreneurship, not internships and employment.
After several years of being under-employed at several entry-level corporate jobs while consulting on the side, Patrice celebrated her 1-yr anniversary at her last employer in 2015 by choosing to resign from her desk job, to operate her then 1-year old brand management firm, The Bassline Group, full-time.
Many reports and articles show that the best way to escape corporate America to work for yourself full-time is by saving up at least 6 months of income. Being under-employed and living paycheck to paycheck, saving was not possible. Instead, Patrice chose to get rid of 95% of her expenses and debt so that she could afford to live off of her entrepreneurial earnings.
With no contracts in the pipeline, Patrice stepped out on faith and resigned. Within 2 weeks, she suddenly landed a major deal with an out-of-state prospect who had followed her on social media for years. That deal, along with a few small open projects, resulted in her exceeding her monthly income from her previous employer, immediately.
Steve Harvey and Necole of xoNecole.com were huge inspirations the closer I got to putting in my resignation later. They consistently spoke on taking the leap, jumping, and always betting on yourself. And that's exactly what I did.
Patrice
Patrice feels that in order to accept what the universe is trying to gift you, you must be willing to walk away and close the door on what has been holding you back or standing in your way. Taking such a bold step requires making sacrifices that only the strong and determined can make.
About Patrice
Patrice K. Cokley, MBA is the Founder and Chief Strategist of The Bassline Group (est. 2014), which is currently based in the northwest suburbs of Chicago, IL, with a national reach. She has been featured at Social Media Week Chicago, Sprout Social, SmallBizTrends.com, SteemFeed.com, and co-authored the book, The Entrepreneur Within You: Volume 2.
About The Bassline Group
The Bassline Group is a brand marketing and talent management firm that partners with artists, entrepreneurs and brands as an extension to their team, to organically grow their awareness without comprising their authenticity. Clients include Mathew Knowles (Beyonce & Solange's father and former manager), Music World Entertainment, Blush, Hoax & Haze, Corina Corina and many more.