Fiddy found himself in a sticky sitch at the gym this week, all thanks to Drizzy and the King of Pop. While repping a tee from Drake's *It's All A Blur Tour*, 50 Cent was called out by a fan who thought he was paying homage to Michael Jackson. Seems odd, right? But there's a twist.
Turns out, Drake might've been taking notes from MJ's playbook. The design on 50's shirt? Eerily reminiscent of merch from MJ's 1992-1993 *Dangerous World Tour*. Those iconic peepers of the King of Pop, immortalized in threads, currently have throwback tees fetching around $200 on the resale market.
50 was thrown for a loop. "I'm in the gym, girl asks if I'm a Michael Jackson fan? Told her it's a Drake shirt. But then Google happened and I had to eat my words," he tweeted, posting side-by-side snaps of the two tees.
And it ain't just about tees. Drake's had a soft spot for MJ for a minute. Remember that time Drizzy flexed some unreleased MJ vocals on *Scorpion's* "Don't Matter to Me" back in '18? The lines between the 6 God and the OG King of Pop continue to blur. And as for 50? Maybe next time, he'll double-check his wardrobe before hitting the gym.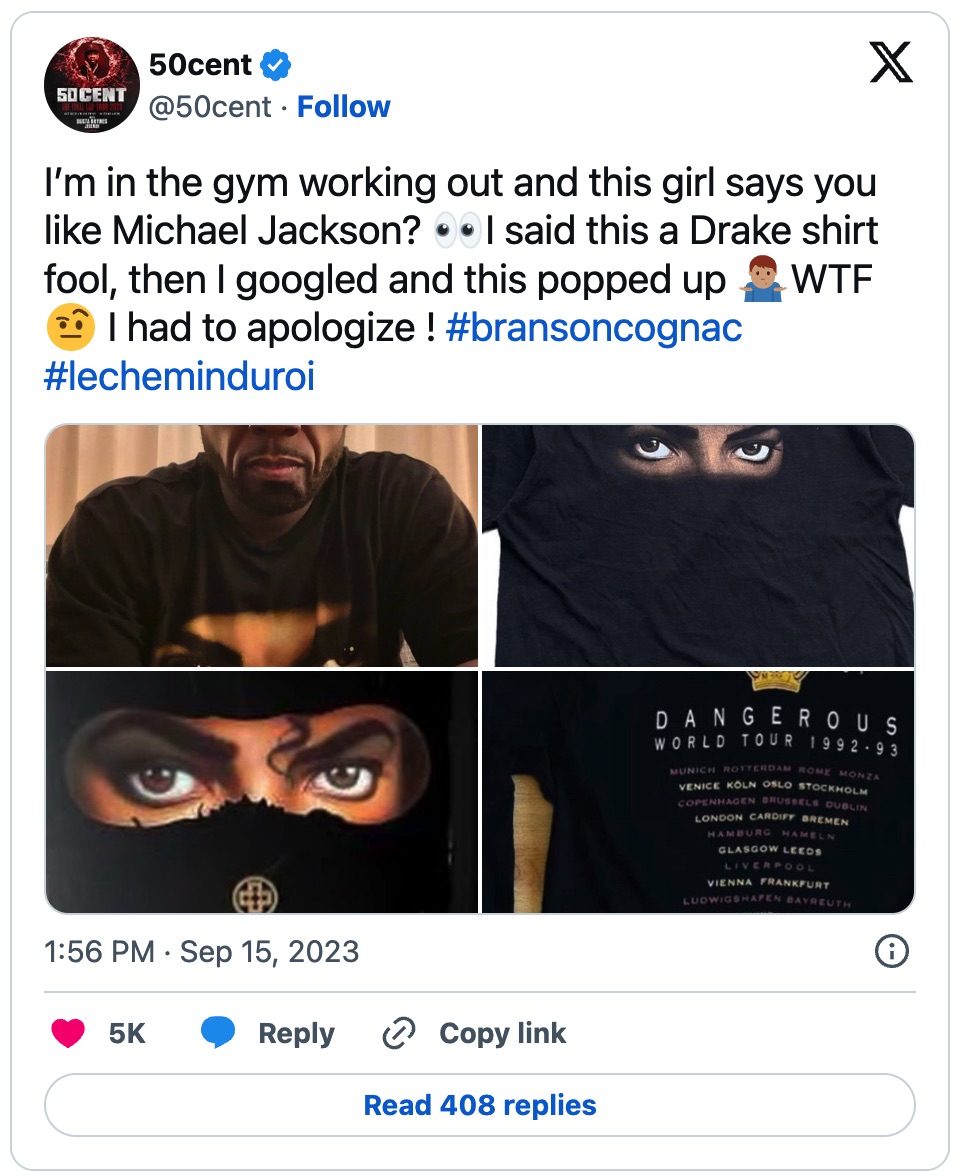 In related news, 50 Cent's recent trip down memory lane had the internet all sorts of fired up. To commemorate the 16-year anniversary of his album "Curtis", the rap mogul threw it back with an IG post, featuring some sizzling pics from an old photoshoot surrounding the album.
The plot twist? The model getting all cozy with 50 in the snaps had fans buzzing, thinking it was Ciara, who was romantically linked with him back in the day. But hold up – 50's team hopped in real quick to squash the rumors. "For the record, it ain't Ciara in those shots," Amanda Ruisi, Fiddy's rep, set the record straight to Page Six.
The post, where 50's seen getting a lil' handsy, didn't just have eyebrows raising because of the Ciara confusion. Fans were quick to remind the "Candy Shop" rapper that CiCi's now Mrs. Russell Wilson, and the couple's about to welcome their third kiddo. "Fif, you wilding. That's someone's wifey now. Chill with these posts," one fan commented, while another threw a lil shade at NFL star Russell, "Bet Russell's out there somewhere fuming over this."
Whether it's mistaken identity or a cheeky trip down memory lane, 50 sure knows how to keep everyone on their toes.