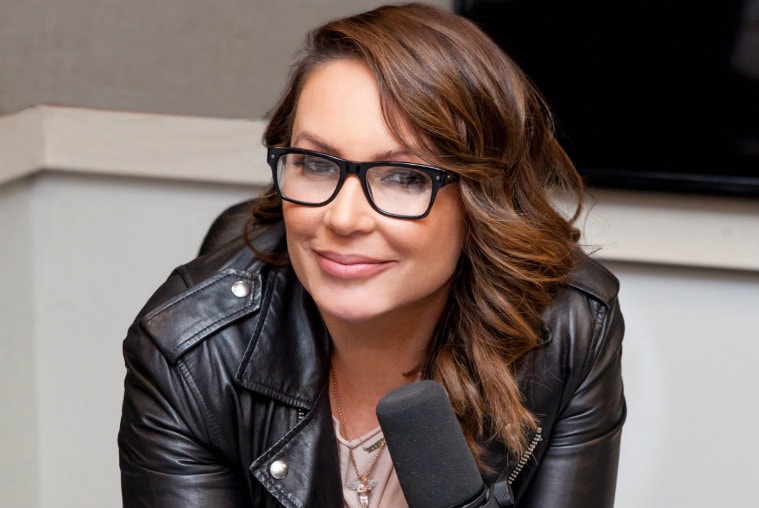 Legendary radio personality Angie Martinez has been a staple voice in hip hop since the '90s, interviewing the biggest names in the games like JAY Z, 2Pac, Biggie, Puffy and plenty more. Over the course of her epic career at Hot 97, where she got her first break at 16 by answering hot lines, Angie has been at the forefront of many legendary rap moments and become one of the most recognised voices in the industry.
Since resigning from Hot 97 in 2014 and joining their competitor Power 105.1, Angie has taken her career to new heights; signing to Roc Nation, released her book My Voice: A Memoir and had her radio show syndicated all over the nation.
She recently jumped onto reddit to do a Q&A session with the fans. Check out the highlights below.
Future of the radio business
I think it's already happening, the next phase of radio, which is that it's not just what you hear on-air, it's combined with the socials, with video, with content that goes beyond the actual show, like full-packaged things. But, I really don't know. I think, shit, ten years ago people said radio wouldn't be around anymore, but the thing is that it's a free experience that is curated in a way that is to make it easy for the listener and you look at a company like iHeartRadio and clearly radio is not going anywhere.
How radio has changed in the past 15-20 years
I mean it's a whole different landscape. The world is different. The music industry is different. The way people consume information. It's like, you know I talk about this in my book a little bit, but we were like, there was no social media. Radio was it. Radio was where you got the information. And so we were able to be a little more free. When you're the only thing in town you can kind of do it under your own terms. But as the culture and the medium has evolved, you have to get smarter. You have to get quicker. There's good things about that and bad things about that. It's probably not as loose and free as it used to be, but it's sharper and tighter.
Leaving Hot 97
It felt sad and emotional, but also exciting and necessary. I feel like I made the right decision and I feel like anything new is an opportunity to grow and I Heart has been great to me. I still have amazing relationships with some of my friends at Hot and I'm happy.
The legendary unreleased 2Pac interview
I really wish I had an answer for you. I was working on trying to get in touch with his mother before she passed to ask her if she had any ideas of what she would want to do with it, just out of respect and unfortunately, she passed and I just haven't really figured out a plan of action.
Who throws the best parties?
Probably Swizz Beatz and Alicia Keys. Last year, for Swizz/s birthday, Alicia rented a roof in the Bronx and did like this old school hip-hop party and it was like Kool G Rap and Rakim. It was insane! So, yeah, they have these over the top, crazy parties. He threw a pajama party for her and they had Kid n' Play perform and the whole cast of house party!
Most memorable interviews
I get excited when J. Cole is going to be my guest. I've had amazing interviews with Jay-Z over the years. He probably is my favorite of all time. Only because I've been able to interview him pretty much at every stage of his career and so that alone just gives you a different kind of connection to the conversation.
Favourite artists from this generation
You know, J. Cole, Kendrick. I'm falling more in love with Chance as the days go. I mean, I loved his album, but just watching his evolve; I love what he did at the Grammys. I'm very much enjoying Kehlani. And I'm looking forward to seeing how she evolves.
Rise of Atlanta hip hop
That's been consistent throughout the history of hip-hop, like whatever is popping, other people want to kind of create that sound, but I think for the most part, the artists that really matter and the artists that wind up having longevity and having a solid fan-base are the artists that stay true to what their sound is.
Funkmaster Flex's influence on her career
Flex taught me a lot about this business and he was there for me in times when I needed somebody to be. I talk about Flex a lot in my book and the importance of our relationship to my career because, while we're very different and while what we do is very different, the passion and he just taught me a lot about how to move around in this business. He had my back at times when I needed somebody to.
Interviewing 50 Cent
Interviewing 50 Cent is never boring. He's really smart and his brain is always working, so you have to be really careful to keep him on track otherwise he'll take you on a rollercoaster ride of thoughts, ideas. He's smart and like I said, his brain is always working, so to interview him you have to really keep him focused in the moment on what's happening.
What she thinks of Charlamagne Tha God
Charlemagne and I are two very different people, as we should be, but we both have a great deal of respect for each other and so often, he'll say something that I disagree with, which is totally fine, but I'm always entertained and I love that he found ways to evolve. I think his conversation has evolved. I think the way he brands and markets himself and talks to his audience has evolved and I think it's important. I think it's important to have different voices, strong voices, people who know how to use their voices and the game. So, I respect him very much.
Current NYC hip hop scene
Hip-hop, in general, is always evolving and I think the same is true for New York. There are a bunch of people in New York that I'm enjoying to see what they're doing. I think Young M.A, A-Boogie, Dave East, Joe and Remy are having a great year. I think we're in good shape.
Ether vs. Takeover
That's really hard. I don't know. It depends on the day or the mood. I always definitely picked Ether over Super Ugly, but to me, Ether and Takeover are like apples and oranges. They're both too great to pick one and one doesn't exist without the other. So, it's like in history they go together and I don't want to pull them apart.