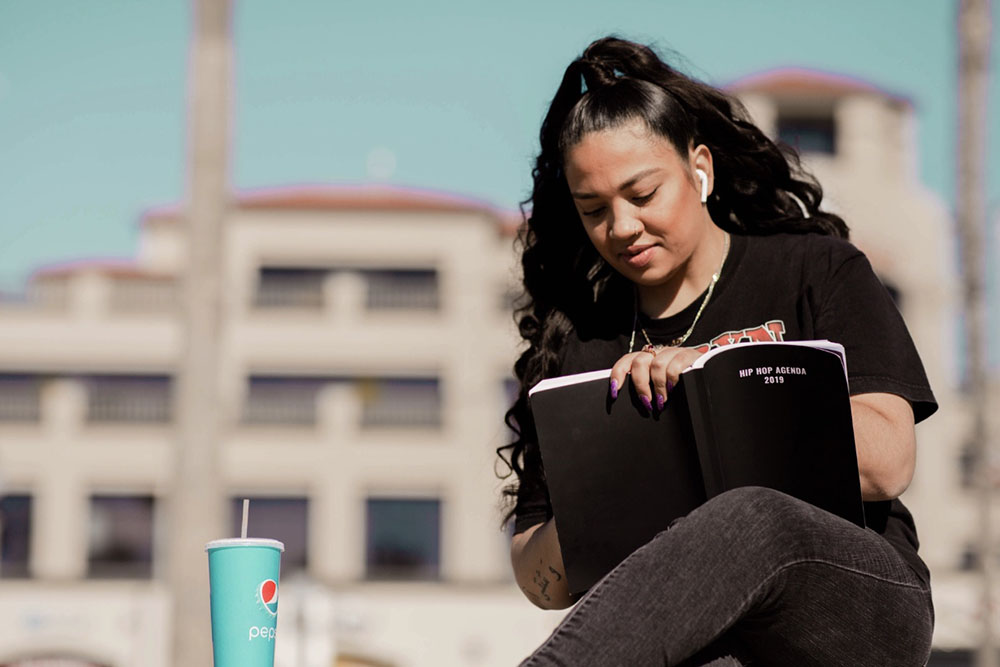 This conversation with part of a weekly interview series by Balance the Grind, where we talk to people from all walks of life about work, life and balance.
From CEOs to musicians, startup founders to freelance journalists, marketing managers to creative directors, we talk to everyone about how they balance the grind.
Vashti has been an active member of the Los Angeles Hip Hop scene.
From working at Power 106, K-Day, Dash Radio or The Hundreds, Vashti has now flourished on her own to publish the Hip Hop Agenda. The perfect book/tool for all creatives.
She is front and center at events and concerts around the city, and also interview artists such as Saweetie, Travis Thompson, Styles P, Tech Nine, Evidence, and more. Her primary focus is entrepreneurship and the business of social media.
1) To kick things off, could you tell us a little about your background and career?
I am from Orange County and come from a very diverse family. I am of Black, Mexican and Filipino descent and grew up always having a love for creative arts. I went to school for journalism and advertising and worked my way towards different internships in radio as a producer, board operator, and social media coordinator.
That was the beginning years of my career, all between 2012 – 2016ish. Landed my first full time gig at the hip hop station: 93.5 KDAY in Los Angeles, then we moved over to Power 106 when Meruelo Media acquired and merged the two stations in 2017.
Shortly after, I left the radio stations, launched my own business King Vashti LLC and released the first edition of "Hip Hop Agenda" — which combines my passion for digital marketing and hip hop. I am a journalist, creative director and digital marketer. And that's where I'm at today, pretty much in the beginning stages of growing a small fun business.
2) What is your current role and what does it entail on a day to day basis?
I'm a one woman army and the CEO of King Vashti LLC. Utilizing my experiences in creative direction, journalism and marketing, I enjoy helping like-minded entrepreneurs achieve success. I have few clients right now that I assist daily with, writing, content creation, digital marketing, branding, social strategy and more.
I love that I'm able to work from home. Everyday I start work from a merged "to do" list I've created based off the tasks that I've previously listed for each client based on their specific goals and project needs. Helping other like-minded entrepreneurs and business owners, allows me to live a lifestyle where I'm my own boss.
Not having a traditional 9-5 gives me the freedom to work on other things I'm passionate about while maintaining all the creative freedom.
3) What does a typical day in the life look like for you? Can you take us through a recent workday?
I wake up around 6am and my morning routine includes: meditation, prayer, calling on my ancestors for guidance. I say my daily affirmations, burn a little Palo Santo and set my intentions for the day. That's is probably my favorite part of my morning.
Then, time to work. I check my emails, pull out my agenda and start to work on my to-do list. Throughout the day I have scheduled FaceTime calls and meetings with my clients to make sure we're all on the same page.
Every morning I check my Shopify account and prepare to ship out Hip Hop Agendas to those who placed orders the previous day. It's a blessing being able to share my passion for hip hop history with others.
Once the orders are all prepared, I'll head out to the post office and pick up some lunch or coffee.
Then, back to my work space to check on the performance of campaign ads and the engagement on recent social media posts. — I try to accomplish all this by noon.
For me, the afternoons can go anyway. I can be scheduled to have an artist interview, industry event, photo shoot for content creation, or more work sessions.
When I have down time I'll check my emails again, read up on news, trends, marketing updates and watch artist Interviews.
Few times a week I'll tap in with my book club to discuss our read for the month.
Most days end pretty much the same way they start. With my rituals, praying and reflecting on the day. Making time to feel happy about my little accomplishments, because I know those will lead to bigger accomplishments. I also like to prepare for the next day by going over my to-do list and then adding what needs to be worked on the next day.
4) Do you have any tips, tricks or shortcuts to help you prioritise your workload?
Buy a hip hop agenda
Assign due dates to all tasks needed.
Write down your goals.
Use a content calendar for social media to save time.
Use a timer on your phone when working on different tasks throughout the day to stay on schedule
Turn off phone notifications that might distract you to stay focused on what you're doing
Have boundaries and stick to them
I work off a "to do" lists by setting goals and then breaking those goals down into smaller action items. I also force myself to set due dates, but I don't kill myself if for some reason a due date is not met. Self love is important. Try not to be super hard on yourself when you know you're doing your best.
5) In between your job, life and all your other responsibilities, how do you ensure you find some sort of balance in your life?
I schedule time for balance. I write down my goals in my hip hop agenda. I smoke some, meditate, I spend time with my friends and family.
6) What are some of the things you do to take time out and recharge?
Sleep
Listen to music
Read
Roller skate
Eat delicious food
Smoke weed
Shop
I have a little ritual that keeps my energy balanced everyday. I rely on my intuition a bunch and make time to write my goals down. I spend time with my friends and family, shop online and listen to music.
I like having deep conversations with like minded people in hopes of learning something new and also read whatever book I'm dedicated to that month.
Also, phone calls with my grandparents give me life. They give me strength and confidence. I tap in with them often to let them know how I'm doing and where I'm at with my goals.
7) What do you think are some of the best habits you've developed over the years to help you strive for success and balance?
Having boundaries and sticking to them
Praying and honoring the universe
Treating myself with love
Controlling negativity in the way I speak and think about myself, my life and others
Keeping my word to myself and others by doing what I say I'm going to do
Show up, be there, be present
8) Are there any books you've read that have helped you with work-life balance?
The Four Agreements
I'm A Badass
Both Charlamagne Tha God books: Black Privilege and Shook Ones
The Alchemist
These are books that I can read over and over and still learn from.
9) What is the number one thing you do to make sure you get the most out of your day?
I'm not sure when I became so in tune with my feelings and energy but I literally will not [make a] move unless it feels right. The number one thing I do to make sure I get the most out of my day is wake up early to pray and meditate.