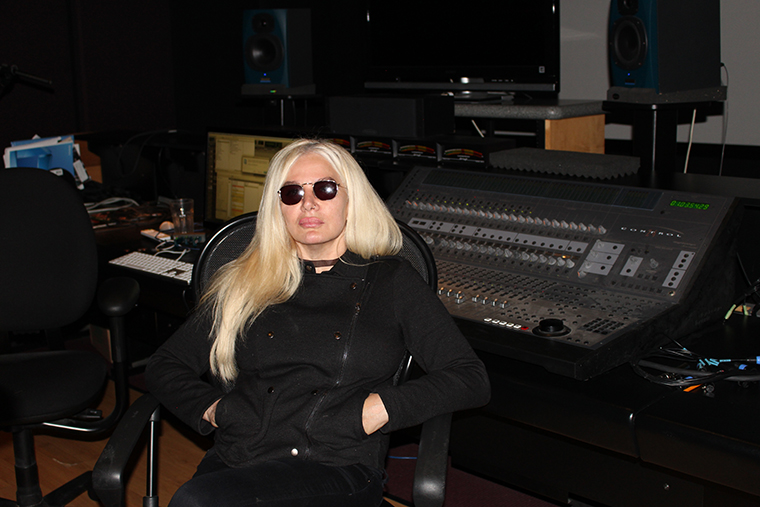 Betty Moon is a Southern California based songwriter, producer and entrepreneur. With her solo music career and company Evolver Music, Inc. Moon has beat the odds and kept a longstanding career going in the music industry for over two decades.
Can you tell us a little bit about your career and how you got to where you are today?
My music career actual began in Toronto, where I was born, raised and got into music at a very young age. I signed a record deal with A&M Records and had early success with a different music group before going solo and venturing into owning my own business and studio. I attribute the early success to dedicating my life to music full-time and consistently looking for new ways to evolve and build an artist community around my efforts. If it wasn't for the incredible people I surround myself with, none of this would be possible. Having a few CASBY nominations didn't hurt either, but it's really about compounding your victories into manifesting new ones. Don't stop, keep going till you win. Then, the real work begins.
What is different in today's industry compared to say 20 years ago?
The lack of social media, streaming and online blogs/zines for sure. Since the late 90's everything has shifted like crazy to online platforms and artists have either jumped on board or long since left the industry. Back then much of the positioning in retail was dictated by record labels and distributors, where you were either part of the big machine or you were stuck being a local band for life. Today, with enough grit, networking, talent and willingness to invest you can build a profitable career in music without having to depend on major record businesses. On the flip side, there were a lot less artists in the industry back then whereas now the gateway to entry is nearly non-existent. That brings things back to the way things used to be, where you have to be really good to stand out from the pack.
What are some ways artists can survive in an industry that isn't playing in our favor?
A great question, I hope as many artists as possible do their homework on ways to best monetize their (hopeful) careers. While there are still ways to make money if music is a part-time hobby, taking things full time puts one in a position to really figure out the best use of time. Here are a few ways to make it work:
Licensing: More artists these days understand film/tv placements are a great way to monetize music, but they don't know where to start. Music supervisors are typically the people you want to impress with your latest single and catalog, and once you build those relationships doors open to getting paid to use your music in their programming. Plus, it's a great alternative marketing resource since millions of people watch and stream film/tv programming daily. One placement in the right show can easily net an artist the royalty equivalent of 500,000 + streams on Spotify.
Merchandise: Create physical product that our audience can't ignore. Even if it's limited to say 10 handmade and signed merch items, hoodies, t-shirts, vinyl etc. For an emerging artist, small quantities are important so you don't have excess inventory and large upfront costs, and as demand increases you can up production and come up with fresh ideas. Someone who falls in love with your music from Spotify may just want a merch item to celebrate your music with, and it's up to you to make that product available.
Streaming & performance rights royalties: With the release of your music, ensure you are registered with a performing rights organization (PRO), Soundexchange and are tracking mechanical and other sources of ancillary revenue sources. Artists may be leaving money on the table, especially if they find early success and are not informing the right companies about the existence of their music and where to mail the check.
What are the unobvious ways artists can market their brand?
Many artists forget about the power of a great music video. While live streaming and creating killer content for your social platforms is great, it's still nice to make a music video or multiple clips to promote on Youtube and additional sources. There are even ways to get your music video into retail, clubs and bars for guests to learn about your brand and music. While the investment in a great video may set you back, many times it will easily help you earn more long term with the building of your music business and brand. Playing the right type of live shows as well can help, and while short term the pay may not be great, long term the pay should increase as popularity grows. This also gives artists a chance to sell merchandise live and network to build a grassroots fanbase.
What do you do daily/weekly to ensure you hit your goals as an artist?
I time block my days and weeks to include all the necessary ingredients for a music career. Whether that's 4-6 hours a week of writing, singing and playing guitar, or being in the studio producing new music for myself and roster clients. I also work with my team on marketing strategy and implementation, which includes social media, web, promotion, advertising and more. What I do as mostly a studio artist and business owner may look very different for an artist who tours often or is say a DJ who plays 5 nights a week. It's about finding what works best, hyper targeting those efforts and staying away from what doesn't serve you.
Since first signing to a large label to being your own boss today, has much really changed that much in the big picture?
Honestly, the medium has changed but the work ethic needed has not one bit. If anything, artists need to work smarter and harder than ever before. Much of the music we digest is found via word of mouth just like before, whether that be from a playlist or a cousin, friend or parent suggesting what to check out. I'd say that rule applies even more, especially since brick & mortar retail stores have gone the way of the dinosaur.
I would say 90% + of artists out there will not have a career more than 5 years, are we missing something?
I would say it really varies from artist to artist, some simply give up or can't afford to go on. Many lose the passion, end up having strife with their band mate(s) or get writers block. I'd say there's a handful out there that regret not trying and evolving when hitting a wall, because at the end of the day there is always a way to figure out how to make money and find opportunities in music. I challenge artists to ask for help, build a team and seek that support system that us creatives grow to thrive on.
Any closing words of wisdom for our readers?
At the end of the day, make sure your recorded music and live show kicks ass. No matter if it's hip-hop, rock or any other genre of music, we all remember the material that is timeless vs. the stuff people show us that make you say "yeah, that's pretty cool dude"….and never listen again. Finding a great producer, mixer and mastering resource will make all the difference, unless you are absolutely confident in your own production techniques that it will turn heads and get the word bumping their heads to your jams. For live shows, be sure to practice till you hate your own music (haha). No, but seriously, the 10,000 rule is a real thing and practicing is one of the most important things you can do for in-studio and live music efforts.
You can learn more about Betty Moon at – https://bettymoon.com/